How to Get from Rome to Ancona
You'll done your visit to Rome and need to reach port of Ancona to catch a ferry to Croatia or Greece? For travelling between Italian capital and capital of Marche Region you have 2 options: taking a train or driving between these two Italian cities. 
Taking a train from Roma Termini or Roma Tiburtina is super easy and driving shouldn't be problem, you just need to decide which option is better for you. If you have limited time opt for a train ride. For those who would like to do some exploring of Italian countryside renting a car would be a good idea.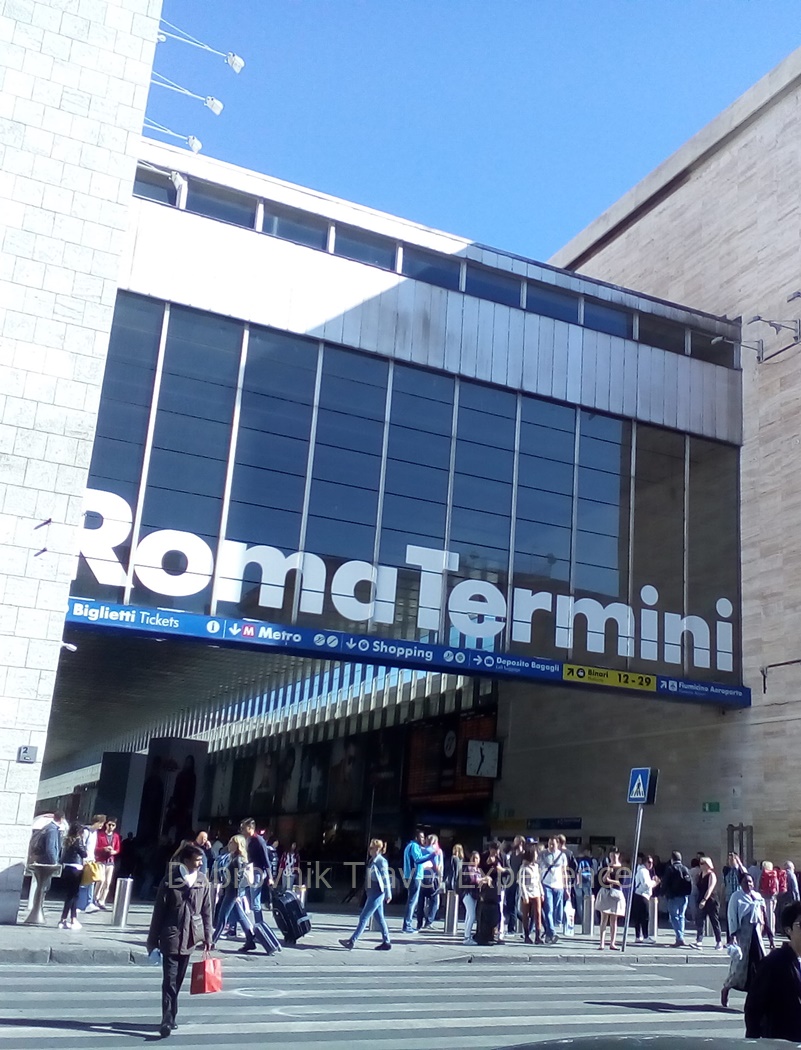 Roma Termini Station
Trains from Rome to Ancona
There are many daily trains operating between Rome and Ancona. Both Intercity and regional trains runs directly on this route; Intercity taking 3 hours 30 minutes and regional trains taking 4 hours (these trains stop along the way many times).
If you decide to take Frecciarossa train, the journey will take little bit more (4 hours 30 minutes) due to the fact that it runs via Florence to Bologna, where you'll need to change the train. This ride doesn't require many stops along the way.

Tickets for regional trains start from 22 Euros and there are only 1st and 2nd class on these trains. Intercity trains start from 13,90 Euros. Frecciarossa train cost start from 42,90 Euros.


Frecciarossa Business class seats
Driving between Rome and Ancona
If you're driving from Rome to Ancona (about 300 km distance), the journey takes around 3 hours in normal traffic.

On your road trip from Rome to Ancona you can explore numerous historical cities such as:
Tivoli - famous for Villa Adriana and Villa d'Este (great for taking day trip from Rome)
historical cities of Amatrice, Rieti and L'Aquila (visit these cities on a day tour from Rome)
San Benedetto Del Tronto
Ascoli Piceno, Latina, Recanati and Macerata as well as top places to visit like Sole Luna and Fontana la Nave di Cascella, or the ever-popular Ponte del Mare.
About Ancona ferry port
The port of Ancona is located in the city centre, only 2 km from the train station and only 15 minutes walk from the Piazza del Plebiscito, the most famous square of Ancona. 
It's easy to reach the port of Ancona by bus or car. Once you arrive at Ancona's train station, you can get to the port in 10 minutes by taking bus lines 12 and 20.

If you're driving by car, you should exit highway A14 and take the roadway SS16 towards Ancona port. Near the port, at the Mandracchio dock, located just 500 meters from the embarkation pier, you can find a parking lot for your vehicle.
The international airport of Ancona is located 18 km from the ferry port. You can get to the port by taking the Aerobus Raffello line.
Take a look at Direct Ferries that will help you plan your trip from Ancona comparing all available ferries.

Here you can find more information about all the ferry connections from Ancona:


Ferries from Ancona port:
Ancona is one of the main passenger ports on the Adriatic Sea, with regular ferry connections to the ports in Greece (Patras, Igoumenitsa, Corfu), Croatia (Split and Zadar) and Albania (Durrës).
On Direct Ferries, you can find the all available offers for the ferry trip from Ancona port and your tickets easily online.
 

See more useful info for your travel to Italy: