Visiting Lopud Island
The position of the Elaphite islands makes them perfect for some island-hopping from nearby Dubrovnik. The islands are situated to the north-west of the city and the most popular among tourists is Lopud island.

This car-free island is ideal for dipping in the crystal clear water, strolling in the shade of pine forests, exploring numerous churches and even enjoying a meal on the shoreline.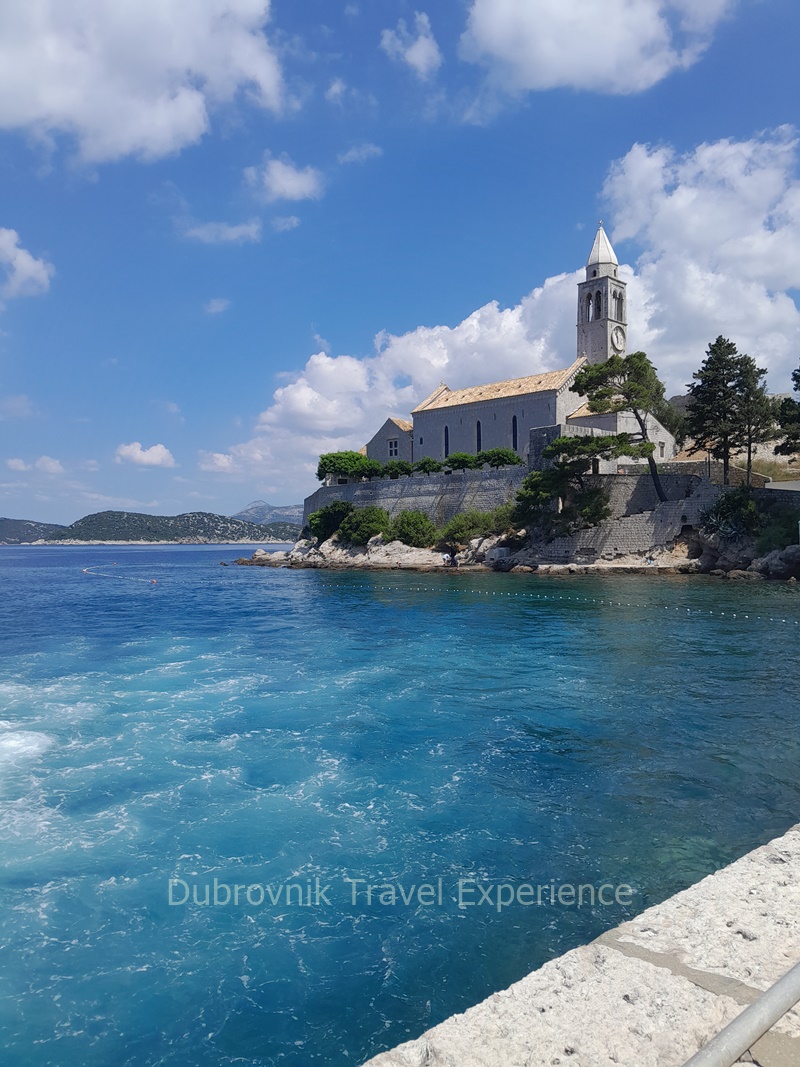 A former 15th-century monastery that has been transformed into a beautiful boutique hotel
Getting to Lopud island
Getting to Lopud is easy, as there is a regular boat service from Gruz port in Dubrovnik with 4 departures daily. You can either catch the morning boat and return in the evening or do a half-day trip and return in the afternoon.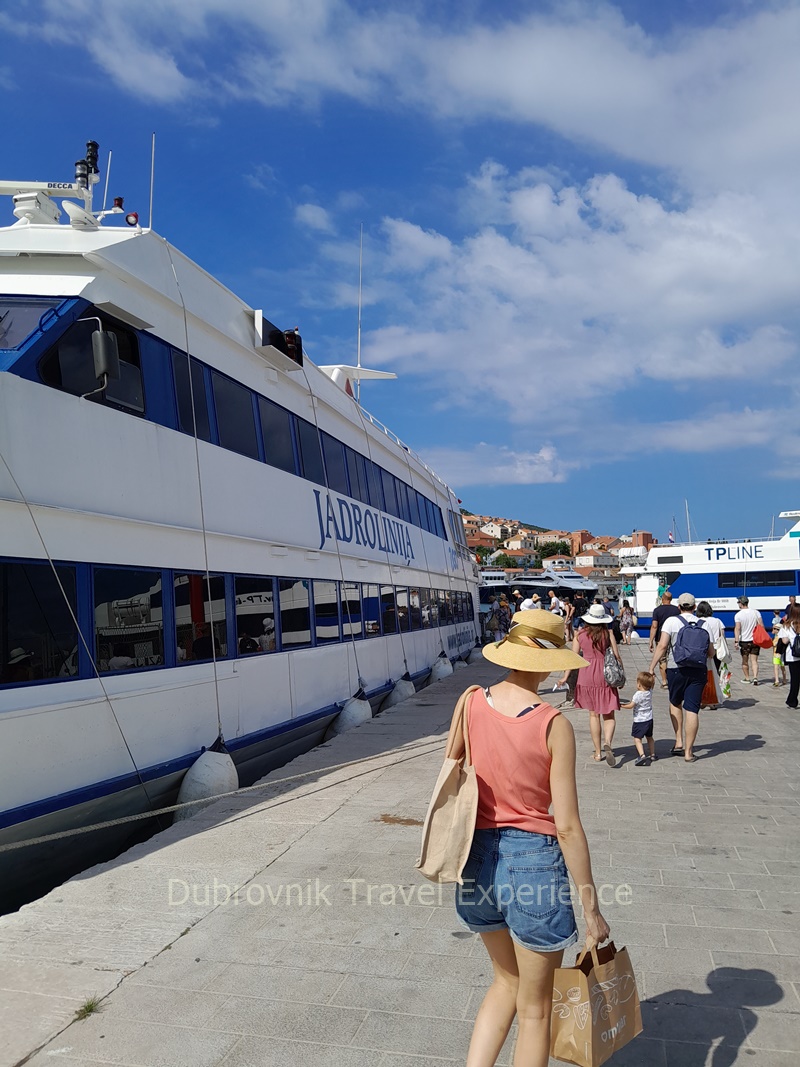 The catamaran sailing to Lopud departs from Gruz port
The pleasant ride on board the Dora catamaran takes 55 minutes. The tickets can be bought either in the Jadrolinija office or online (one-way trip costs €4.90 for an adult and €2.20 for a child between 3 and 12 years old). There is a bar selling refreshments on board and comfortable seats inside an airconditioned saloon.

In addition to this, there is also a ferry for cars and pedestrians that sails from Dubrovnik to Lopud, via Sipan in the morning and late afternoon.


You'll enjoy a pleasant ride onboard Dora catamaran which takes 55 minutes
What to do on Lopud island
You can have a day filled with activities while on Lopud. Once you get off the boat, you'll walk along the seafront, where many restaurants and cafés can be found as well as small independent shops selling souvenirs, clothes, towels, art works and natural cosmetics.

Many tourists also enjoy spending time at the various bathing spots which can be found all along here.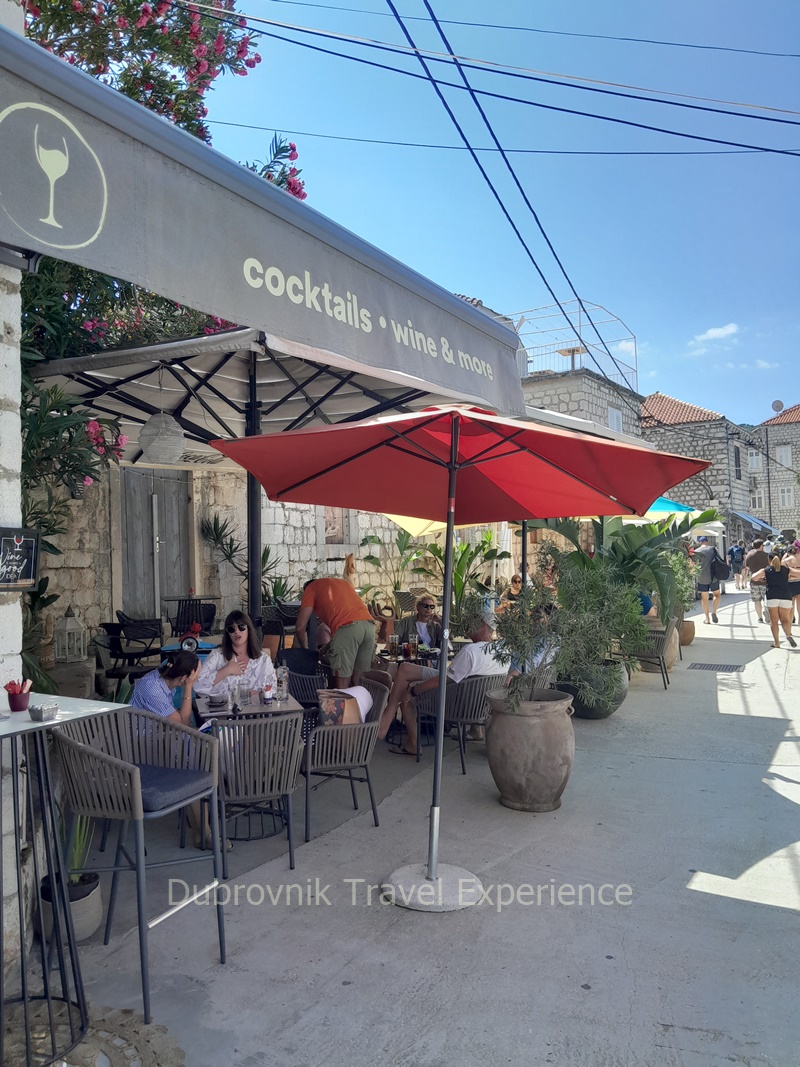 The seafront is dotted with restaurants and cafés
Along the seafront is also where all important facilities are located such as the Tourist Office and medical assistance. A great way to explore the island is renting a bike (rentals can be found at the beginning of the pier on the seafront).

Lopud boasts many traditional churches where you can freely enter and sightsee respectfully.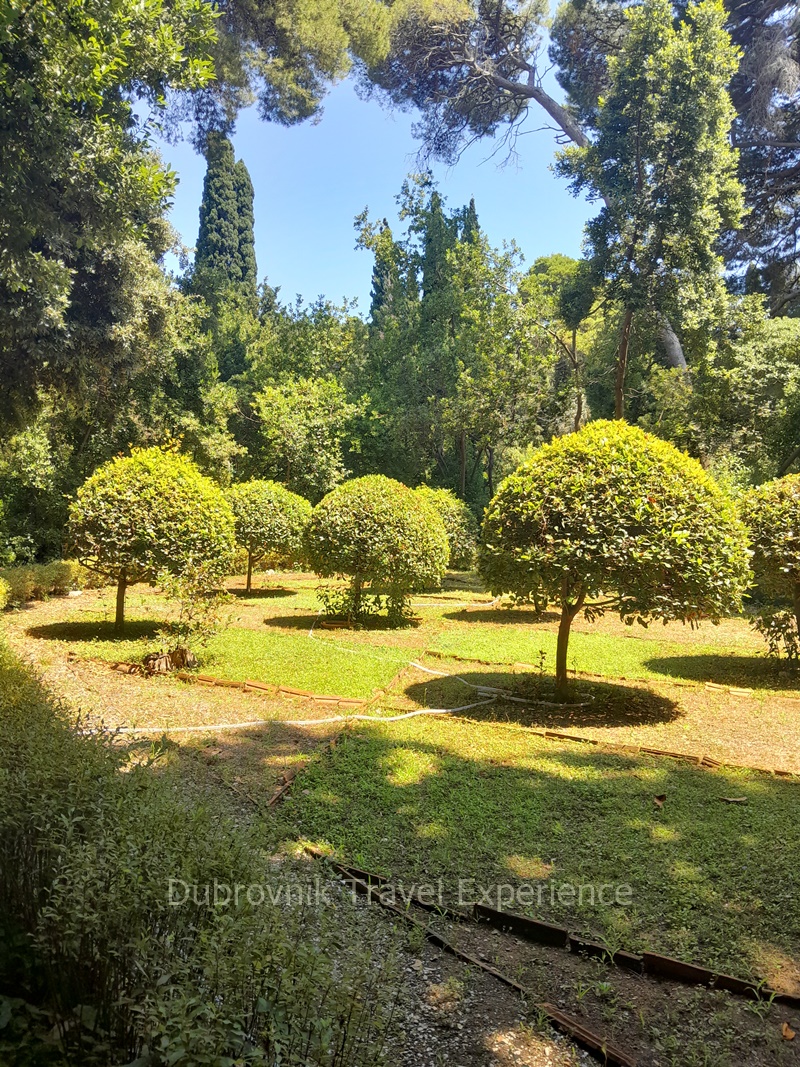 The Djordjic-Mayneri park on Lopud island
Right on the seafront, you'll also find Djordjic-Mayneri park, with a romantic history it is now also ideal for hiding from the mid-day sun. There are many benches if you want to spend more time relaxing here enjoying its peaceful atmosphere.


The Sunj beach - the most popular spot on Lopud
The beautiful Sunj beach is situated on the opposite side of the island to the port, so you'll need to walk to reach it or take a golf buggy, costing €3 per person. If you don't mind walking under the sun and up-hill (in some parts) then the walk will take approximately 25-30 minutes. Otherwise, take a buggy ride and get to the beach in 3-4 minutes.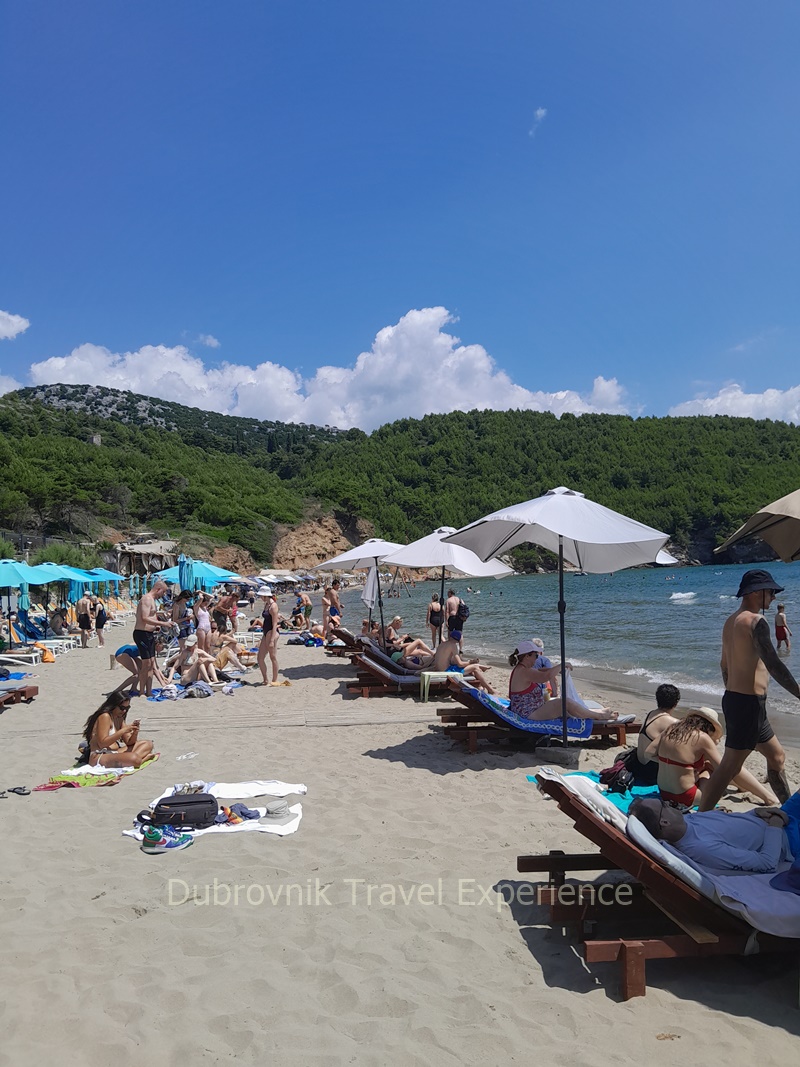 Renting sun loungers and parasols is available at Sunj beach for a full comfort
Sunj beach is sandy with shallow waters and is suitable for small children (they can easily walk around and play in the sand). We suggest renting sun loungers and parasols only if you are staying here for the whole day as they can be fairly pricey!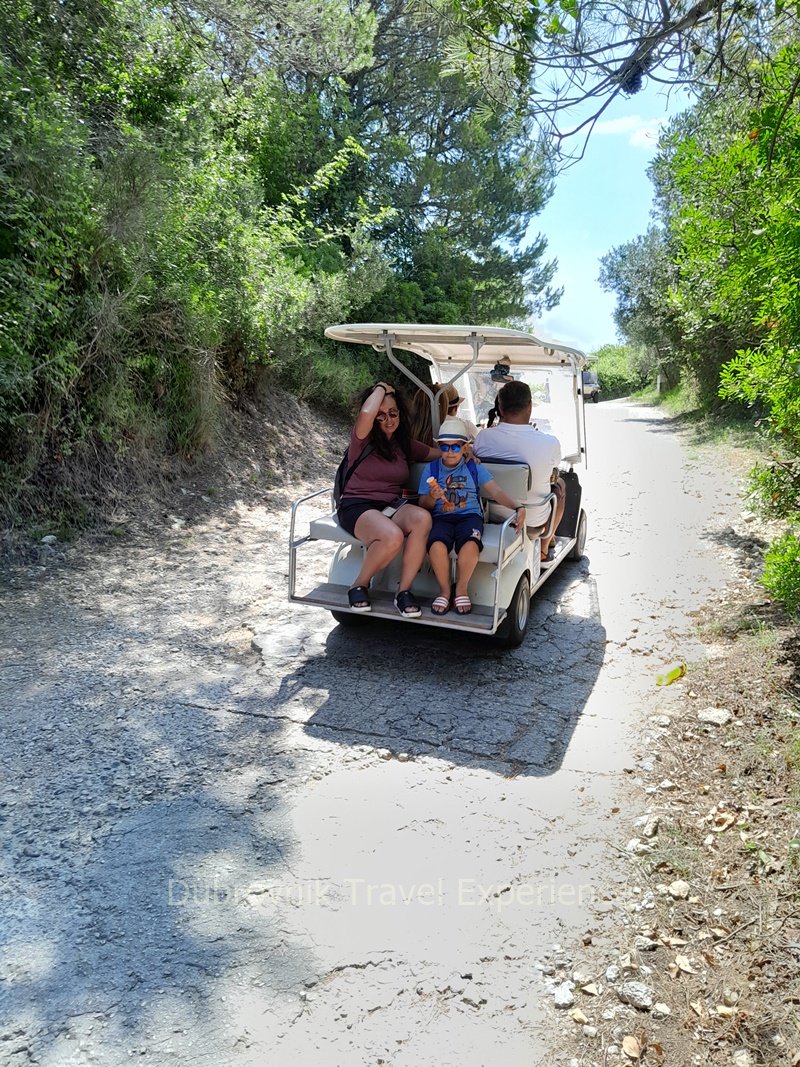 The buggy will transfer you to the Sunj beach in only 3-4 minutes
A walk from Lopud port to Sunj beach takes about 25-30 minutes
To refresh yourself, sit in one of the bars and cafés and have soft drink, cocktail or an ice-cream. You can even get drinks service direct to your sun lounger. For extra comfort, there are showers, toilets and changing cabins.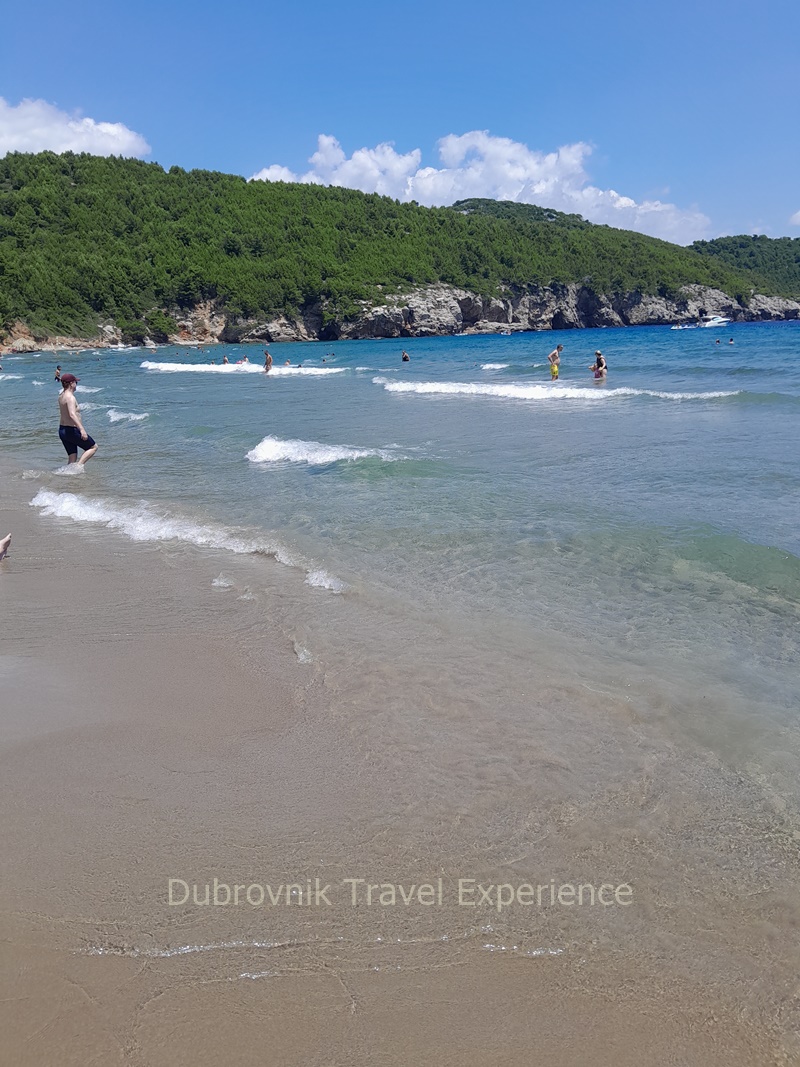 The Sunj beach boasts a magnificent combination of fine sand and crystal clear waters
Visiting Lopud on the boat/kayak tour
Taking an organised boat tour is another way of visiting this beautiful island. Most tours visit all 3 islands (Lopud, Kolocep and Sipan) in one day, leaving time to explore each one. The tours depart in the morning from Gruz port. 

For those more adventurous, we recommend a speed-boat tour, that takes you to the hidden parts of the island where you can swim, snorkel and relax.

Or you can opt for a kayaking tour, a little more hard work but also super fun and interesting (choose from Full-day sea-kayaking tour and Kayak and bike tour).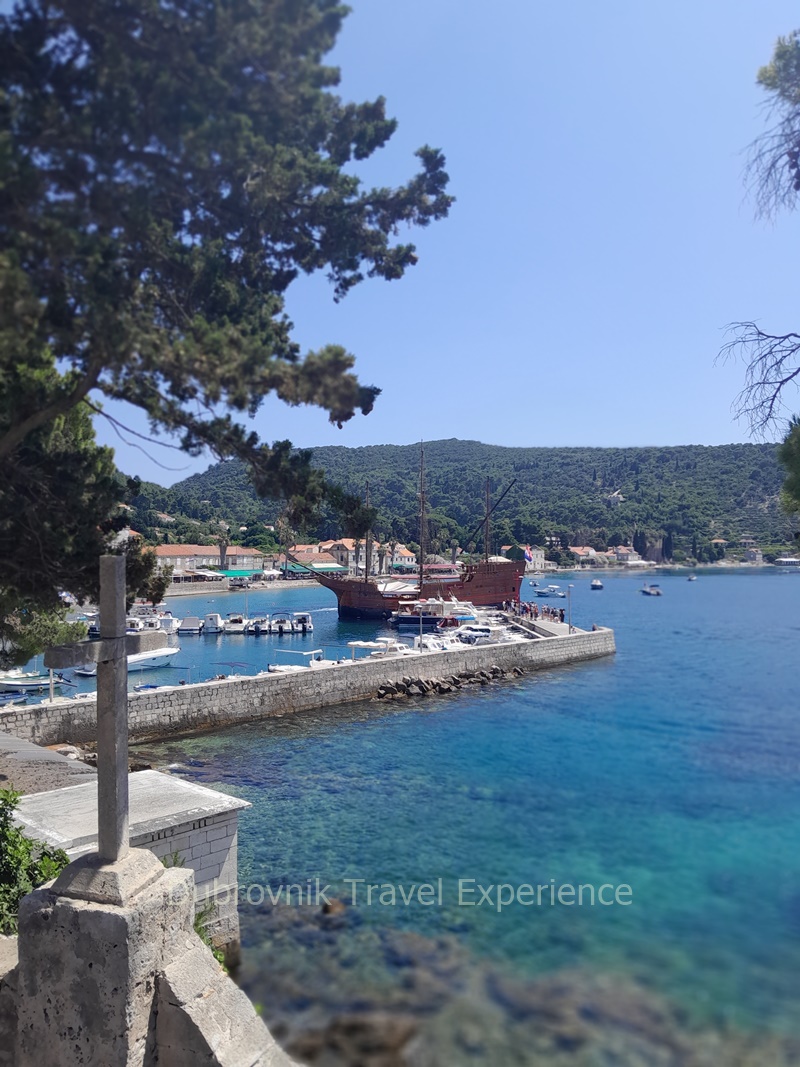 Historic ship docked in Lopud port
Staying on Lopud
If you decide to spend your holiday on Lopud, you'll find many nice apartments nestled in the natural surroundings.

For those who love full service, Lafodia Resort would be a great choice. This resort has rooms overlooking the beach, a spa and restaurants.


The Lafodia Resort is a great choice for a relaxing summer holiday
At The Scarlet, you can enjoy a delicious breakfast meal from the rich buffet. For a quick lunch or romantic dinner, visit La Baja or Dalmar. There is also a speed-boat service to get you to and from Dubrovnik. All you need for a peaceful and relaxing holiday.

The hotel has a private beach with crystal clear waters for swimming and snorkelling and sun loungers for relaxing. Guests can choose from comfortable rooms, suites and apartments. For those travelling with a group of friends or a family, Villa Benessa, covering two floors, is an ideal choice.


You might also like: