Dubrovnik Pass
When exploring Dubrovnik consider buying Dubrovnik Pass that provides its holder free entrance to Dubrovnik city walls and numerous museums, free public transport and a number of discounts (restaurants, stores, tour operators).

Once you buy the Dubrovnik Pass, you will no longer need to use cash to buy an admission ticket for individual sights and transportation.


Popular Things to Do
in Dubrovnik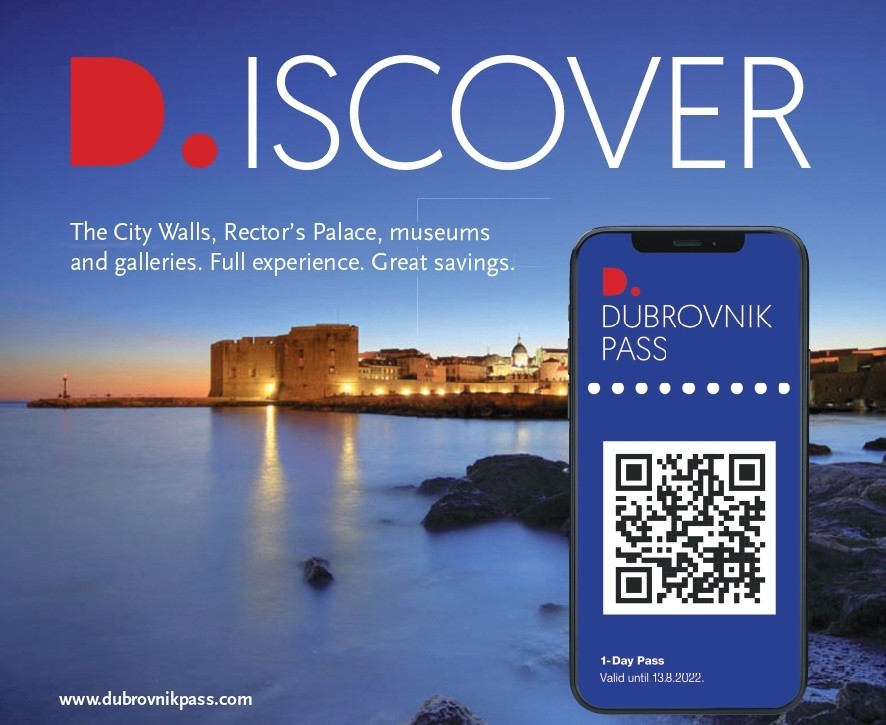 Save with Dubrovnik Pass while sightseeing Dubrovnik
Free sights with Dubrovnik Pass
The Dubrovnik City walls - the most visited Dubrovnik sight. They are open all-year round with different opening times depending on the month. There are three entrances to the walls (find the main entrance at the beginning of Stradun). The adult entrance fee is €35. Check out our complete guide on walking the City walls with useful tips.
Cultural History Museum (Rector's Palace)
Friars Minor Franciscan Monastery Museum
Maritime Museum
Ethnographic Museum
Museum of Modern Art
Marin Drzic House
Dubrovnik Natural History Museum
Dulcic Masle Pulitika Gallery
The Pulitika Studio
Archaeological Exhibitions
Bukovac House (free with 3-day and 7-day pass)
Konavle County Museum (free with 3-day and 7-day pass).
Besides free entrances, you will get special discounts on entry tickets for Racic Family Museum (Cavtat), Sokol Fortress (Konavle), Shell Museum Cavtat, Rector's Palace Slano, Heritage House Dubrovacko Primorje and Ston Walls.


Plan Ahead Your Visit to Dubrovnik:
Free public transport with Dubrovnik Pass
1-day Dubrovnik Pass offers the 24-hour use of public transport. 3-day Dubrovnik Pass offers 6 rides on public transport throughout the city. 7-day Dubrovnik Pass offers 10 rides on public transport throughout the city.

Once you are in Dubrovnik, you should pick up your bus tickets at Libertas sale points (Pile, Lapad, Grawe). The bus card becomes valid from the moment of first activation of the bus.


Special discounts with Dubrovnik Pass
With Dubrovnik Pass you will get special discounts on performances at Dubrovnik Summer Festival, Folk Ensemble Linđo, Dubrovnik Shymphony Orchestar, Cilipi Folklor and others. You will also get a discount on entrance to Lokrum Nature Reserve, Mljet National Park, Nature Park Lastovo Islands.
Taste local gastronomy and wines, enjoy the nightlife and spa centers. Discover more with excursions and trips to the natural and cultural treasures of Dubrovnik and its surroundings, purchase local products from authentic Dubrovnik shops.


Where to buy Dubrovnik Pass
Dubrovnik Pass can be bought from Tourist Boards (Pile, Gruz, Lapad, Mlini, Cavtat), Libertas Sailing Points (Pile, Lapad, Grawe), a few travel agencies as well as a number of hotels in Dubrovnik. The easiest way to buy this pass is online. 


Explore Dubrovnik
and beyond: