BEST Food Tours in Rome
Once in Rome, an important part of your trip will be tasting delicious Italian food. One of the best ways to discover great places to eat is to join a walking food tour.

A friendly local guide will take you around one or two of the city's neighbourhoods stopping at local eateries and restaurants to taste yummy food.

Be prepared for loads of local food such as Roman pasta (carbonara, cacio e pepe, amatriciana and alla Gricia), crispy pizza (with yummy toppings), fried artichokes (typical for Jewish Ghetto), suppli (rice croquettes filled with ragu and mozzarella), prosciutto and cheeses, porchetta (spiced roasted pork), Sicilian cannoli, gelato and much more.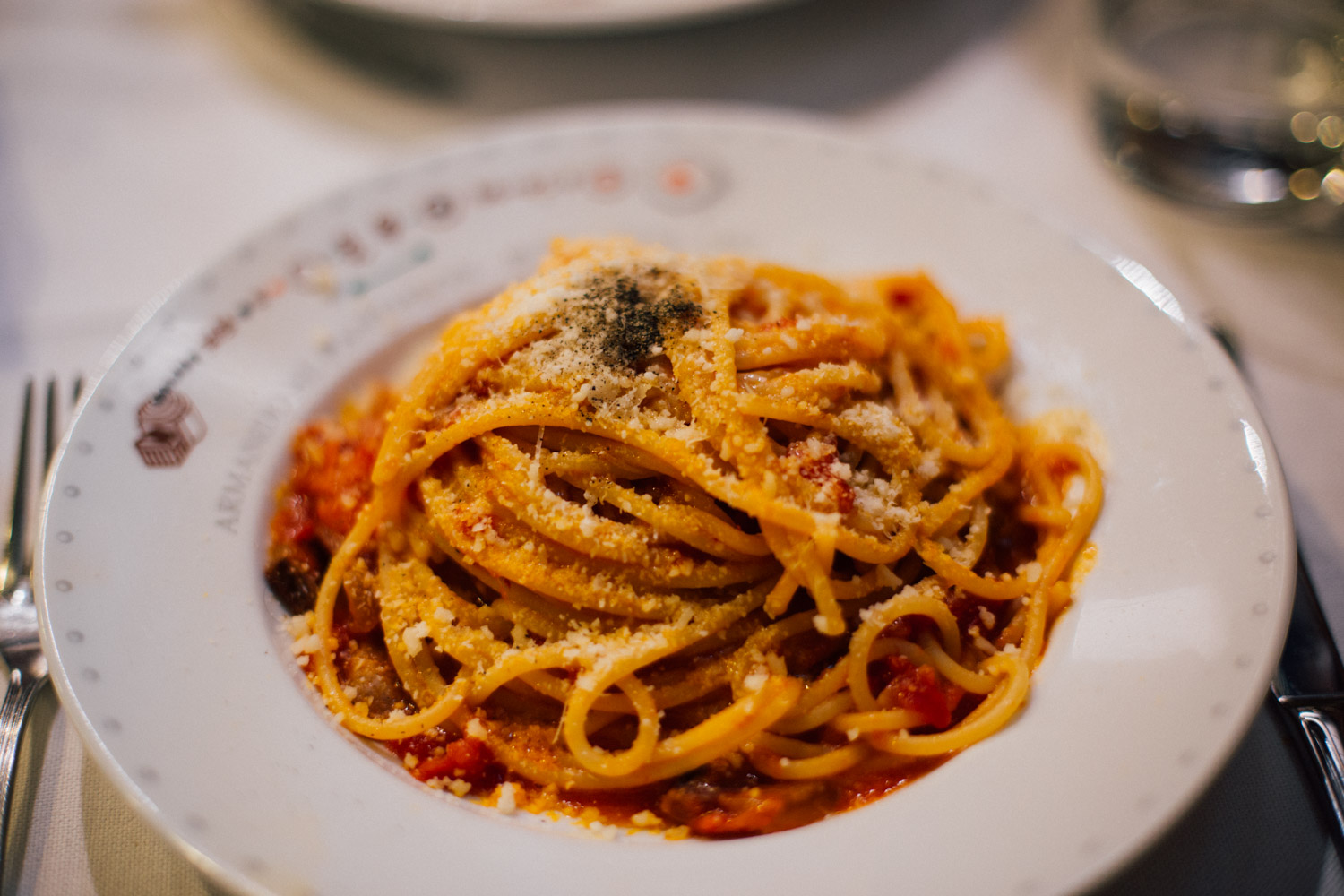 Taste delicious pasta while on food tour in Rome
On these tours, you'll eat delicious food, explore history of Rome and make new friends along the way. 
We suggest you to take a food tour in the beginning of your holiday, so later on during your stay you can come back to great food places to eat amazing food.

Those who are eager to learn some cooking skills while in Rome, we recommend joining one of cooking classes (choose from pasta, pizza or gelato classes).


How to choose a food tour in Rome?
The choice of food tours in Rome is really huge but not all of them are good. Choose those forming small-groups (up to 10-12 people) and visiting authentic restaurants, gourmet shops and other food venues across the city.
Most of them takes place in historic centre (Jewish Ghetto, Campo de' Fiori, Piazza Navona), while some explore Trastevere (on the west side of Tiber River) and Prati (in the north of the city close to Vatican). All these locations are easy to reach either on foot or using public transport (buses, trams or metro).
This article will help you to choose a Rome food tour that best suits you. Each one of these tours are small-group tours led by best local guides and are worth the money.

We are sure that you'll be happy whatever food tour you choose from this list.


Choose from day-time or evening food tours:
Street food tours are very popular among tourists in Rome
Taking a morning food tour is a good choice if you want to have time for something else the rest of the day. Explore Jewish Ghetto and Trastevere on this street food tour then with full belly head towards north to explore St. Peter's Square and Basilica.
Or experience the everyday life of Italians on this morning tour of Testaccio, then visit Colosseum and Roman Forum.

For doing both sightseeing and tasting at the same time join this food tour in historic centre and relax the rest of the day.

If you don't like classic walking food tour, we suggest taking food tour taken by golf cart or food tour by vespa (with a driver).

If non of these tours suit you, opt for a private food tour; you can pick your own time and have a guide for yourself.


Those who want to enjoy slow breakfast in their hotel or apartment, then do some sightseeing in the afternoon, the evening food tour is a good choice.
An evening food tour in Rome is like dinner out with friends at some of the best restaurants in the town. The groups are typically no larger than 8, meaning it's intimate experience.

Evening food tours usually include seated dinner in addition to tasting amazing food in other great eateries where you get to eat plenty of food and drink top quality drinks.
We did a night tour of Jewish Ghetto and Campo de' Fiori and had a fabulous time. This tour offers loads of tasty food, a friendly guide and great history lessons and we are sure that you'll enjoy it.

One of the most popular tours among visitors is Twilight Trastevere food tour that takes you to Trastevere to taste local specialities. Or choose the Roman food tour that takes you to high-class Prati neighbourhood to experience Rome like real Roman.

You'll also have amazing time (with loads of super delicious food) on this night food tour of Jewish Ghetto and Campo Marzio (this tour has only 5-star reviews!).

Pizza lovers will love this evening food tour of Monti that includes tastings of variety of yummy pizzas and similar snacks.


LIST OF BEST ROMAN FOOD TOURS:
1. Gourmetaly small-group food tour
⭐⭐⭐⭐⭐ 1814 Reviews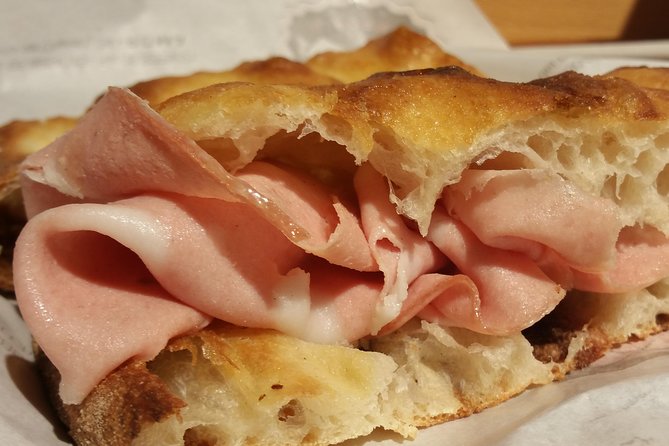 This small-group tour takes you through the areas of Campo de' Fiori, Trastevere and the Jewish Quarter. You'll experience the bustling atmosphere of local food market. Next, you'll taste a range of food including delicious pasta, pizza, cured salami, cheeses and artisan gelato from the best local venues. Finally, you'll explore historic Jewish Quarter and sample suppli, dried artichokes and codfish. One of Rome's favourite food tours!

One of the reviews:
We had a great tour seeing parts of Rome we hadn't seen before & trying food that we had never tasted before Luca was very knowledgeable and fun. I highly recommend this tour. A LOT of food so go hungry!

2. Street food walking tour of Rome
⭐⭐⭐⭐⭐ 1279 Reviews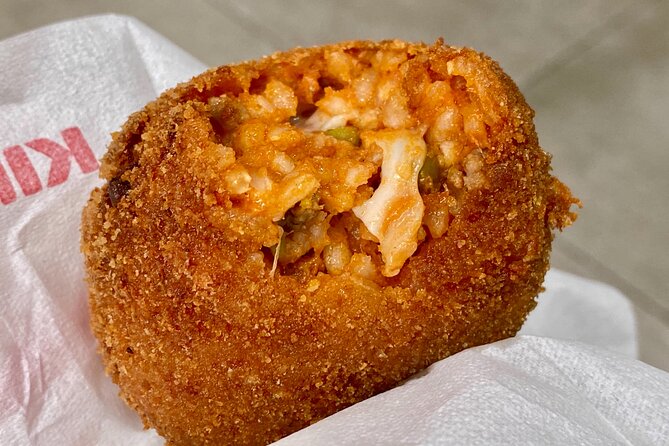 This tour starts in Campo de Fiori, one of Rome's famous squares, and then takes you through Rome historic sites (Jewish Ghetto, Pantheon, Via Portico d'Ottavia and Area Sacra di Largo Argentina) while tasting delicious street food. You'll sample a variety of street foods, such as zucchini flowers, suppli, pastries and pizza. ONE OF THE MOST POPULAR ROMAN FOOD TOURS!
One of the reviews:
We had an amazing tour with Mattia. He was passionate, knowledgeable and patient with all of us. The food we tried was delicious and we learned a lot about Roman food and history. I highly recommend this tour.

3. Private food tour of Rome (6 or 10 tastings)
⭐⭐⭐⭐⭐ 729 Reviews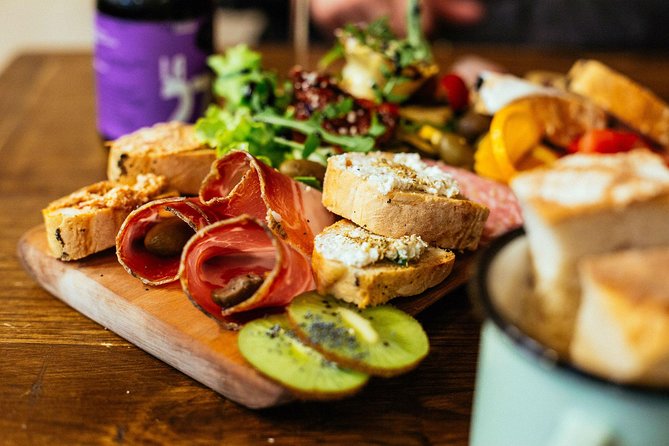 For a truly unique experience, choose this private food tour with your private foodie host, not in a group. This tour combines sightseeing with stops at various places to learn and taste traditional food. The tour starts from Campo de' Fiori square at your preferred times and lasts 2 hours or 3 hours, depending on how many tastings you choose (6 or 10 tastings). Enjoy a culinary journey through the city with your private guide!

One of the reviews:
Don't miss this tour!! Everything was delicious! We got to see local Italians favorite places. Amandio our tour guide was so knowledgeable about the history of Rome not just the food. We had such an enjoyable time. It exceeded our expectations!

4. The Roman food tour in Trastevere
⭐⭐⭐⭐⭐ 1149 Reviews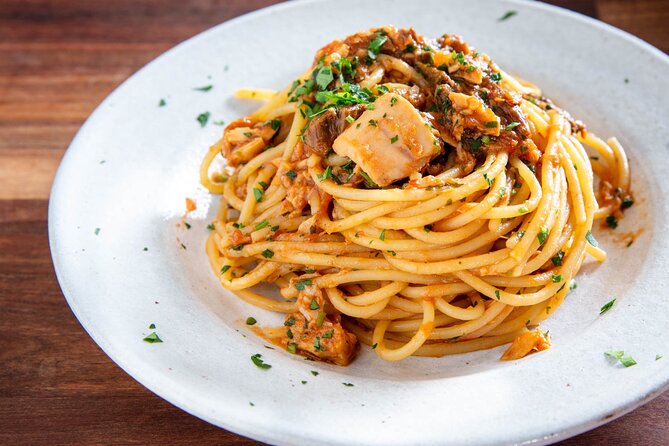 Your foodie guide will take you through the Trastevere neighbourhood (cross Ponte Sisto from historic centre to reach meeting point) to visit 4 local venues for over 20 tastings. You'll enjoy yummy food such as homemade pasta, freshly baked pizza, aged balsamic vinegar, truffles, cheese, wine, prosciutto, gelato and more. You'll have fun time touring and sampling food and wine! 4 HOURS WILL FLY TOO QUICKLY!

One of the reviews:
Our tour was absolutely amazing! We had the most wonderful tour guide and food, and more than enough wine was provided! Great places and types of food. I highly recommend this tour.
5. Trastevere & Ghetto street food tour - Eat like a local
⭐⭐⭐⭐⭐ 5 Reviews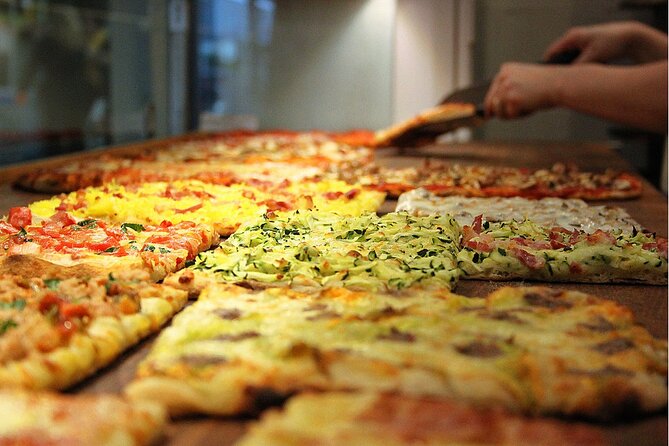 This small-group food tour is a perfect mix of history and delicious food. The tour guide will take you through Trastevere, a vibrant neighbourhood with local favourite hangout spots, authentic restaurants, markets, gelaterias and cafés. You'll enjoy the best local street food classics like pizza, suppli, gelato and much more more. Limited to 10 people, this tour offers a personal sightseeing experience.
One of the reviews:
Fabulous street walking tour. Our guide Julia was fantastic. She had great knowledge of the food as well as the area and the best surprise was the trapizzino. Would highly recommend this tour.
6. "Taste of Trionfale" small-group food tour
⭐⭐⭐⭐⭐ 352 Reviews
This 4-hour eating and walking adventure (with 18 different tastings) starts with a visit to local pasticceria (to have a cappuccino and cannolo). Next stop is popular Roman pizzeria (so good that it's always packed with people). While exploring lively Trionfale market you'll taste fresh mozzarella, melanzane parmigiana and porchetta. At gourmet shop you'll sample cheeses and aged balsamic vinegar, then you'll have a pasta meal at award-winning restaurant. Be sure to come hungry on this tour!
One of the reviews:
A most fun experience with an abundant sampling of delicious Italian foods! Giada was great and had food ready for us to eat at every stop. A fabulous way to spend the day!
7. Rome twilight Trastevere food tour
⭐⭐⭐⭐⭐ 1611 Reviews
This night food tour of Rome is among the most popular one among visitors. The night is filled with delicious tastings of typical street food of Rome like suppli, fried artichokes, pizza and porchetta. Plus you'll enjoy rich dinner at one of the best Roman restaurants as well as pasta dinner with wine in another one plus creamy gelato in the end. EXPECT LOADS OF DELICIOUS FOOD ON THIS TOUR.

One of the reviews:
This walking tour was fantastic! We were able to see and taste all the best parts of Trastevere. Our tour guide Kat was amazing! Extremely knowledgeable and you can tell she thoroughly enjoyed her job. I would highly recommend this food tour.

8. Secret Food Tours: Rome walking food tour
⭐⭐⭐⭐⭐ 640 Reviews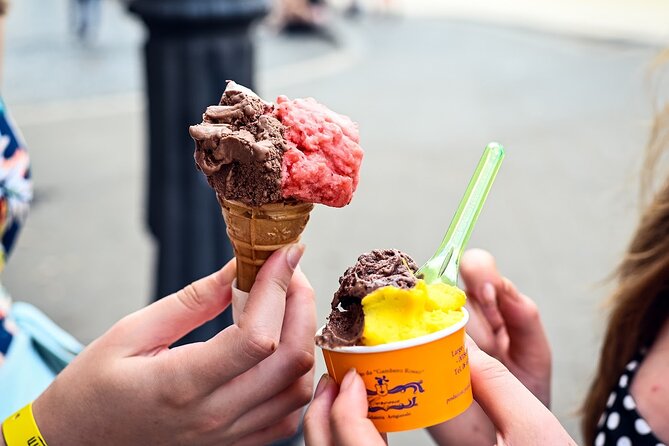 On this tour you'll learn about Roman history while stopping to eat plentiful of Italian food including freshly baked pizza, suppli (fried rice balls), loads of pasta, cheeses, espresso, gelato and much more. The tour explore all historic parts of Rome - Piazza Navona, Campo de' Fiori, Jewish Ghetto and Trastevere. ONE OF TOP RATED ROMAN FOOD TOURS!
One of the reviews:
We enjoyed this tour! The food was plentiful! We especially loved the pizza, suppli, and pasta! Our guide was kind as well! We would have loved to learn more about the history of the neighbourhoods and the foods.

9. Night food tour in Jewish Ghetto & Campo de' Fiori
⭐⭐⭐⭐⭐ 203 Reviews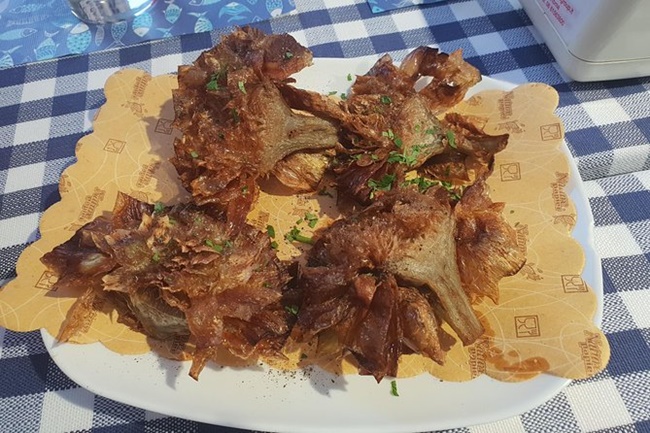 This small-group night food tour of Rome is for those who want to combine sightseeing with tastings. You'll walk through Campo de' Fiori, Jewish Ghetto, Piazza Navona and Piazza Farnese and see the Great Roman Synagogue. Food you'll taste on this tour: delicious pasta, cured meat, cheeses, fried artichokes, roman-style pizza, sweets, coffee and of course, delicious gelato. On this tour you'll have a seated dinner at one of the oldest restaurants in Rome.
One of the reviews:
We had the best tour guide. A proud Roman who gave us great history on the neighbourhoods we visited as well as how the food connected to the neighbourhood and history. The places on the tour were first class. Delicious food. Highly recommend this tour.

10. Testaccio neighborhood food and market tour
⭐⭐⭐⭐⭐ 84 Reviews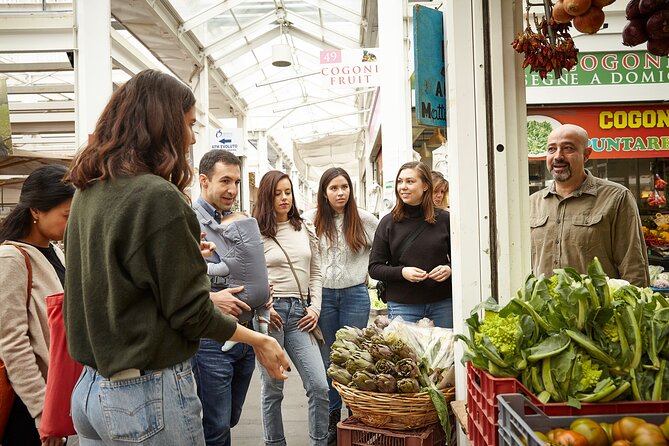 Come hungry on this tour that takes you through Testaccio neighbourhood, the residential part of Rome. You'll start your morning with a true Italian breakfast - a coffee and fresh pastries, then you'll head to market where you'll taste delicious pizza, cheeses and cured meats as well as an amazing sandwich. Next, you'll go for seated lunch in family-run trattoria for eating pasta dishes. Artisan gelato comes in the end!
One of the reviews:
Our guide was great. He explain the history of culture, geography in relation to the different methods of food preparation. The food we sampled were so fresh and delicious. I highly recommend the Devour food tour. We really enjoyed it.

11. The Roman food & wine tour in Prati
⭐⭐⭐⭐⭐ 1867 Reviews
Experience Rome with all your senses on this delicious sunset food tour of Prati neighbourhood (near Vatican). Stroll down the streets with your guide, popping into different gourmet places and tasting delicious food. You'll also meet some of the artisanal food makers as well as sample homemade pasta. The guides are fun and knowledgeable! Experience Rome like a real Roman in this residential part of the city!

One of the reviews:
Wonderful tour with some of the best food we had in Rome!! Our tour guide, Emma, was knowledgeable and super organized. We learned a ton! 10/10 would recommend to anyone for a fun evening in Rome!
12. Hidden Rome food tour in Trastevere (with dinner and wine)
⭐⭐⭐⭐⭐ 387 Reviews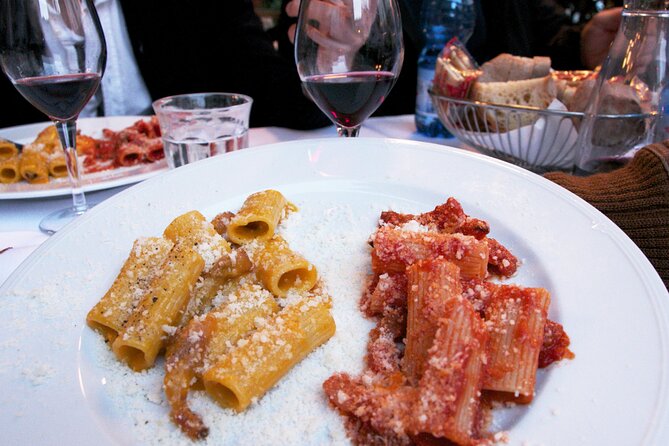 On this evening food tour you'll explore Trastevere neighbourhood, known for small trattorias, bars and artisan shops and it's local nightlife scene. Start the evening with a glass of wine or prosecco then continue sampling delicious food from cheese to pizza, pasta and dessert. The groups are small giving a more intimate experience. THIS FOOD TOUR IS WORTH A MONEY!

One of the reviews:
This is our 2nd time taking this tour and it was even better the 2nd time! Our guide, Matteo, was so awesome, friendly, funny and considerate of the food restrictions in the group. The food we had was amazing! I would definitely recommend this tour to anyone interested.

13. Rome night food tour in Jewish Ghetto & Campo Marzio (with diner and wine tasting)
⭐⭐⭐⭐⭐ 13 Reviews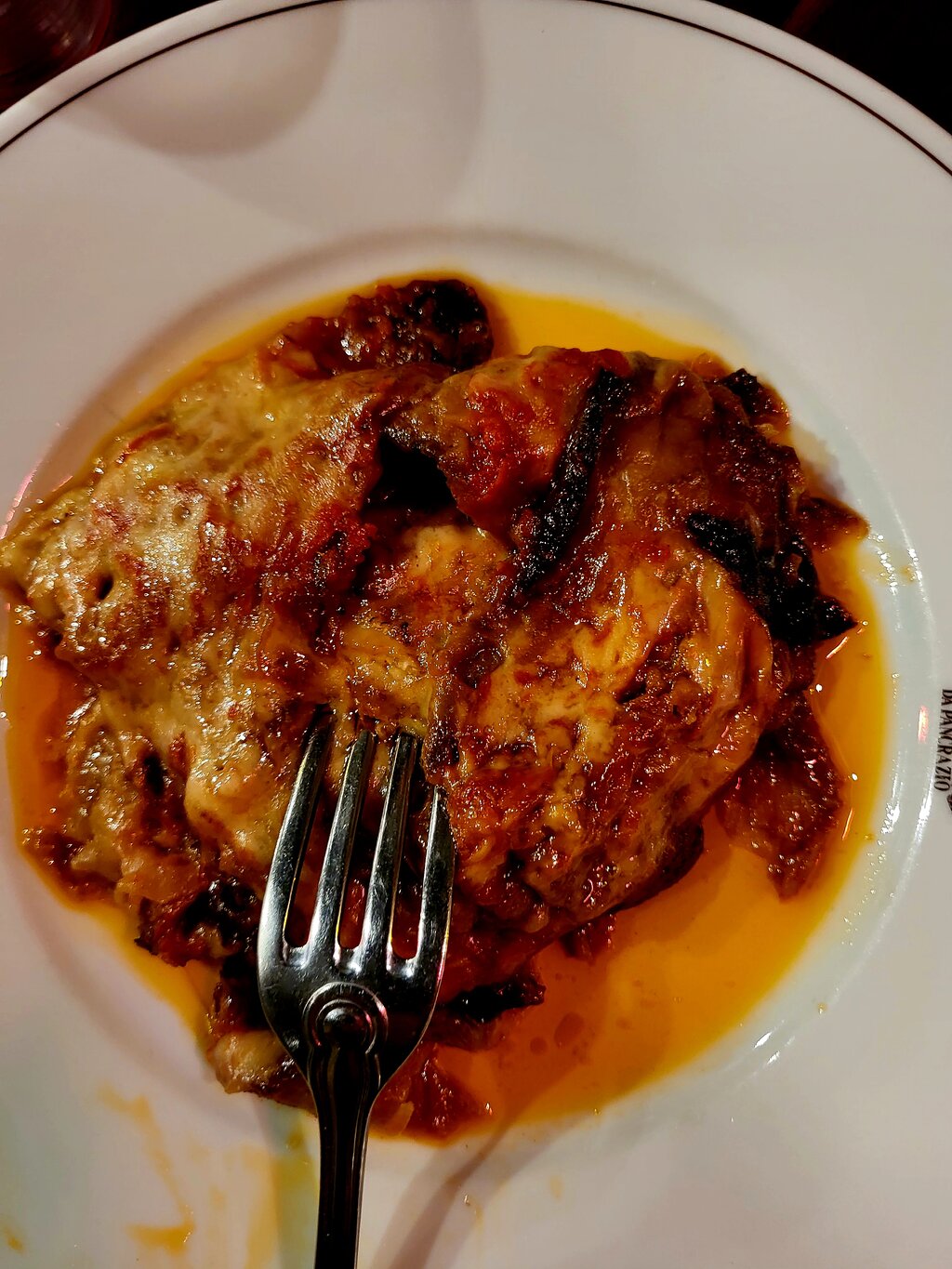 Travellers really loves this night tour that combines sightseeing of Rome's historic points with delicious food tasting. You'll visit Jewish Ghetto, Campo de' Fiori, the Theater of Pompeo and Largo di Argentina. Along the way, you'll taste a range of dishes: fried artichokes, pizza, cured meats, Italian pasta and other dishes, sweets and gelato. Not to mention wines, you will drink during your seated dinner. Very filling and interesting! THIS TOUR HAS ONLY 5 STAR REVIEWS!

One of the reviews:
Oh my goodness, what a wonderful evening this was! Our guide was so knowledgeable and gave us many undiscovered gems in the Jewish ghetto. The food at each stop, was simply fabulous. Added to that was great local knowledge by our guide. I would highly recommend this to anyone who is going to Rome and wants an experience that's outside of just another great restaurant.

14. Italia Tours: Eat as the Romans Do
⭐⭐⭐⭐⭐ 6 Reviews
This 2.5-hour food tour starts from famous Trastevere Square and takes you through Rome's streets to sample 10 regional dishes, including suppli, calzone and pizza, pasta (cacio e pepe, carbonara or amatriciana), parmigiana, arrosticini and bruschetta, filetto baccalà, salami with a glass of wine, ciambellina al vino, tiramisù, coffee and limoncello.
One of the reviews:
This was a great food tour and we and a fantastic experience. Our food tour guide was Francesco, and he was the best! He provided a nice balance of visiting/tasting food at restaurants, and what to look for in a good, family run restaurant. Also, as we went from restaurant to restaurant, he gave a nice tour and history of the many sites along the way.

15. Local Aromas: Roman street food walking tour (Private)
⭐⭐⭐⭐⭐ 15 Reviews
You'll love this wonderful private 3-hour gastro experience in Rome's Campo de' Fiori and Trastevere neighbourhoods. The best foodie guide will teach you everything about food you're going to eat and how to recognise the real deal from the fake one. Be prepare for loads of Roman specialties such as suppli, pizza, gelato - in fact you'll have lunch the way locals do. WHAT A PERFECT WAY TO EAT IN ROME!
One of the reviews:
We truly enjoyed our time on the Roman Street Food Tour. Our guide was great, teaching us so much about Rome, the regions, other things to see and do along with providing a great tour of the wonderful food here. We enjoyed it so much we will be taking more tours soon!

16. The golf cart food tour of Rome
⭐⭐⭐⭐⭐ 7 Reviews
This is not a regular walking tour but golf cart tour that takes you across Rome to taste delicious food. After picked-up from your hotel, you'll go to the famous Roman café to have typical Italian breakfast - coffee and freshly baked pastries. Next, you'll explore the historic centre while visiting food spots to taste delicious food, including local trattoria for a sit-down pasta lunch. You'll go to the places that locals go!
One of the reviews:
It was awesome. The food was fantastic and we learned the history of the places we went. They were places the locals went and you could tell! Alex was awesome. I feel that I have made a friend in Rome!

17. The Vatican private food tour (10 tastings)
⭐⭐⭐⭐⭐ 43 Reviews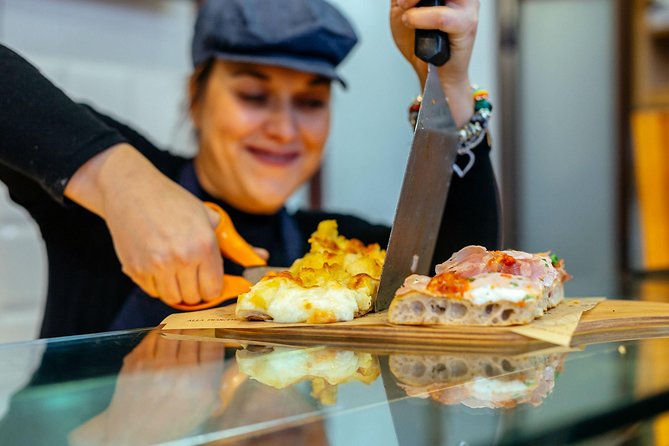 This private walking food tour will take you through the neighbourhood of Prati near the Vatican. You'll stroll through the streets and stop at food places to sample 10 different food an drinks typical of local cuisine. This is a private tour and you'll get personal attention from your guide. Vegetarian options are also available.
One of the reviews:
Sarah was amazing and communicated ahead of time with us to ensure we had a great time. She then was very knowledgeable and fun. She gave us great recommendations as well for dinner. Great!!!
18. Rome Vespa food tour with driver
⭐⭐⭐⭐⭐ 1 Review
This great tour will take you through the streets of Rome on iconic Vespa scooter (with your driver guide). You'll stop at numerous food spots in Campo de' Fiori, Jewish Ghetto and Trastevere neighbourhood to taste delicacies such as fried artichokes, suppli, pizza, espresso, gelato and much more. This tour is private and customized to your interests. You'll find some hidden gems on this tour!
One of the reviews:
Our driver and host was brilliant. Took us to some hidden gems off the beaten track and introduced us to the best local food spots where we tried some delicious food. The best way to see Rome as you can cover so much in the tour.

19. Campo de'Fiori & Ghetto Street food tour with tastings
⭐⭐⭐⭐⭐ 75 Reviews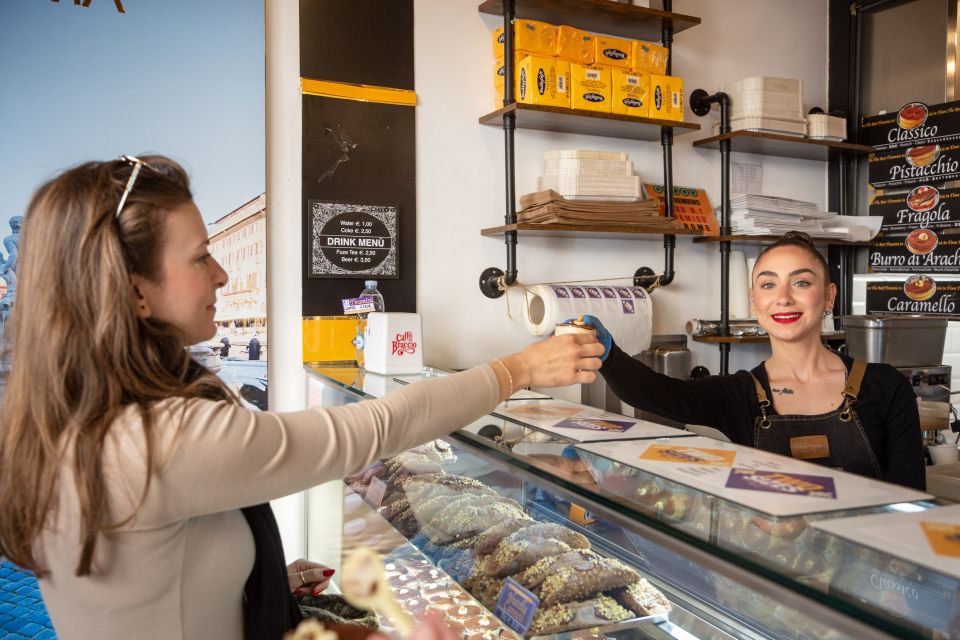 Meet your guide in the heart of the city and explore historic part of Rome while tasting delicious Italian food. On this tour you'll try a panini with porchetta, suppli, Roman-style pizza and fried artichokes along the way. Your next stop will be the Jewish Ghetto, the Tempio Maggiore di Roma, the Turtle Fountain, and Largo di Torre Argentina. Finally, you'll make your way towards the Pantheon, before heading to the nearby Piazza di Sant' Eustachio and end your tour by eating creamy gelato.
One of the reviews:
This was incredible. A must-see/taste for first timers in Rome. Julia was a warm and friendly tour guide, answering questions and offering info wherever possible. The tour featured some amazing Roman street food and really gave a taste of what Rome has to offer. The Campo di'Fiore market tasting and Roscioli pizza was perfect. It also ends with beautiful gelato just across the piazza from cafe Eustachio II which is a fantastic spot. Can't thank Julia enough for a fantastic day out.
20. Gourmet pizza at sunset near the Colosseum
⭐⭐⭐⭐⭐ 4 Reviews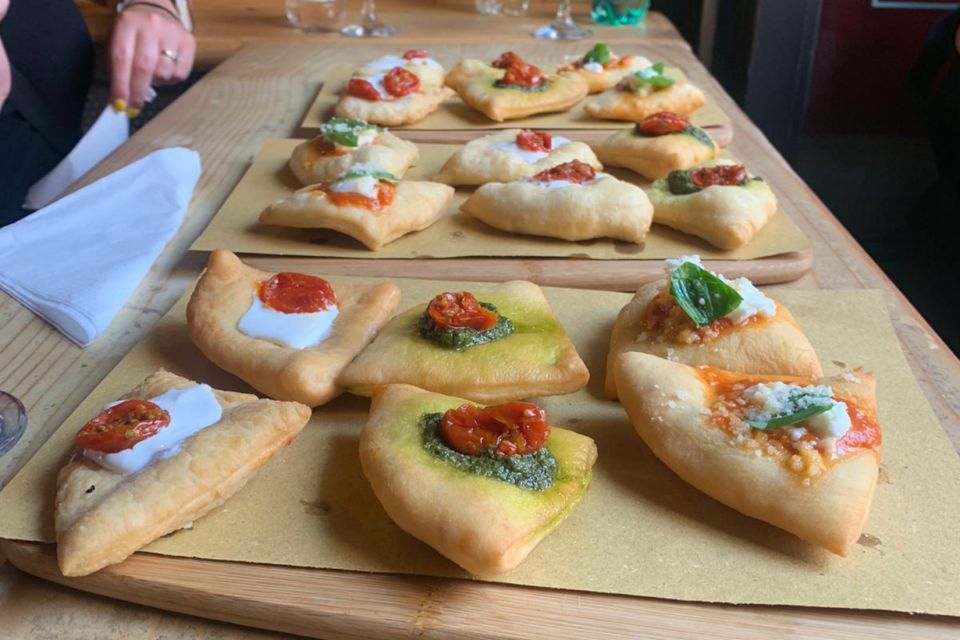 This evening foodie tour is ideal for pizza lovers as it offers tasting of 10 kinds of pizzas while exploring trendy Monti neighbourhood (visit Colosseum before the tour; it's a short walk from tour meeting point). Come hungry as you'll eat pizza rossa, pizza bianca, pizzette di s'foglia, pizza fritta, tiella al polpo, tiella con scarola, pizza con patate, margherita and focaccia. You'll also hear stories behind the recipes of these tasty snacks.

One of the reviews:
Outstanding! Our guide Anastasia was phenomenal! She told us so many interesting things about Rome and she took us to the best pizza restaurants! It was so cool that we got to try three very different styles of pizza. We enjoyed sightseeing the are of Monti and trying the food! I highly recommend this tour.
Our top picks
for staying in Rome: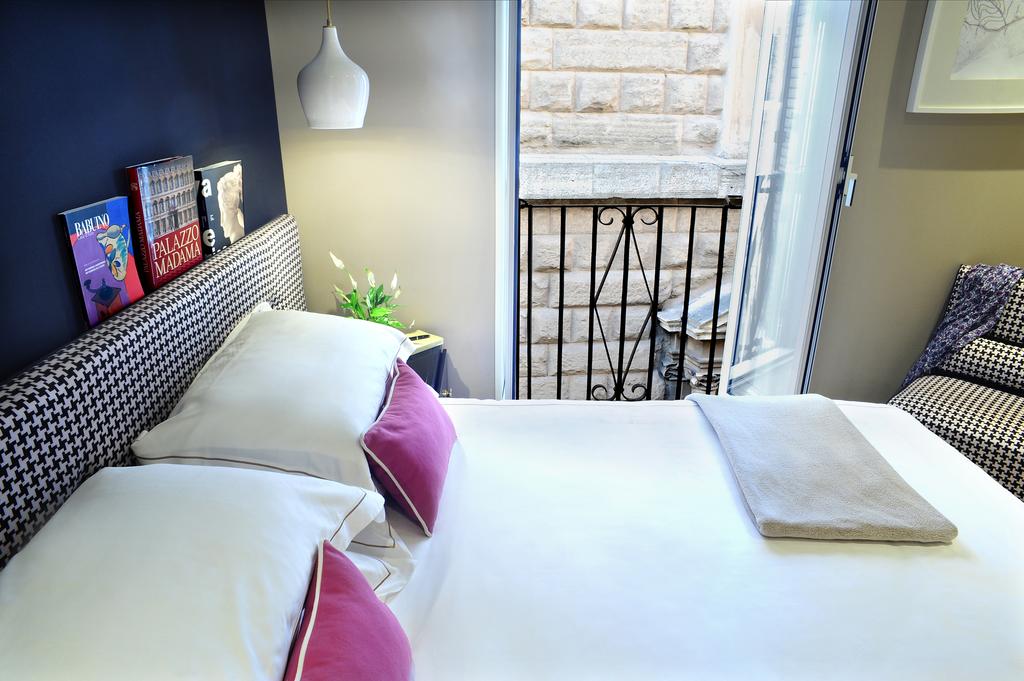 The Radical Hotel - Modern boutique hotel, situated only a few steps from Via Veneto and Piazza Barberini (Spanish Steps and Trevi Fountain can be reached in 10 minutes from here as well as La Rinascente department store). This cosy hotel offers 11 modernly decorated rooms set on two floors. The staff is super attentive and will do everything to make your stay comfortable.

Nerva Boutique Hotel - Small 3-star hotel ideally located just a few steps from Colosseum and Roman Forum. This hotel has warm atmosphere and offers accommodation in 20 rooms and suites. Visitors especially love breakfast here!

Fragrance Hotel St. Peter - Only 10 minutes walk from Saint Peter's Square; hotel rooms are comfortable and staff is friendly and speak good English; quiet residential location.

Laurina 33 - This small hotel/guesthouse offers super modern and large rooms and cosy atmosphere. The Spanish Steps and Piazza del Popolo can be reached in only 5 minute walk from here.


Plan your trip to Italy: