Best Food Tours in Italy
One of the best reasons for visiting Italy is surely its delicious food and drinks. While on holiday there you should definitely take part in one of many guided food tours during which a local guide will take you through the streets of the cities to savour delicious Italian specialities.

When choosing food tours choose those led by locals and small-group one. This way you'll have better experience. In the text below find food tours across Italy that are worth joining and explore tasty side of Rome, Bologna, Florence, Naples, Sicily and other Italian places.


Taste delicious pasta and other Roman food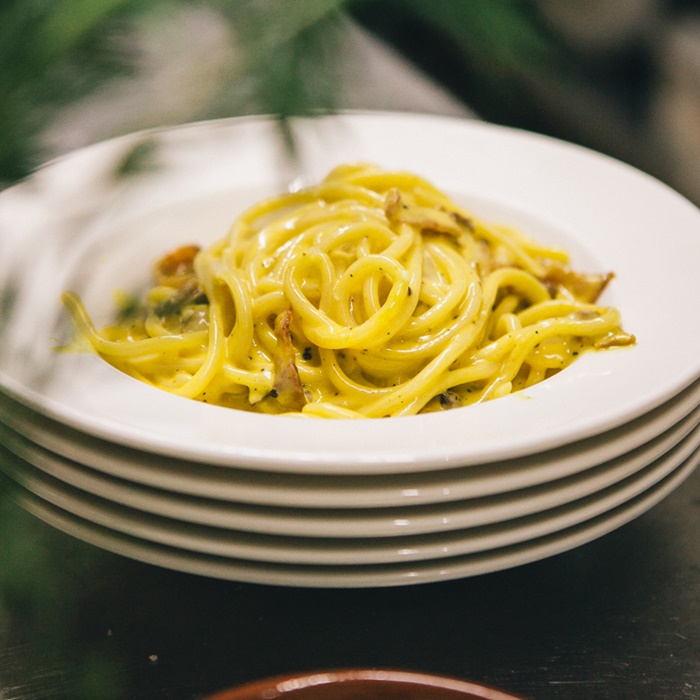 Pasta carbonara - a classic Roman pasta dish
While in Rome explore its delicious side during a walking tour with a local guide. Take part in this interesting activity and visit its colourful fruit and vegetable markets, bakeries, gelaterias, gourmet food shops and family-owned restaurants to taste the best Roman food.

The cuisine of Rome is packed with tasty pasta and some tours will include lunch where you can taste the most popular Roman pasta dishes (cacio e pepe - pasta with pecorino cheese and a pepper or pasta carbonara with guanciale).
You will also have the chance to try popular local snacks - suppli or pizza bianca. Don't miss the opportunity to learn how to distinguish a real Italian gelato from a fake one while tasting one of the numerous gelato flavours.

Pizza lovers won't be disappointed with the food tours as most of them include a tasting of this popular Italian dish. Along with the tasting you will have a quick pizza history lesson from your local, knowledgeable guide.

One of the highlights of the tour will surely be a visit to one of many gourmet shops that offer typical Italian products such as prosciutto, salami, buffalo mozzarella, Parmigiano-Reggiano and pecorino cheeses, olive oils, aged vinegars and the many other treats.


Choose from these amazing Rome food tours:
1. Rome walking food tour with Secret Food Tours
Meet your guide at Piazza Navona in the morning and join him in exploration of Campo de' Fiori, Jewish Ghetto and Trastevere neighbhourhood. On this tour you'll sample hand-picked Roman specialities including fresh pizza and pasta, suppli, prosciutto, cheeses, creamy gelato plus Secret dish (that will be revealed on the day of the tour).  
This a great 2.5 hour tour that has walking with breaks for eating and sitting. This tour also has a private option (if you want the guide just for yourself!)
2. Taste of Trionfale Rome food tour
This tour starts from local pasticceria in Prati (where you'll have cappuccino or other drink of your choice + Sicilian cannolo). Next, the guide takes you on 4-hour eating and walking adventure. 
You'll visit Trionfale market (where you'll sample also delicious food), one of the best pizzerias in Rome and gourmet shop (to taste cured meets and cheeses). The tour ends with seated-diner at local restaurant (pasta + wines). Be prepared for a loads of delicious food!
---
3. Jewish Ghetto & Campo de' Fiori night food tour
This evening tour is a great mix of sightseeing, history lessons, funny local anecdotes and of course delicious food tasting through the streets of Rome (you'll visit 7 food spots). You'll walk through Campo de' Fiori, Piazza Navona and Piazza Farnese and see the Great Roman Synagogue. 
Food you'll taste on this tour: delicious pasta, cured meat, cheeses, fried artichokes, roman-style pizza, sweets, coffee and of course, delicious gelato. On this tour you'll have a seated dinner at one of the oldest restaurants in Rome.
We've been to this small-group tour and had a great time! See our review of this food tour!

---
4. Rome street food tour
On this tour you'll be sampling a variety of street food (zucchini flowers, suppli, pastries and pizza) while taking in the impressive scenery of historic Rome.

👌 Check availability and reserve your place
---
5. The Roman food tour in Trastevere
Your foodie guide will take you through the Trastevere neighbourhood to visit 4 local venues for over 20 tastings. You'll enjoy the best food and wine Italy has to offer: homemade pasta, traditional pizza, 30 year aged balsamic vinegar, truffles, cheese, wine, prosciutto, gelato and more. 
You'll have fun time touring and sampling food and wine! This tour has 4 different departures daily, starting from noon until the evening.
---
6. Small-group food tour with Gourmetaly
Meet your guide at Piazza Farnese and continue exploring the areas of Campo de' Fiori, Trastevere and Jewish Quarter. In the group of no-more of 12 people, experience the bustling atmosphere of local food market. 
Taste some of the most delicious Roman delicacies: pizza bianca with mortadella, pizza rossa, suppli, fried artichokes or zucchini flowers, salami, mozzarella, cacio e pepe and amatriciana pasta and of course gelato. Choose on of 3 daily departures and join one of Rome's favourite food tours!
---
7. Hidden Rome food tour in Trastevere
Join a small-group of foodies to explore Trastevere neighbourhood, known for small trattorias, bars and artisan shops and it's local nightlife scene. Sample a wide variety of street food and sip on the finest wine that Rome has to offer. 
As the sun sets, have a traditional Roman dinner in a family-run restaurant. In the end, refresh yourself with tasty gelato! This tour lasts 3 hours and you can choose from several departure times. The groups are small giving a more intimate experience.
---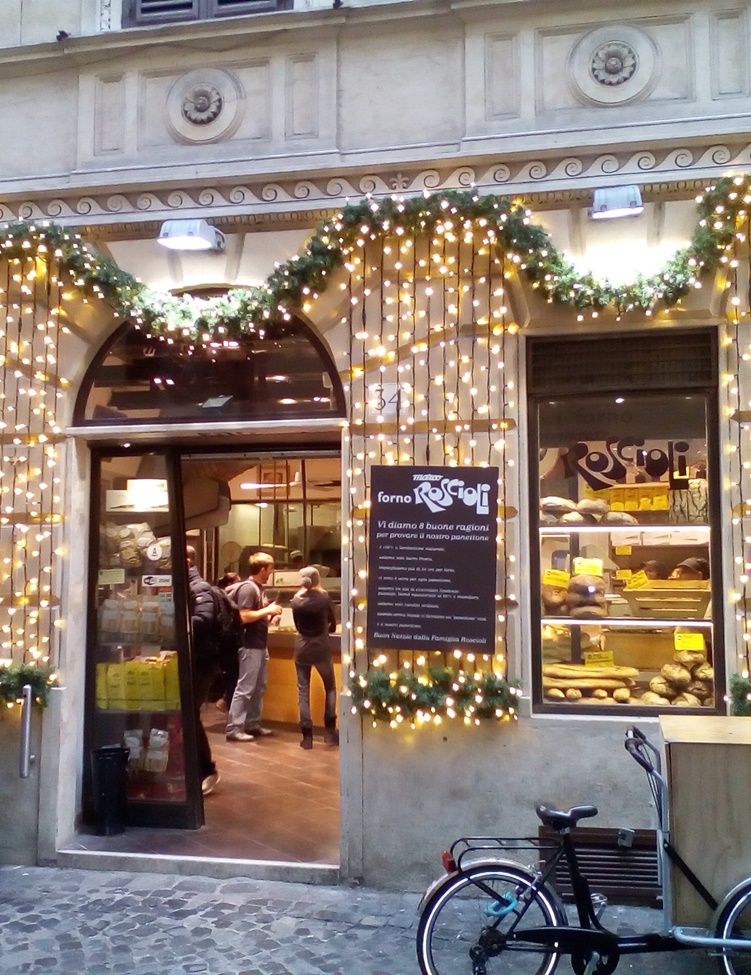 Roscioli bakery offers a wide range of baked goods
Explore Bologna - Italian food capital
Bologna is Italy's culinary capital, and if you join a food tour here you'll discover the secrets of homemade tortellini and tagliatelle and savour delicious meat ragu. You'll visit places where locals eat and drink.


Tuscany food & wine tours
If you are more into drop of wine you should head to Tuscany and take part in one of wine tasting tours. These tours will take you out into the countryside, where you will enjoy the breath taking landscapes of the many vineyards and olive groves, visit cellars and taste some world famous wines.

The wine tasting tours in Chianti, Montalcino and Montepulciano are among the most popular. If you choose a food tour in Florence, the capital of Tuscany, you will probably visit the San Lorenzo Central Market to taste balsamic vinegars and extra virgin olive oils.

The easiest way to reach Tuscany is by train; check here how to take train from Rome to Florence!


Sicilian food tours
The island of Sicily is one of the most interesting regions of Italy when it comes to food. The many fresh and organic ingredients available are the base of their tasty cuisine, which consists mostly of fish and vegetables.


While exploring Sicilian picturesque villages and medieval towns taste some of the best street food this amazing island has to offer. You can choose from arancini (deep-fried rice balls filled with mozzarella), cazilli (potato croquettes), panelle (chickpea fritters) and sfincione (Sicilian pizza).


Sicilian cannoli
Sicily is also the home of amazing sweets - the most popular are cannoli – a crisp pastry filled with flavoured ricotta cream.


Liguria Food Tours
The region of Liguria boasts some of the best food in Italy - including pesto all genovese, minestrone and popular focaccia. Pesto alla genovese sauce is made from a few simple ingredients (basil, pine nuts, Parmigiano-Reggiano, Pecorino, garlic, salt and olive oil) but it is absolutely delicious.


Emilia-Romagna food tours
Visit the famous Emilia-Romagna region, which is the home to the most popular Italian products - Parmigiano-Reggiano cheese and Parma ham. The beautiful Amalfi coast, which is dotted with small beaches and colourful, delightful villages, is a region where you will have the opportunity to try the popular lemon liqueur - Limoncello.


More useful info on travelling in Italy:
We have lots more information to help you plan your travel in Italy. See these pages:
You might also like: