How to Travel Italy by Train
Looking for the best way of travelling within Italy? We have the answer: trains.
Italy boasts an abundance of routes connecting cities and towns all over the country and provides fast and safe journeys to thousands of locals and visitors likewise. Not to mention that trains are very affordable, meaning you can travel between smaller cities for only €3-€5, while long distance train tickets cost starting from €20 (find cheap train tickets here!).
Most train stations in Italy are located in or very close to the city center , so they're very easy to reach, sometimes even on foot from your centrally located hotel.

This doesn't mean that you have to do all of your travel by train. If visiting the countryside or small hilltop villages that are not so well connected, you should consider renting a car, as it gives more freedom and flexibility while travelling.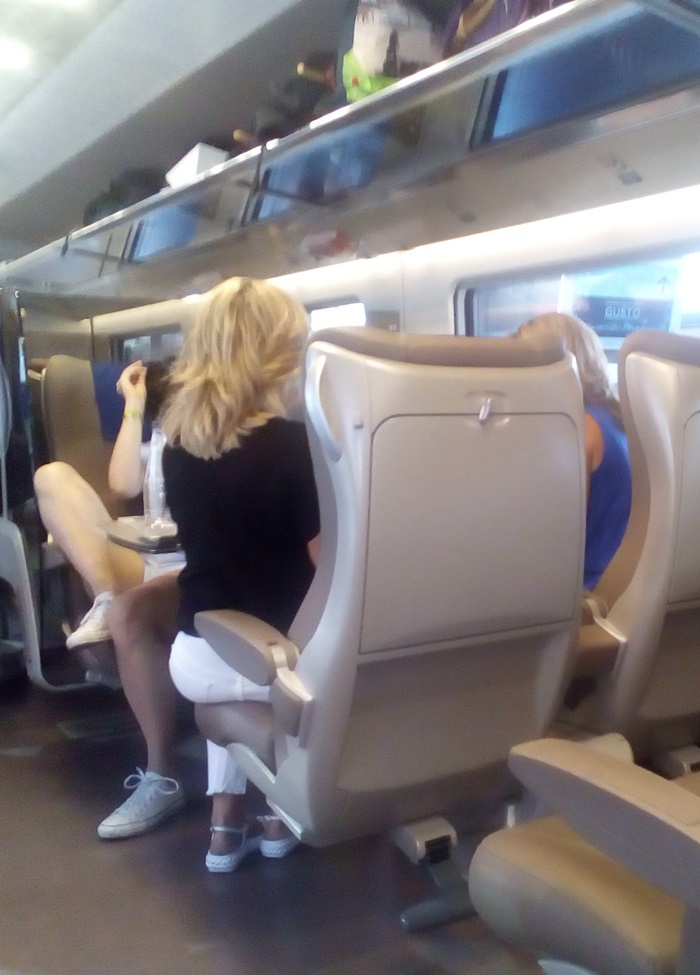 Business class at Frecciarossa train is super comfortable
It's the best to combine different ways of transport: trains between major cities (Rome, Naples, Florence, Milan, Venice) and car rental for reaching smaller towns.

You may use also plane for travelling from north to the south, but bare in mind that this is also possible to do by high-speed trains which are very comfortable (you can travel from Milan all way down to Lecce, in the very south).
Using trains you can travel all across Italy, from Milan or Venice to Florence and further to Rome, and next from Rome to the south to Naples, Bari or even Lecce in the very south. From major cities you can easily catch train to the cities in the region.


Buying train tickets in Italy
There are two options of buying train tickets in Italy:
AT TRAIN STATION: You can buy train tickets either at ticket office at train station or from ticket machines (instructions in English are available and they accept credit cards) you can find all over the stations. 

ONLINE: We recommend buying your tickets in advance whenever possible so that you do not have to wait in line, deal with a machine if you're in a hurry, you have more seat options, plus having your trip mapped out beforehand can save you precious time while in Italy. Trainline allows you to see all available trains on specific dates, with travel plan and prices so you can choose the best option for you. In addition, you can select the seat (on high-speed trains).


TRAINLINE makes easy to book your train tickets online. Once you choose the route and date, all trains operating on this date will show up in one screen and you'll see information such as TRAIND DEPARTURE and ARRIVAL TIMES, STOPS along the way, ticket prices and other useful info

If bought online, train tickets are already validated. But if bought from counter or ticket machines, before boarding your train, validate your tickets in validation machine found in ticket halls and platforms.


🚄  Book online train tickets in just a few steps!
Automated ticket machines at Santa Maria Novella train station
At the train station...
Large cities will have several train stations, while smaller one may have also a couple to choose from. For example Florence has Santa Maria Novella Train Station (long distance trains arrive here) and Rifredi Train Station (for regional trains).

It's useful to know and use the Italian name of your departure and arrival city. For example, Italian names for cities are following: Venezia (Venice), Firenze (Florence), Milano (Milan), Genova (Genoa) and Roma (Rome).
When you arrive to train station you should look for electronic board with train departure information. Usually, there are several of them throughout the station, with the bigger one in the main hall and ticketing area and smaller ones on the platforms.


When looking for your train on platforms, note that only the final destination of the train will be listed on the electronic board, so your actual stop may not be noted. To find your train, look for the train number on your ticket, then find it on the information board (the train departure platform will be shown - binario).
To identify your train, look for the train number on your ticket, as the destination shown on the board is the final one, but your destination may be an intermediate stop (which you will see in the part of the display that scrolls by). 


Some useful board information in English and Italian:
train number (treno)
train's final destination (destinazione)
departure time (orario)
delay (ritardo)
Information (informazioni) - this usually displays the intermediate stops of the train with arrival times
platform number - binario.
Validating the train tickets
If your train doesn't have a specific train number, date and time printed on it, you must validate it before boarding. Find green/white electronic box and insert your ticket into it to get it timestamped (this mostly applied to regional trains).

If taking Freccia high-speed train or Italo train, there is no need to validate the tickets. Once the train staff comes to you on the train, you'll need to show the electronic tickets to them.


Boarding the train
When boarding the train, double check if you are going to board the right one by looking at the board positioned overhead along the track - it specifies train number and final destination. Also, made sure to board the right carriage; the number is visible on the side of the train or an electronic sign on the door.


What if your train is cancelled
When you travel by train in Italy, you should be aware that sometimes the trains are cancelled due to strike, an accident or repairs on the line.

Usually this happens with regional trains and not so often with high-speed trains between major cities. If this happens, head to Information desk and ask for the next train to your destination. Usually, the same train ticket is valid for the next journey.


Roma Termini Station - main train station in Rome
Trains from Rome
From Rome's Termini Station you can travel all way up to Florence, Bologna, Milan, Turin and Venice as well as to the south - Caserta, Benevento, Foggia, Barletta, Bari (catch here ferry to Dubrovnik, Croatia) and Lecce.
One of the most popular train routes in Italy is the one from Rome to Naples (1h 13 minutes), and further to Salerno (2 hours), from where you can easily reach the Amalfi coast.

During the summer, train travel from Rome to Calabria in the very south (Paola, Lamezia, Rosarno and Reggio Calabria) is very popular among tourists and locals.
Recently, Trentialia introduced Frecciarossa trains from Rome to Pompeii during weekends (every third Sunday of the month) with two stops at Napoli Afragola and Napoli Centrale.

If you are landing to Rome Fiumicino Airport, the Leonardo Express train is the best way to reach the city - it takes only 32 minutes from the airport to Roma Termini.

🚅 See all train routes from Rome and book online!
Trains from Naples
Naples' main train station is Napoli Centrale (or Naples Central Station) – it's one of the most important train stations in Italy and is well-connected to other main cities across the country, including Rome (1h 07m), Salerno (31m), Caserta (33m), Pompeii (31m) and Florence (2h 31m).
The other major train station in the city is Napoli Afragola, a modern building created by the famous architect Zaha Hadid and served by mainly high-speed trains – Frecciarossa and Italo trains bound for Milan Central Station and Roma Termini, and Frecciargento trains bound for Villa San Giovanni.

If you're tired of trains, visit small ports and villages on the coast. But if you're up for more exploring, Pompeii, Herculaneum and Mt Vesuvius should be on your list.

Trains from Florence
Florence's main train station is Santa Maria Novella, which is located right in the heart of the city centre and offers plenty of connections to destinations across Tuscany and the rest of the country.

Thanks to Le Frecce and Italo high-speed trains, you can reach Prato in only 20 minutes, Bologna in just 35 minutes, Pisa in 1h 7 minutes, Rome in 1h 20 minutes, Milan in 1h 40 minutes and Venice in 2h 22 minutes.

From Florence you can reach other cities in Tuscany, like Prato (19min), Pistoia (30min), Lucca (1h 25min) and Pisa (1hour). 

In addition, popular cities of Livorno, La Spezia, Arezzo and Pisa can be also reached by train from Florence.

The other two major stations in the city are Firenze Campo di Marte, which is served by trains covering the route from Florence to Rome, and Firenze Rifredi, where trains travelling from Florence to Bologna stop.


Firenze – Pisa – La Spezia – Rapallo – Genova

🚄 See trains from Florence and book easily online
Trains from Venice and Verona
From Venice you can reach Padova, Bologna, Firenze, Rome and Napoli and Salerno. From Venice you can reach Udine and Trieste. From Salerno you can reach Reggio Calabria. From Verona you can reach Bolzano and Brescia/Begamo and from Bologna to Modena and Mantova. Also you can reach Padova, Ferrara, Bologna, Rimini, Ancona, Foggia, Bari and Lecce.


Trains from Milan
Situated in the northern region of Lombardy, Milan is the perfect place to start your Italian journey. The capital of Lombardy is served by 3 airports (Linate, Malpensa and Begamo) making easy to arrive here from any country is Europe and overseas. Milano Centrale, the central train station has connections from all over Europe.

From Milan take trains to Bologna, Florence and Rome.

🚄 Find your train tickets from Milan here
More useful info on travelling in Italy:
We have lots of more information to help you plan your travel in Italy. See these pages:
You might also like: