Ferries from Italy to Croatia

There are 6 different ferry operators offering 15 routes between Croatia and Italy. Ferries leaves Italy from the ports of Venice, Trieste, Ancona, Bari, Pesaro and Cesenatico.

Ferries arrive in the cities of Split, Dubrovnik, Zadar, Rovinj, Pula, Porec and Umag, as well as the island ports of Mali Losinj, Rab and Novalja.

With so many routes on offer, Direct Ferries makes it simple to compare all available ferries in one search so you can quickly find what you are looking for.

Check our

handy travel guide to Italy

with tips on top things to do, best ways to get around, how to save and much more!
Cruise & Ferry port in Dubrovnik
Ferries from Bari to Split/Dubrovnik
Jadrolinija offers ferry crossings from the port of Bari to the ports of Dubrovnik and Split in Croatia, available from May until mid-October (once per week). These routes are operated by the same car/passenger ferry equipped with a range of cabins (2 berth and 4 berth), reclining seats as well as restaurant and shop onboard.

To reach port of Bari take one of many trains running from Rome, Naples or other Italian cities.


Our top picks
for staying in Rome: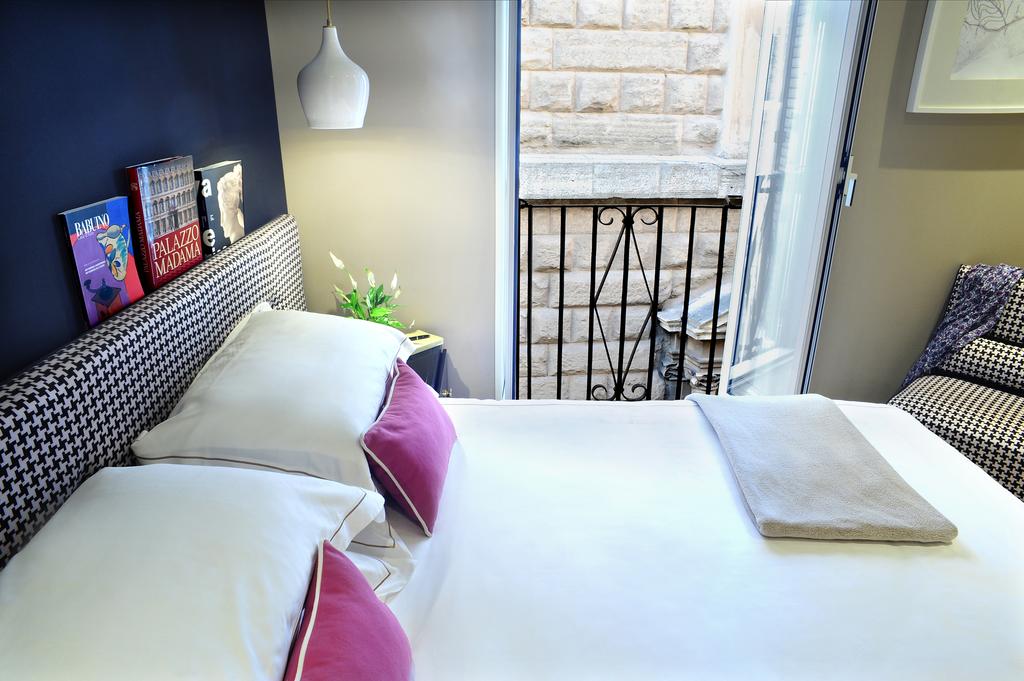 The Radical Hotel - Modern boutique hotel, situated only a few steps from Via Veneto and Piazza Barberini (Spanish Steps and Trevi Fountain can be reached in 10 minutes from here as well as La Rinascente department store). This cosy hotel offers 11 modernly decorated rooms set on two floors. The staff is super attentive and will do everything to make your stay comfortable.

Nerva Boutique Hotel - Small 3-star hotel ideally located just a few steps from Colosseum and Roman Forum. This hotel has warm atmosphere and offers accommodation in 20 rooms and suites. Visitors especially love breakfast here!

Fragrance Hotel St. Peter - Only 10 minutes walk from Saint Peter's Square; hotel rooms are comfortable and staff is friendly and speak good English; quiet residential location.

Laurina 33 - This small hotel/guesthouse offers super modern and large rooms and cosy atmosphere. The Spanish Steps and Piazza del Popolo can be reached in only 5 minute walk from here.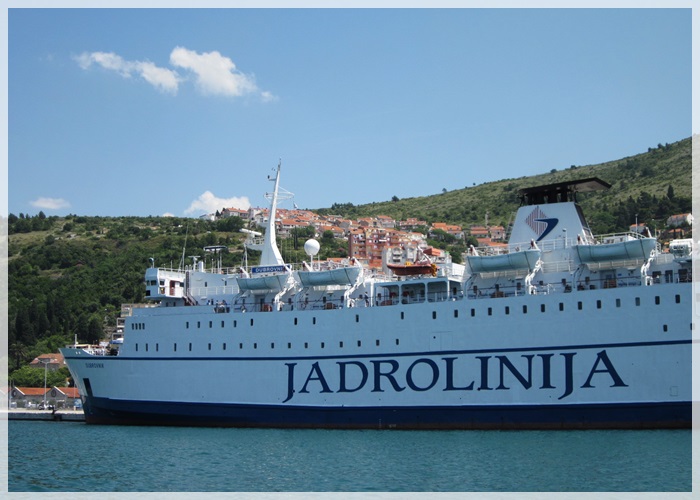 Jadrolinija's car/passenger ferry operates between the port of Bari and port of Dubrovnik
Ferries from Ancona to Split
The port of Ancona lies about 300km from Rome on the Adriatic coast. It is connected to the Italian motorway network by the A14 motorway. Ancona can be reached from Rome by 4-hour long train ride (the tickets are pretty cheap, book here!). Find out all about Rome to Ancona travel!

Besides Croatia, the port of Ancona connects Italy with Albania (Durres), Greece mainland (Patras and Igoumenitsa) and Ionian Islands (Corfu).

Jadrolinija and SNAV are two ferry companies offering crossings between Ancona and Split. Jadrolinija sails all-year long while SNAV only sails from April until the end of September.

SNAV offers best on-board service, including shopping areas, children's play rooms and top self service restaurants. On top of that, travellers can enjoy excellent double cabins and suites, while the family sized accommodation can hold up to 4 passengers.

Jadrolinija offers a range of comfortable cabins, reclining seat accommodation and the restaurant onboard. 

The port of Split
Ferry from Ancona to Zadar
From the port of Ancona, you can take also car/passenger ferry to the port of Zadar (northern part of Croatian coast). Jadrolinija runs this route in the peak summer months (July and August), but only once a week. The crossing time is around 9 hours.
From Zadar you can continue your travel further within Croatia. To reach Istrian peninsula, travel to the city of Pula (by bus, high-speed catamaran or plane). For reaching Croatian capital Zagreb, take one of many buses operating from Zadar.

From Zadar you can easily reach Plitvice Lakes, by one of many buses.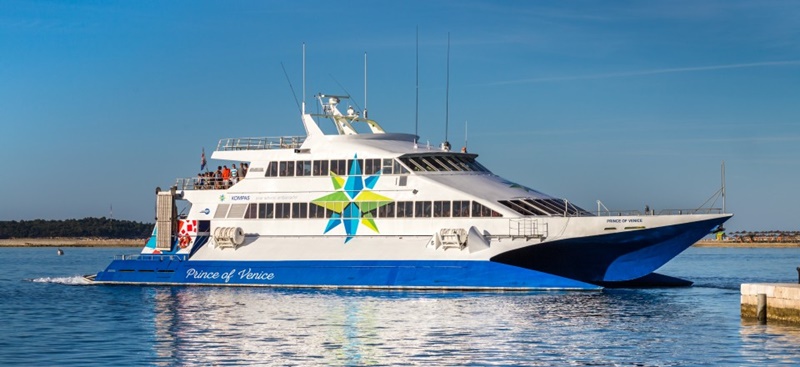 Prince of Venice
Ferries from Venice to Croatia
VENICE TO CROATIA FERRIES: There are 2 ferry operators connecting the port of Venice with several ports in the northern part of Croatia coast.

VENEZIA LINES operates high-speed catamaran route from Venice to the ports of Rovinj, Porec, Pula and Umag. Running from April to October, Venezia Lines connects these ports with modern vessels called San Frangisk and San Pawl combining all the advantages of hover crafts and catamarans. Use Direct Ferries to check the latest sailing timetable and book your tickets online.

KOMPAS provides high-speed routes between Italian city of Venice and coastal towns of Umag, Porec, Rovinj and Pula (situated on the largest peninsula in the Adriatic). This company operates two vessels. The first one is called Prince of Venice and can hold up to 303 passengers.
The ship has three outdoor decks and two indoor seating area with air conditioning. There is also a bar on board and panoramic views from the outdoor decks.

The other ship is called Adriatic Jet and can hold up to 343 passengers. The ship is fully air conditioned and has a bar and duty free shopping on board.

Check the sailing timetable and book tickets here.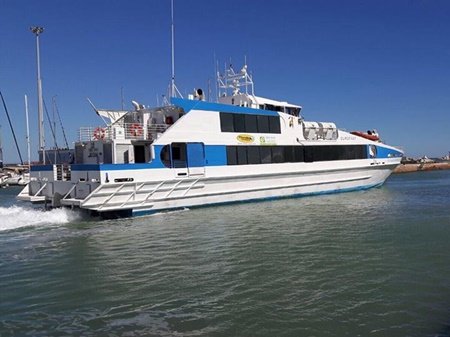 Ferries from Cesenatico/Pesaro to Croatia
FROM CESENATICO & PESARO TO CROATIA: Gomo Viaggi is an Italian ferry company which connects the east coast of Italy with a few Croatian coastal towns and islands.

This company operates high-speed catamarans from Cesenatico (Emilian-Romagna region) and Pesaro (Marche region) in Italy across the Adriatic to Rovinj, Mali Losinj (the island of Losinj) and Novalja (the island of Pag). These service is run by super-fast catamarans and is available only during the peak summer months.

From Mali Losinj you can catch Krilo catamaran to Zadar and from there continue your travel further to other destinations within Croatia.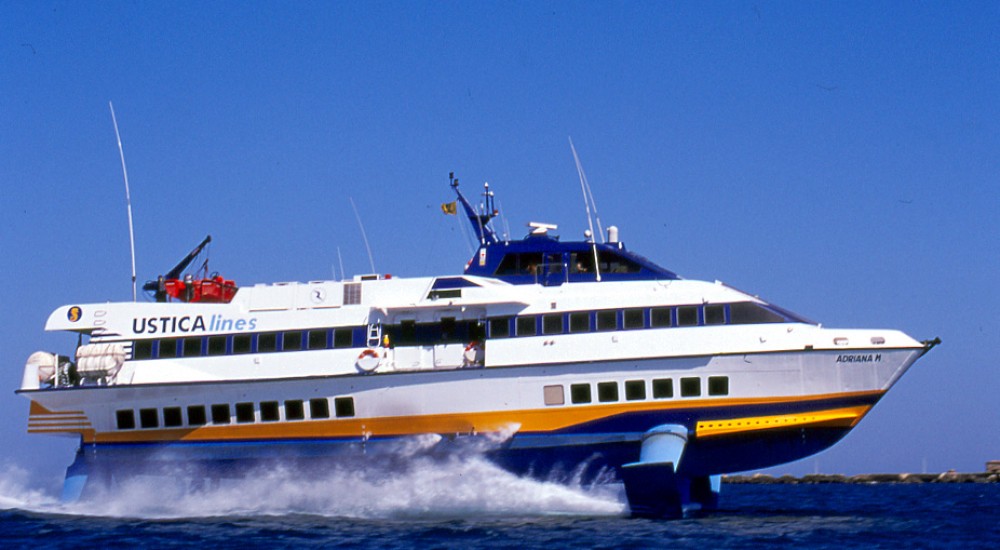 Liberty lines vessel
Ferries from Trieste to Croatia
FROM TRIESTE TO CROATIA: Liberty Lines, one of the leading Italian ferry operators, connects Italian port of Trieste with Porec, Rovinj and Mali Losinj in Croatia several times a week during the summer season.
This company operates high-speed vessels on these routes during the summer season. Each vessel is fully air-conditioned and equipped with televisions, reclining seats and onboard bars, ensuring a fast and comfortable crossing every time.

Check out the accurate sailing timetables and book your tickets here.


Plan your travel to Italy: