Rome to Florence Train:
Complete Guide & Online Tickets
Travelling by train from Rome to Florence (and the other way round) is the best ways to get between these two Italian cities. Trains travel directly between both cities, meaning you won't be required to change trains.

The most of trains depart from Roma Termini, which is situated in the center of the city (not far from famous Colosseum) and arrive to Firenze Santa Maria Novella Train Station, which is also only a short walk from historic centre.

Travellers can choose from about 68 train services a day between Rome and Florence (the earliest at 5:35am and the latest at 10:35pm), including high-speed trains with journey time of 1h 36 minutes to regional/intercity trains (slower but cheaper) taking from 2.5h to 4h, depending on the train.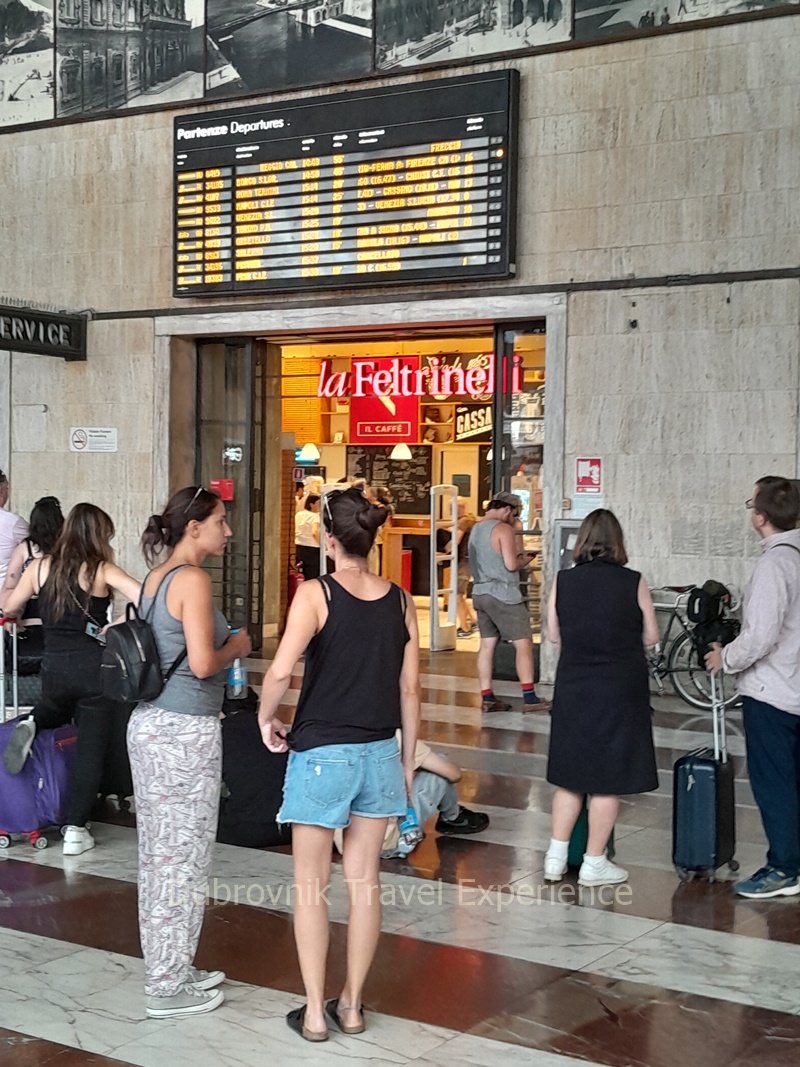 Florence Santa Maria Novella Train Station
How to choose Rome to Florence train
When travelling between Rome and Florence, you have option of numerous daily trains, run by either Trenitalia or Italo. Trains leave Rome as early as 5:35am and as late as 10:35pm, and there are trains every 30 minutes.
The quickest and most comfortable ride is by high-speed trains which run between Rome and Florence in only 1 hour and 36 minutes.

Both Trenitalia and Italo operates high-speed trains, which are ultra-modern and comfortable.


High-speed trains (Trenitalia & Italo)
Trenitalia operates Frecciarossa trains with 4 service levels: Standard, Premium, Business and Executive. They also have "silent carriage" for those who want to work or travel in silence.

All trains are air-conditioned and have electrical outlets and free wi-fi (note that signal will drop in tunnels). Trains have cafe/restaurant as well as food cart that brings snacks/drinks to your seat. At the end of each car you'll find a restroom.

Trains have separate space for luggage, which you must carry on board and manage on your own. You can place it overhead, but there are also space for suitcases and larger bags at the beginning of the carriage.

Italo trains are comfortable high-speed trains offering 4 seat classes: Smart, Comfort, Prima and Club Executive, equipped with reclining seats with tables, footrests and power sockets, free Wi-Fi and generous luggage space.

Drinks and snacks can be purchased from onboard vending machines. Passengers travelling in the cinema coach can enjoy entertaining multimedia.


Intercity/regional trains
Besides Frecciarossa trains, Trenitalia also offers Intercity trains, which are slower and stops many times along the way, making travel between Rome and Florence longer (from 2h 30 minutes to almost 4 hours).
These trains are less comfortable overall and don't come with a reserved seat. You might need to change the train at some point, depending on the exact route you choose.
We suggest you to skip Intercity trains on this route, as the difference between their fares and high-speed train fares are not so significant.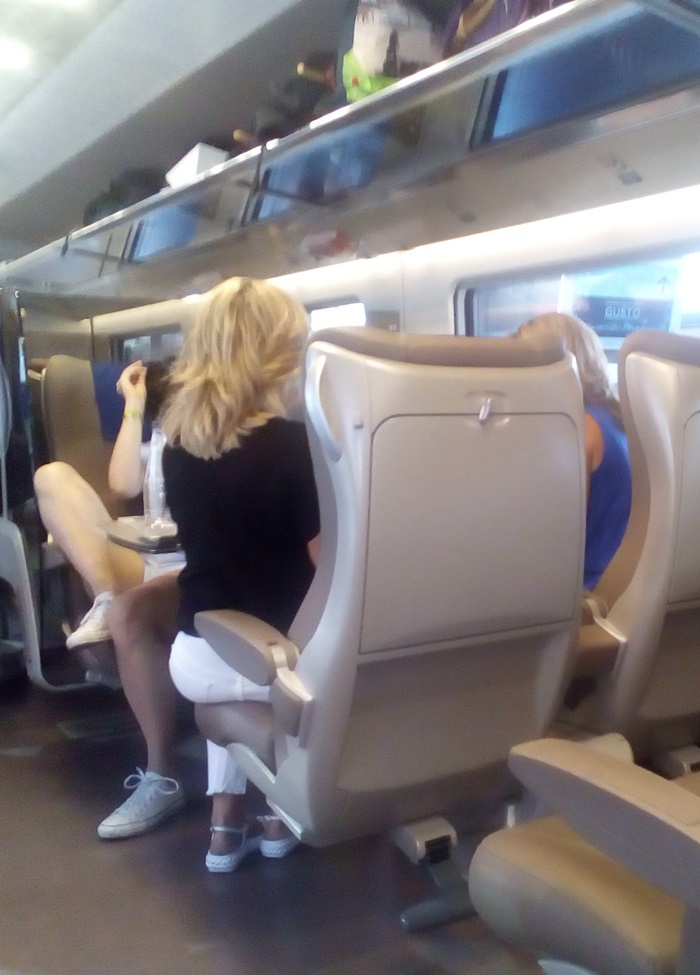 Business-class seats on Frecciarossa trains offers full comfort to the passengers
Rome to Florence train ticket prices
The travel on this route can cost starting from €12.90 to €145, depending on the train you choose, the class, date and time of travel and how long in advance you buy tickets. 
For example, Trenitalia intercity train which runs on this route in 3 hours can cost as low as €12.90 (2nd class seats, non-refundable).

For the faster journey (1 hour 36 minutes), you should opt for high-speed Frecciarossa trains, which are available frequently during the day. You can find a wide range or prices, depending on the class and type of tickets.

Their prices start from €27.90 for the trip in Standard class with super economy type (no refunds or exchanges on this ticket), while base type tickets start from €50 (allows change of the date and time as well as class; plus, you can get tickets refunded for the 20% fee).
The prices goes up for Premium, Business and Executive classes and range from €50 to €145. Trentialia usually has discounts for young people, seniors and families so it's good to check current offers when buying tickets. See all available train ticket options and book online.

If you know the dates you want to travel, you may find some cheap train tickets by booking early (most companies release their tickets around 3 to 6 months in advance). 
In addition, if you are flexible with travelling time, choose trains outside of peak hours (6am - 10am and 3pm-7pm) and you'll find cheaper tickets.

The prices for Italo trains are slightly lower, starting from €21.90 for Smart and €26.90 for Club Executive class. Italo trains offer 3 classes with different levels of comfort: Smart, Comfort, Prima and Club Executive. Check all Italo train options here!


Where to buy train tickets
FROM TICKET WINDOWS: Tickets for both Trenitalia and Italo trains can be bought from the

ticket windows

 at train stations on the day of the travel.


AT TICKET MACHINES: Tickets can be bought from

ticket machines

that can be found all over Roma Termini and Florence Santa Maria Novella train stations, allowing you to easily buy tickets on the same day of travel (payable in cash or by credit card).


ONLINE: We recommend booking train tickets ahead online. This way you can navigate and choose the best option for your travel. Not to mention, that if booked well in advance, you'll get pretty affordable fares. Bare in mind that in very high season, you may find limited seat availability on the train you want, so it's better to book tickets in advance.


Use Trainline to compare all train options from Rome to Florence!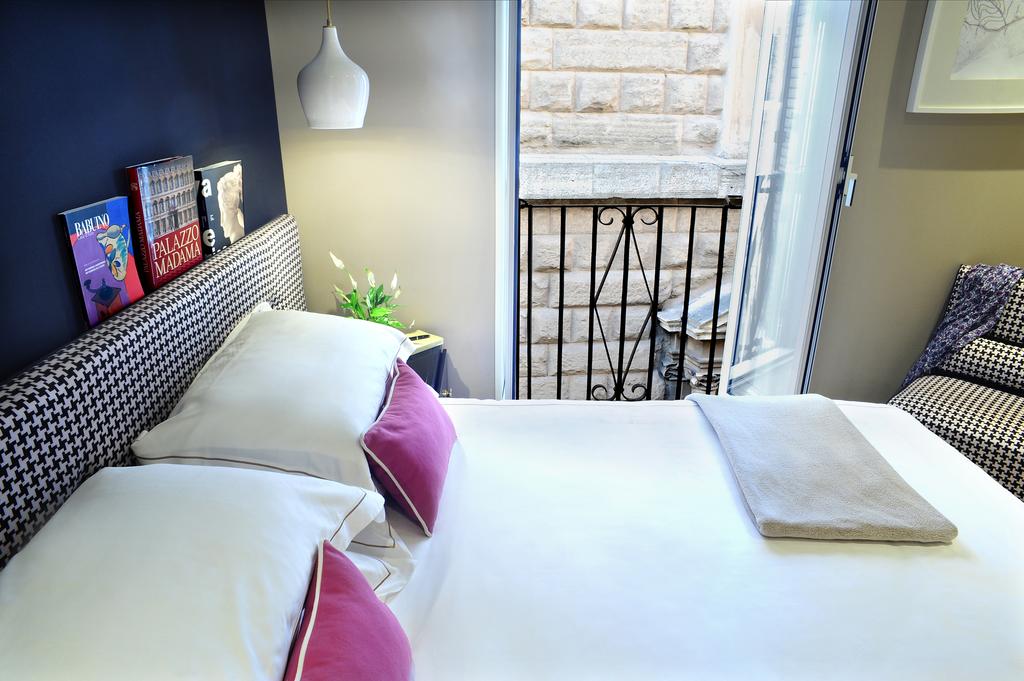 Our top picks for staying in Rome:
Palazzo Vecchio in Florence
Reasons for buying train tickets online:
COMPARE ALL OPTIONS ON ONE SCREEN: It's super easy to use; when you look for train tickets for specific route, you get all options on one screen, including trains with Trenitalian and Italo.


FIND BETTER PRICES WHEN BOOKED AHEAD: When buying ahead, you'll find cheap tickets as the price rise as the date of travel approaches (companies release tickets even 6 months in advance).


YOU'LL GET E-TICKET: Once you book, you'll get your ticket by e-mail which you must present to the staff of the train upon request. You'll have your ticket at your fingertip and in the case you need to make some changes or cancel it, you can easily do it online.


TRAINLINE also offer options for across Europe and the UK, so you can even use their website to book a night train or connecting train for longer distance travel.


Once you made a train ticket booking, you'll receive e-mail confirmation of your train journey. This email will include the booking confirmation code referred to as a PNR and the booking change code. This electronic tickets will allow you to travel ticketless on the trains.


Where to catch Rome to Florence trains
Most of the trains depart from Roma Termini station, which is situated in the centre of the city, not far from famous Colosseum, Roman Forum and Piazza della Repubblica. This is the station where Leonardo Express train from Fiumicino Airport arrives.

This station is easily accessable by taxi or metro (both metro lines A and B stops here) from any other part of Rome. Once you arrive to the station, look for the displays showing arrival and departures of all trains. Look for the train number on your ticket and find the train on the display to see which platform (binario) the train departs from.
Intercity trains depart from Roma Tiburtina train station, which is located to the east of the city and is the second most important train station in the capital.
Once you arrive to Florence, you'll get off the train at Firenze Santa Maria Novella train station, which is situated a short walk from the historic centre. In addition, there are also buses, trams and taxis available once you go outside the station. 

At Santa Maria Novella, you'll find everything you may need, from ticket offices (both Trenitalia and Italo), tourist information office, luggage storage, exchange office, ATMs, post office, cafés (for buying delicious snacks and drinks) and much more.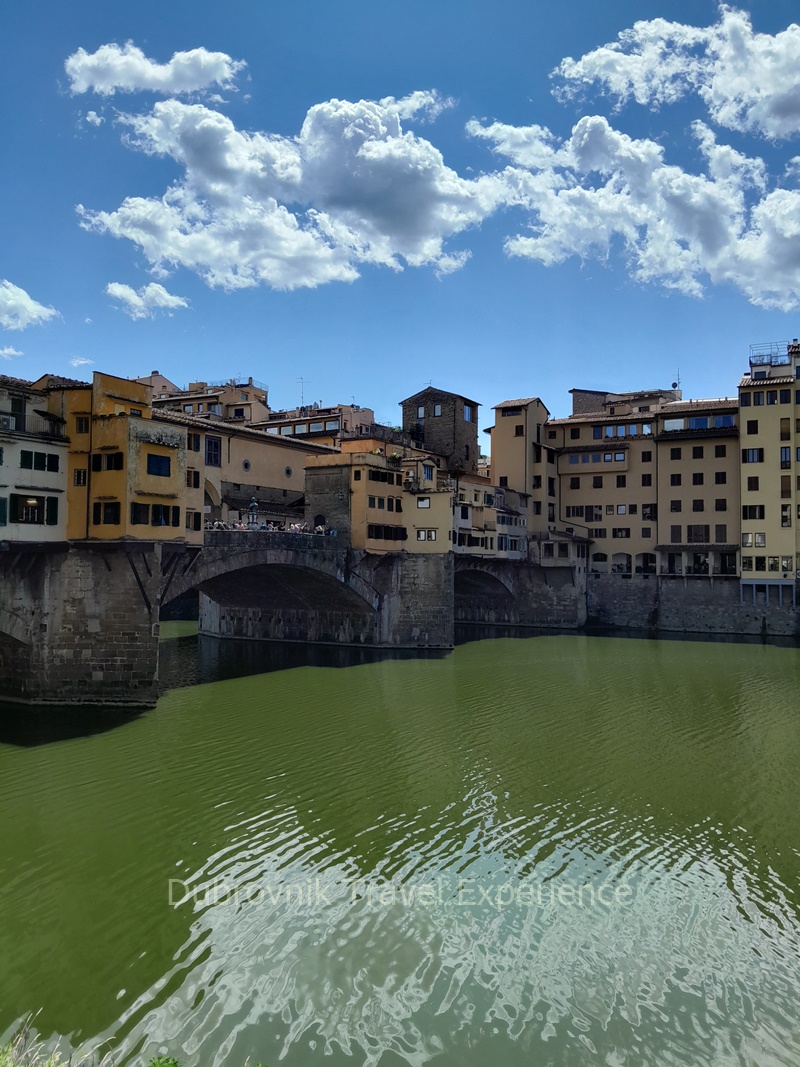 Ponte Vecchio in Florence
We stayed at these Florence hotels and we loved it:
GLOBUS URBAN HOTEL - Modern 4-star hotel situated only a short walk from main Florence sights. With spacious and clean rooms and rich buffet breakfast, this hotel is a great choice for your stay! The whole staff is super helpful and attentive!
ALBA PALACE HOTEL

 - This cosy 3-star hotel is situated just around the corner from Firenze Santa Maria Novella train station. Also, in 5-minute walk you'll reach the historic centre - Piazza della Signoria and Ponte Vecchio, as well as numerous fashion stores and restaurants. You'll love staying in this hotel!
Rome to Florence train alternatives
Instead of train you can take a bus between Rome and Florence, which is slower way of travel (take around 3 hours) but cheaper (it's possible to find tickets as cheap as €5). Buses departs throughout the day from Roma Termini and Roma Tiburtina and arrives to Santa Maria Novella and Villa Costanza bus stations. Find all options here!
For those who want to explore picturesque Italian countryside of Lazio and Tuscany, renting a car would be a great idea. Having your own car will give you opportunity to visit small italian towns and villages along the way. 

The route from Rome to Florence is 271 km/168 miles long. Book your car rental well in advance to find affordable deals!

If you don't want to drive, opt for a private car transfer and enjoy hassle-free ride between Rome and Florence!

Consider also taking a private tour from Rome to Florence (12 hours) that takes you to Tuscan countryside (you'll visit local winery for wine tasting and lunch) and Florence (you'll have few hours for sightseeing and shopping).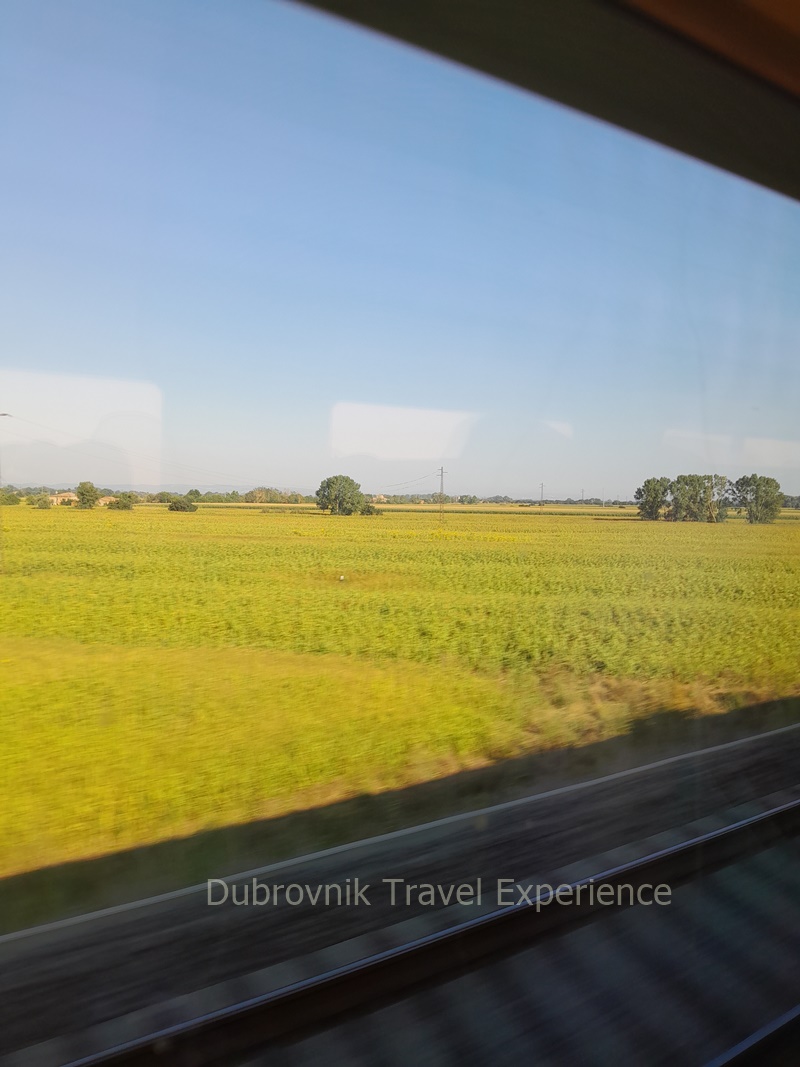 Getting around Italy by train
In Italy you can travel by train from almost anywhere to everywhere, reaching any larger or smaller city in the country.

Major cities like Milan, Venice, Bologna, Florence, Rome, Naples, Bari and others are connected by high-speed trains, while others are served with regional trains which are slower but still great for reaching any corner of Italy (they are also fairly cheap).

You can travel from Milan to Rome in only 3 hours or from Venice to Rome for 4 hours. High-speed trains runs all across the country and you can easily reach Bari (from this port you can take ferry to Dubrovnik, in the south of Croatia), Brindisi (catch here ferries to Greece) and Lecce from both Rome or Naples.
Regional trains, which are slower, connects large cities such as Rome and Florence with smaller cities in the region. This way, you can travel from Florence to other destinations in Tuscany (Prato, Pistoia, Lucca and Pisa) quickly and affordable (for only €3-5).
Lastly, you can also travel from Bari to Naples by high-speed trains. Reach port of Ancona from Rome by regional, intercity and high-speed trains.


See other popular train routes in Italy: