Taking Rome to Venice Train
Once you explored all that Rome has to offer it's time to get to know other places in Italy. One of the most visited is for sure the city of Venice, with its amazing architecture and unique lagoon.
The most convenient and fastest way of reaching Venice from Rome is by train. The ride usually takes about 4 hours, but can take just 3h 16minutes on the fastest services. You'll be travelling directly on this route either with Trenitalia or Italo. Both companies offer high levels of comfort on their trains.
The journey on this route is scenic as you pass through picturesque Tuscany and arriving to Veneto region.

In the text below, find out which train to choose, where to board the trains, how to book the cheapest tickets and the best ways to do this.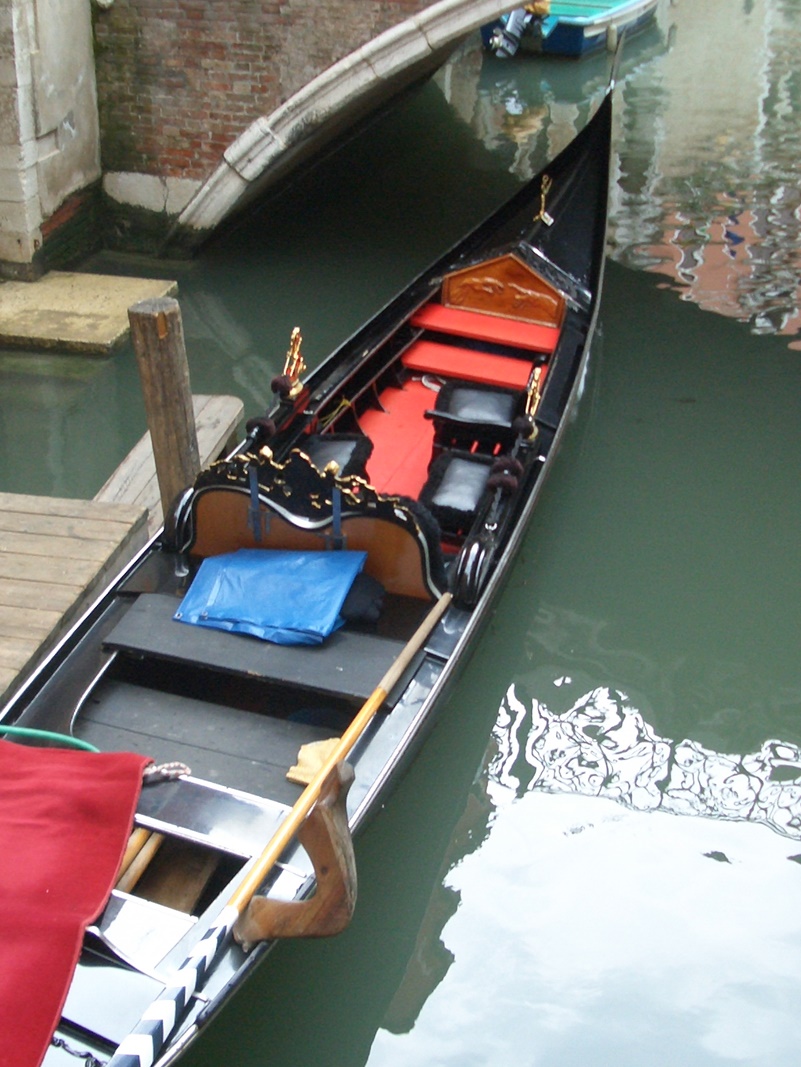 Venetian Gondola
Which train to choose
There are numerous trains (on average 54) running on this route daily, starting from early morning (5:40am) until the late evening (10:40pm). Choosing the right train depends on your budget, time you have and other preferences.

Both Trentialia and Italo runs modern high-speed trains which makes this journey quick and enjoyable. These trains several seat classes from standard which are also good to business classes offering extra comfort (leather seats, free Wi-Fi, food service and much more).

3h 15 min is the shortest train with high-speed trains.


How much does Rome to Venice journey cost
The travel on this route can cost starting from 20 euros to 120 euros depending on the train and class you choose.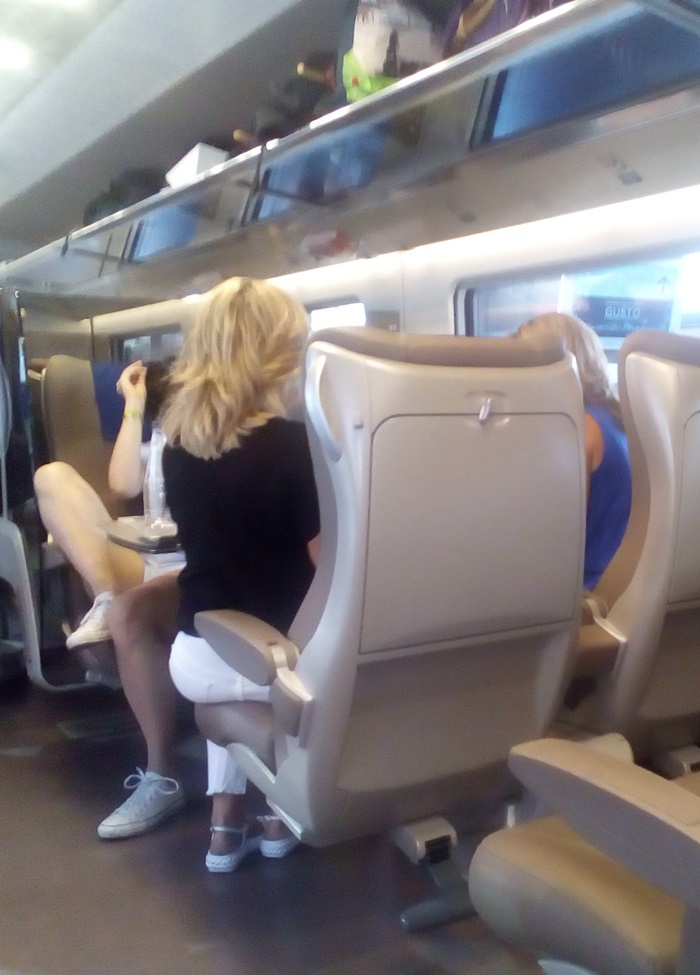 Business class on Frecciarossa trains offers a full comfort to the passengers
Where to buy train tickets
When it comes to buying train tickets, you can do this on several ways we'll explain below.
AT TRAIN STATION: You can buy train tickets either at ticket windows on train station or from ticket machines (instructions in English are available; credit cards are accepted) you can find all over the stations. 


ONLINE: We recommend buying your tickets in advance whenever possible so that you do not have to wait in line, deal with a machine if you're in a hurry, you have more seat options, plus having your trip mapped out beforehand can save you precious time while in Italy. Trainline allows you to see all available trains on specific dates, with travel plan and prices so you can choose the best option for you. Additional plus is that you can select the seat (on high-speed trains).

Search for cheap train tickets from Rome to Venice on Trainline website!
Roma Termini - main railway station of Rome
Where to catch Rome to Venice train
Most of the trains depart from Roma Termini station, which is situated in the centre of the city, not far from famous Colosseum, Roman Forum and Piazza della Repubblica. From this station you can take numerous trains to other destinations within Italy.

This station is easily accessible by taxi or metro from any other part of Rome. Once you arrive to the station, look for the displays showing arrival and departures of all trains. Look for the train number on your ticket and find the train on the display to see from which platform (binario) the train departs.
Intercity trains depart from Roma Tiburtina train station, which is located to the east of the city and is the second most important train station in the capital.
On the other hand, Venezia Santa Lucia train station is located at the foot of the Canal Grande, in the historic centre of Venice. The station has 23 platforms with regular trains connecting major Italian cities (Florence in around 2 hours, Bologna in 1 hour 30 minutes.

From this station, Marco Polo Airport is reachable by bus (running frequently during the day and takes just under 30 minutes). Get your bus ticket here!


Our top picks
for staying in Rome: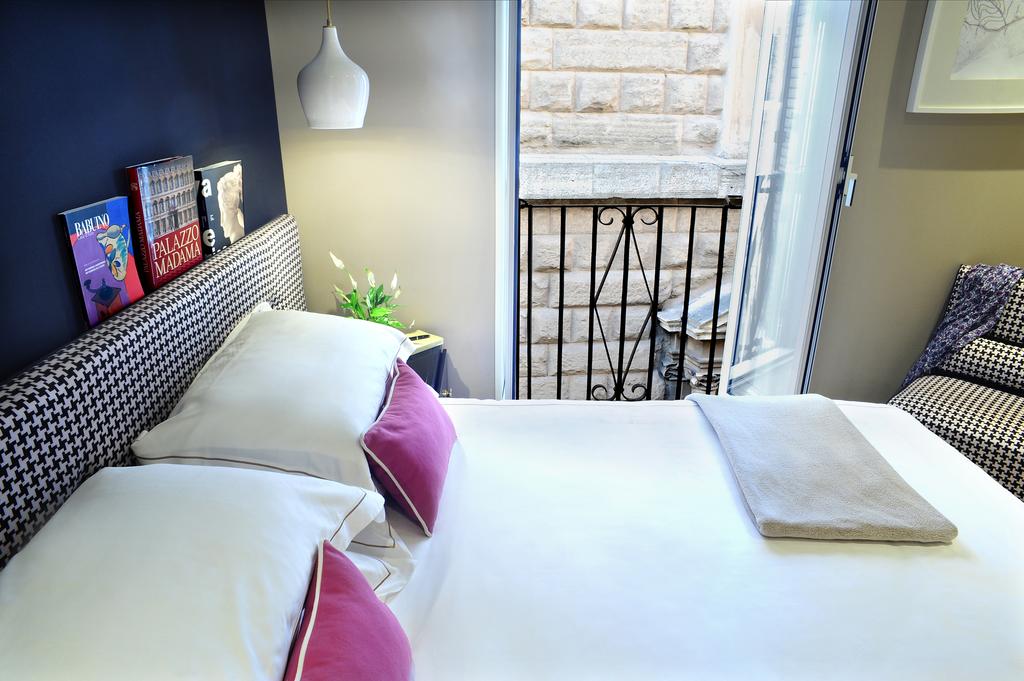 The Radical Hotel - Modern boutique hotel, situated only a few steps from Via Veneto and Piazza Barberini (Spanish Steps and Trevi Fountain can be reached in 10 minutes from here as well as La Rinascente department store). This cosy hotel offers 11 modernly decorated rooms set on two floors. The staff is super attentive and will do everything to make your stay comfortable.

Nerva Boutique Hotel - Small 3-star hotel ideally located just a few steps from Colosseum and Roman Forum. This hotel has warm atmosphere and offers accommodation in 20 rooms and suites. Visitors especially love breakfast here!

Fragrance Hotel St. Peter - Only 10 minutes walk from Saint Peter's Square; hotel rooms are comfortable and staff is friendly and speak good English; quiet residential location.

Laurina 33 - This small hotel/guesthouse offers super modern and large rooms and cosy atmosphere. The Spanish Steps and Piazza del Popolo can be reached in only 5 minute walk from here.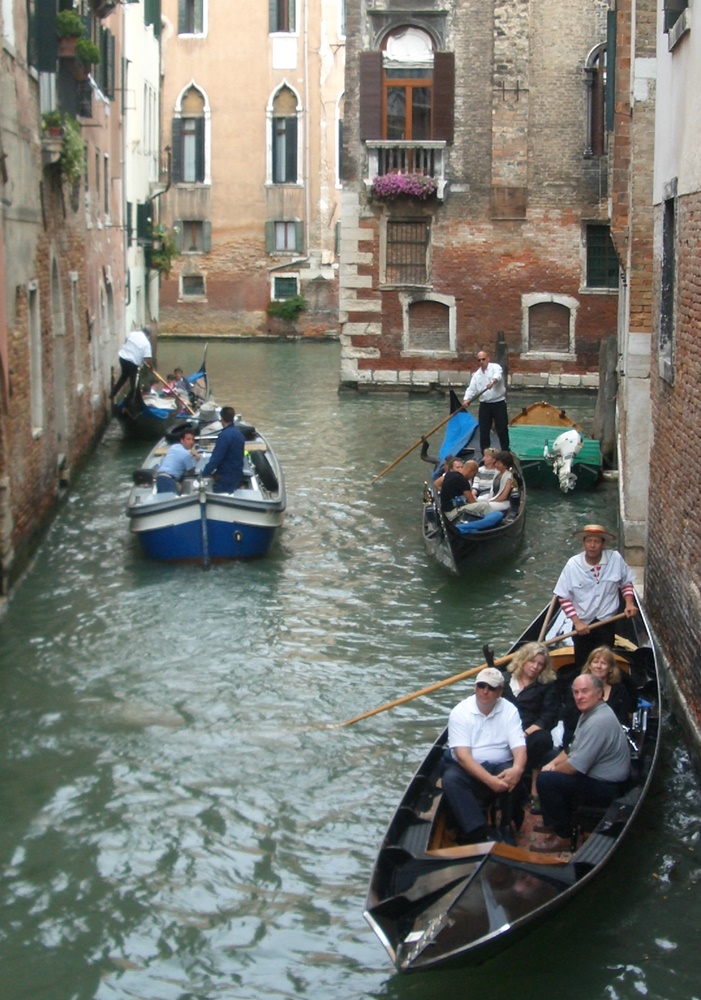 Venice canal with gondolas
Rome to Venice alternatives to train travel
There are some other options of getting between Rome and Venice. Taking a bus ride on this route is cheaper option than a train but lasts more, 6.5 hour to 7.5 hours. 
There are many daily departures between Rome and Venice, operated by modern Itabus buses (Wi-Fi, A/C and WC). They depart from Rome Tiburtina Largo Mazzoni and arrives either to Venice Bus Stop or Tronchetto Railway Station.

Between these two we would choose the train, which gives more comfort and is a scenic drive you'll remember your whole life.

For those who want to make the most of its Italian trip, renting a car would be a great idea. The distance between Rome and Venice is 525 km and it takes around 5 hour drive to get from one city to another. You should take the A1 motorway, and drive to the north.

If you want to know more about renting car in Italy, don't miss this useful guide.
On the route, you can make stops and explore a number of historical cities and attractions including Florence, Pisa and the Cinque Terre.
Additionally, you can book a flight from Rome Fiumicino Airport to Venice Marco Polo Airport with Alitalia (flight takes 1 hour). The easiest way to reach the airport from Rome is to take Leonardo Express train which runs on this route in 32 minutes.


Plan your trip to Italy: