Where to Stay in Rome
Looking for a place to stay while visiting Rome? This helpful guide covers excellent areas to stay that would make a good base for exploring Rome. Plus, we listed some of the best places such as apartments, guesthouses and hotels, the places that are well located, comfortable, super clean and have friendly staff.

We visited Rome numerous times and are familiar with all pros and cons of staying in each with tips on great eating places.

So, let's start.


Late escape deals in Rome: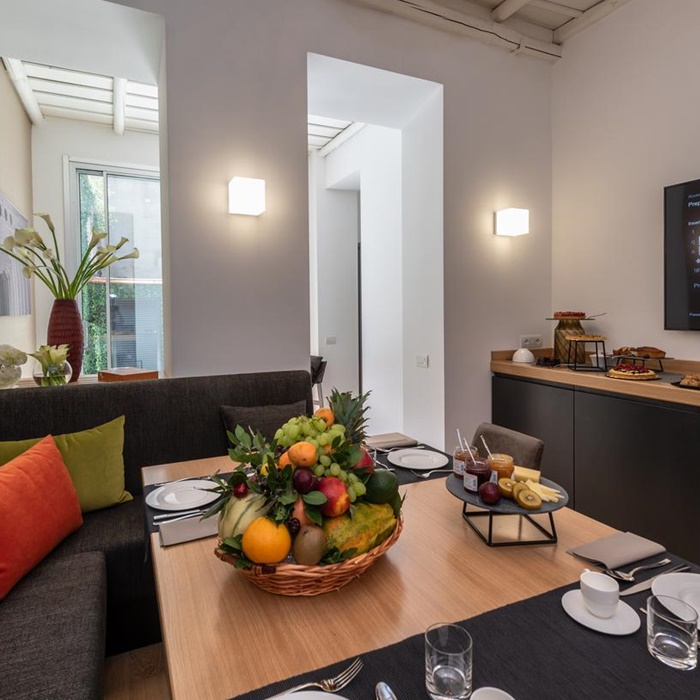 Find You Place
to Stay in Rome
Spanish Steps, Piazza del Popolo & Villa Borghese
The historic centre of Rome stretches from Piazza del Popolo to Piazza Venezia and from the east bank of the Tiber River up to Piazza di Spagna. The centre has all the best of what Rome has to offer.

Here you'll find Spanish Steps and Trevi Fountain, the Pantheon, Campo de' Fiori and much more...

One of the most visited spots in Rome, the Trevi Fountain, is right in the historical centre. If walking there, it's only 10-minute walk from Piazza di Spagna.


Top places to stay in this area:
Laurina 33 (small cosy hotel with spacious and clean rooms)
Albergo Etico Roma
TB Place Roma
Via Veneto and nearby streets
Via Veneto is one of the most elegant and most popular streets for staying when in Rome. This street leads from Villa Borghese Park all way down to Barberini metro stop. This street is lined with many hotels, cafes and restaurants making it popular among tourists. 


For staying in this area choose:
Piazza Navona, Campo de' Fiori & Pantheon
Not so far from Campo de' Fiori you can have a walk in the famous Navona square. A place where street artists, painters and acrobats liven up the atmosphere.


YOU'LL LOVE STAYING AT THESE PLACES:
Campo24roma Guesthouse; Hotel Damaso
Navona 49 Luxury Suites&Apartment
Monti & Colosseum
Monti is a part of Rome situated in between Termini Station in the north and Roman Forum and Colosseum in the south. It's made of narrow streets packed with bars, eateries and small boutiques.

You'll love staying here as it's vibrant but not overcrowded and you can experience everyday life of Romans. You'll also be steps away from main sights such as famous Colosseum, Roman Forum and Piazza Venezia. Jewish Ghetto, Campo de' Fiori and Pantheon are also reachable on foot (15-20 minutes) from here.

Via Cavour takes you from Basilica Santa Maria di Maggiore to Imperial Forums in the south. In the middle, you'll find Cavour metro stop from where you can take line B to Termini and change there to line A to reach Spanish Steps, Fontana di Trevi and Vatican.


Monti streets have special charm
For staying in Monti/near Colosseum choose:
Near Vatican (San Pietro and Prati)
Both San Pietro and Prati neighbourhoods are close to the Vatican.
San Pietro is quiet residential area situated south of Vatican with buildings and everyday amenities such as grocery stores, pharmacies, pastry shops, cafés and restaurants.

From here it's easy to reach St. Peter's Square on foot (it's just 5-10 minute leisurely walk). There is San Pietro train station from where you can easily reach Termini (19-minute train ride). For reaching historic centre take city bus 64.
If you prefer to walk, it's easy to reach historic centre from St. Peter's Square on foot. Just walk along Via della Conciliazione, cross the road and walk towards Castel Sant'Angelo. Cross the bridge here and you'll find yourself in the historic centre and ready to explore it on foot. Take any street and you'll easily reach sights such as Piazza Navona, Pantheon and Campo de' Fiori.


For staying in San Pietro choose:
Hotel Paolo II - Solid mid-range hotel with modern rooms at an affordable price


The Prati is neighbourhood situated north of Vatican, with elegant buildings, local craft shops and many nice restaurants and other eating places. It offers authentic experience of life in Rome with a blend of history, culture and daily life.
While the main street – Cola di Rienzo – is full of stores and commercial real estate, once you get deeper into the neighbourhood it gets quieter. On this street you'll find Coin department store as well as Castroni food store offering quality Italian food products you won't find in regular grocery stores.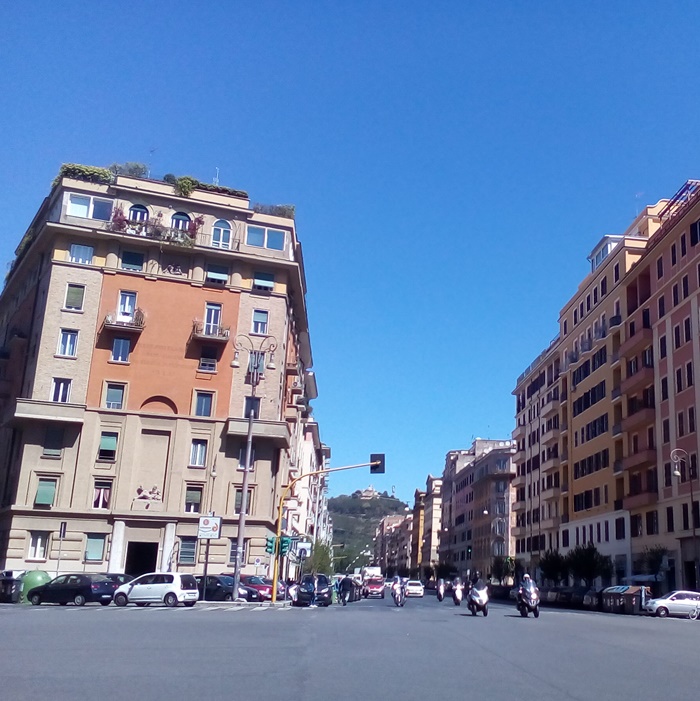 Prati neighbourhood in Rome
PROS OF STAYING IN PRATI
CONVENIENT FOR VISITING VATICAN/ST. PETER'S BASILICA - You'll be close to Vatican Museums so you can be there before anyone else. Saint Peter's Square with Basilica is also just around the corner. The Heart Hotel is situated just across the entrance to Vatican Museums.


DIRECT CONNECTION TO TERMINI STATION - From Ottaviano metro stop take metro line A to Termini. From Termini you can take trains to other Italian destinations (such as Florence, Venice or Naples) or easily reach historic centre by metro. 


QUIET RESIDENTIAL AREA - The area is up-scale and residentials and is ideal if you want to stay away from the hustle and bustle of the touristic centre. Here you'll find mid-range and luxurious hotels, quality restaurants and great shopping opportunities.
CONS OF STAYING IN PRATI
NOT SO CENTRAL - Similar to Trastevere, Prati is not so central when comparing to historic center (Centro Storico)


PRICES OF ACCOMMODATION CAN BE HIGHER - You will find here a huge choice of private apartments but not so many hotels, meaning the prices of hotels could be on the higher side.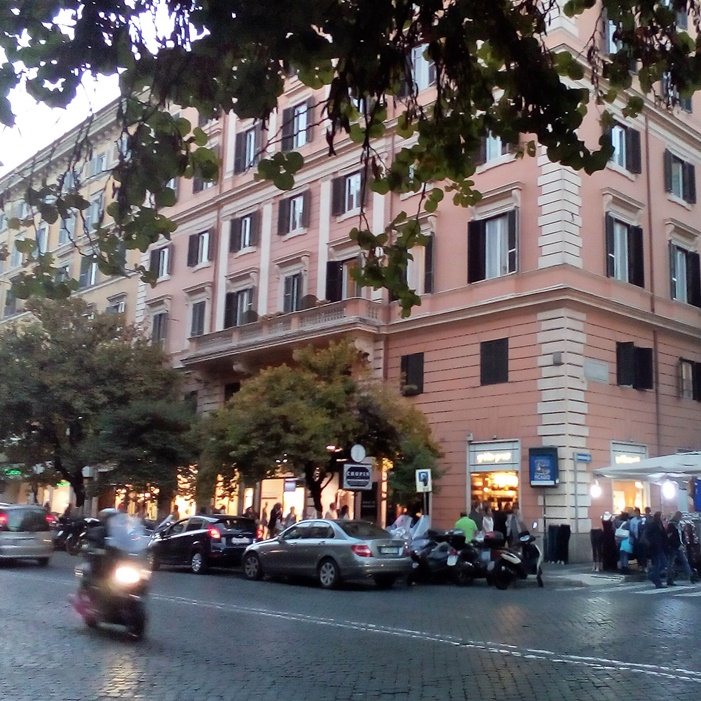 Via Cola di Rienzo in Prati
Great places to stay in Prati:
San Pietro Boutique Rooms - comfortable and modern rooms only 400m from St. Peter's Square
The Place 217 - Exclusive spacious rooms with private views of St. Peter's Dome
Eccelso Hotel - Spacious rooms and attentive staff
Travelershome Vatican Guesthouse
Saint Peter's Keys
Trastevere neighbourhood
Across the river, on the Tiber's right bank, Trastevere is an area of two halves. West of Viale Trastevere, visitors flock in huge droves to its oh-so-picturesque alleys and gorgeous central square with ancient church by day, and to its oh-so-buzzing bars and restaurants by night. East of the divide is altogether quieter, more contemplative: equally lovely, and also with fascinating churches and venerable, wisteria-covered palazzi, it's a calmer version of picture-perfect Rome.


How to reach Trastevere:
Trastevere is not served by metro. There are 2 metro stops that are a short walk from Trastevere; they are both on metro B line. The first is Piramide, you can walk from here along the Via Marmorata and then take the Ponte Sublico (you are immediately in Trastevere).

From Piramide, you can take tram 3 to across the river to Viale Trastevere. From there take tram 8 northward to Trastevere by Santa Maria.
The other stop is Circo Massimo; from here you take the Via Circo Massimo which will take you towards the Ponte Palatino.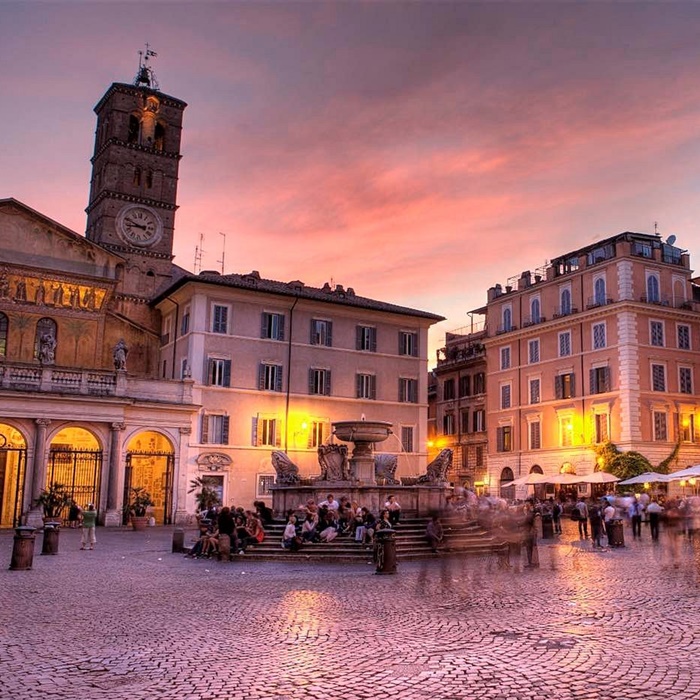 Great places to stay in Trastevere:
Testaccio neighbhourhood
Testaccio neighbourhood is the least touristy part of Rome and it's not as central as the others. This is mostly residential district and is ideal for those whole like to stay somewhere quiet. This is probably not the first choice of first timers to Rome.
Testaccio has a great location for exploring Rome. It's near sights such as Piazza Venezia, the Circus Maximus and the Jewish Ghetto. While here explore local food shops and local trattorias (serving authentic Italian meals). We recommend taking a walking food tour to find out the best food places in the area.


How to reach Testaccio:
From Termini Station, you can take bus 170 (direction Agricoltura) and get off at the stop named "Branca", which is located in the Testaccio district. The journey from Termini to Testaccio usually takes about 30-40 minutes, depending on the traffic.

If taking metro, take line B (direction Laurentina) and get off at "Piramide" stop (the journey takes 5 minutes). From this metro stop, Testaccio is just a short walk away.


Near Termini Station
Staying near Termini station is great if you need to have easy access to trains (catch here trains to Florence, Venice, Naples and other destinations), buses and Leonardo Express train to Fiumicino Airport.

It's also a great base for sightseeing as you can walk to some nearby sights such as Colosseum and Roman Forum while for other you may need to use buses or metro. The Pantheon can be reach in only 20-minute walk from here (or 10-minute bus ride).

Here you'll be also withing walking distance from Via Nazionale (large shopping street), Santa Maria Maggiore and Monti neighbourhood.

The area immediately around the station and Via Marsala has mostly budget hotels that are great if you want to stay on budget in Rome.

The area in front of the station has several five star hotels overlooking large and beautiful squares such as monumental Piazza della Repubblica. These hotels are perfect for business stays or if you want some luxurious accommodation.
In this area you'll find a range of hotels, from budget one to luxurious. In this article, we look at the best hotels in the Termini area for visitors.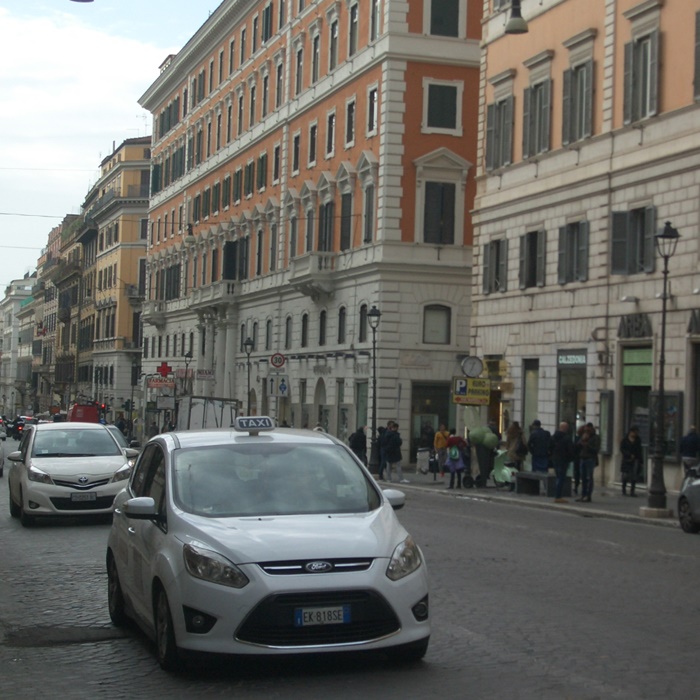 Via Nazionale is situated close to Termini Train Station
Great places to stay near Termini:
Seven; 
Hotel Diocleziano; 
Sophie Terrace Hotel - Modern hotel with attentive staff only 5 minute walk from Termini
Hotel Varese
Plan your travel to Italy: