Buying Train Tickets in Italy
Buying Train Tickets in Italy
If you plan to travel by train in Italy and wonder how to buy train tickets, note that there are several ways to do that. You can buy them from ticket windows at train stations or from ticket machines or the easiest way online (it's great to have tickets at the fingertip, plus you can change or cancel them anytime online).

In the text below find out the advantages and disadvantages of each booking option and choose the one that best suits you.


🚄 Book your train tickets online in just a few steps!
Automated train ticket machines at Santa Maria Novella train station
1. Buying train tickets at ticket windows (at train station)
If you decide to buy your train ticket from ticket window at train station, be aware that sometimes there are long queues and you'll have to wait. Most staff speaks English and you can pay in cash or by credit card so buying tickets this way shouldn't be problem.


2. Buying train tickets at ticket machines (at train station)
Buying train tickets at ticket machines is another option. They are positioned all over train stations and you'll find both Trenitalia and Italo ticket machines. It's possible to pay in cash and by credit cards.
You can buy your train tickets in advance if you're travelling on an Intercity or high-speed trains in Italy for the routes like Rome to Florence, Venice to Rome or Milan to Rome. In general, the earlier you book, the more you'll save.


3. Buying train tickets online
There are numerous reasons why buying train tickets in Italy online is the best choice. If buying online, you don't have to wait in queues, deal with a machine if you're in a hurry and you can choose your preferred seat. 
Trainline is a website ideal for comparing all trains for specific route and book the best option for you. It's designed for English-speaking travellers so it's super user-friendly. It's great for both single-country travel and rail journeys of multiple countries.
Train tickets bought online are already validated and you just need to show them to the train staff once they request it (be sure to have reliable high-speed data on your phone).


🏠 See all your accommodation options in Rome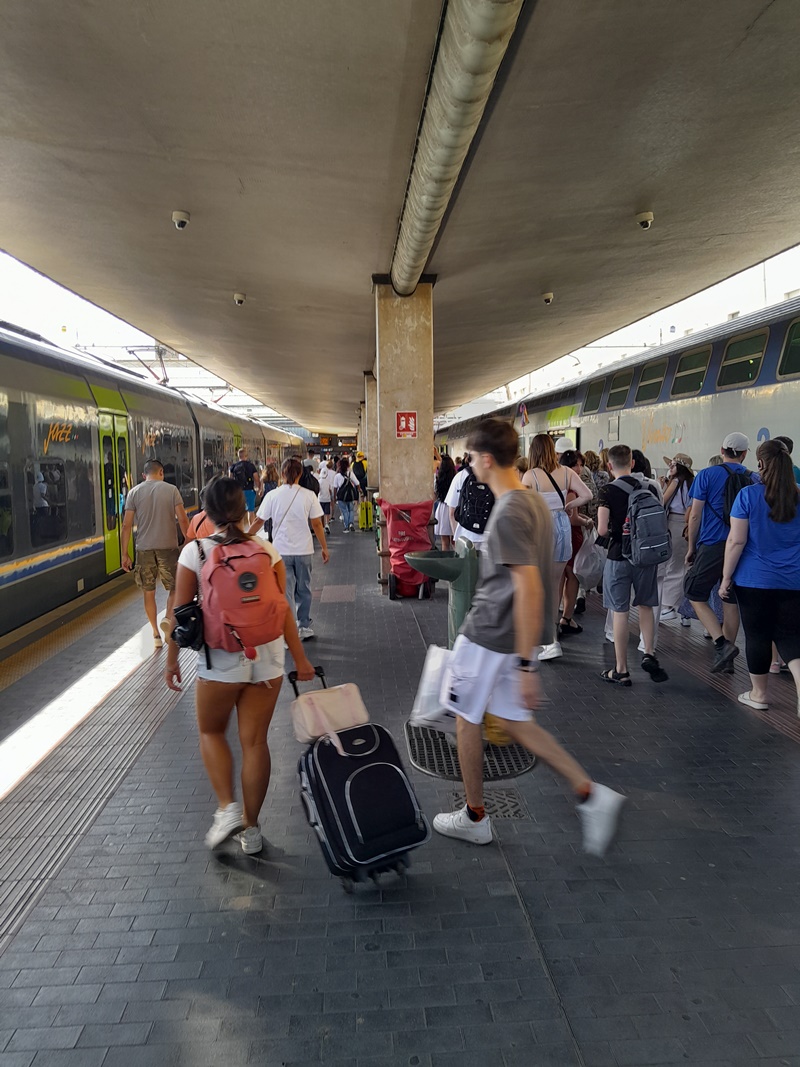 Train platform at Santa Maria Novella train station
Booking in advance or not?
For long distance trains we suggest you to book your tickets in advance as you'll get the cheapest tickets. Prices will continue to rise as the departure date approaches.

The long distance journeys are those between Rome and Florence, Rome and Milan, Venice and Rome, Rome and Ancona etc. These routes are operated by high-speed trains (Frecciarossa, Frecciargento, InterCity and Italo).

You can buy tickets for regional trains operated by Trenitalia on the day of travel. The ticket price is fixed so there's no any discount when bought in advance. The ticket fare is called Ordinaria and its price is based on the distance between the departure and arrival points and the class you travel (when available). 

Of course, you can still buy regional tickets online, so they're ready on your phone and you can skip queues at ticket windows or ticket machines. The example of this is Leonardo Express train that operates to Fiumicino Airport, which price is fixed and costs €14.

Check out other ways of transfer from/to Fiumicino Airport here.


Booking tickets at
Trainline
in 6 easy steps:
Have a look at our step-by-step guide to how to book Italian train tickets online, it's super simple!
Enter your departure and arrival stations


Enter the date and time you would like to travel (and return if you're buying a return ticket)


Choose a train time, class option and flexibility conditions. Once you're happy with your choice, continue to choose your seat.


Enter an email to send your ticket confirmation to, along with the full name of each passenger you're booking tickets for


Continue to the checkout and finally BOOK YOUR TICKETS!
What is an electronic train ticket?
Once you book your ticket online, you'll receive an email confirmation of your train journey instead of printed and shipped tickets. This email will include the booking confirmation code referred to as a "PNR", and the booking change code. This confirmation PNR will also include specific train information, like the date, time, number of passengers, fare code an rules.

An e-ticket will either allow you to travel "ticketless", boarding the train with only the PNR code, or it will require you to print a ticket upon departure at the self service machine at the train station.

In general, high-speed trains will e ticketless and the regional, overnight and cross-boarder trains will require you to print and validate your ticket before boarding your train for departure.


Business class at Frecciarossa trains is super comfortable
Using train tickets
Tickets for high-speed trains (Trainline and Italo) are only valid for the specific date and time and you don't need to validate them. Simply show the ticket once the train staff request it from you.

Your ticket will show the carriage and seat number so make sure you're in the right carriage (you'll find number on the side of the carriage).
On regional trains, you might have a physical ticket. Make sure to validate it in the white/green validation boxes you'll find on the platform before you get on the train. If you don't validate your ticket, you might be fined. Regional trains won't have seat reservations you just sit anywhere.


🏠 See all your hotel options in Venice
Train ticket validating boxes at train station
Types of train tickets in Italy
Tickets for longer distance are better to be bought in advance as you will get some really cheap one. Both Trenitalia and Italo offers economy options, which are the cheapest but offers little flexibility when it comes to changing the tickets. Flexible tickets are the most expensive but you change it as many times as you want.