Ferries From Ancona to Split
Ferries From Ancona To Split

With so many airlines operating flights to Croatia it's fairly easy to get from Italy to Croatia. Still crossing the Adriatic onboard a ferry is an unique experience and can make your European journey more interesting. 

The most popular route between Italy and Croatia are the one from the port of Ancona (Marche region in Central Italy) to the port of Split (Central Dalmatia). Note that this route is operating all-year round with more frequent service during the summer and fewer sailing in the winter time - find the best deals here.

If you are reaching Ancona from Rome, the easiest way is to take a train from Roma Termini Station (check out the timetable and book your tickets easily ONLINE).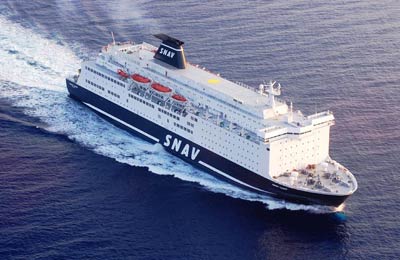 Travellers can choose from up to 10 ferry sailings per week across this route, provided by 2 ferry operators: Jadrolinija and SNAV.

JADROLINIJA runs car/passenger ships offering a range of amenities such as children's play area, coffee bar, restaurants and shops. Onboard you can book deck fare, meaning you can use public areas for sleeping or reclining seat (for more comfort). For a truly relaxing journey we advise you to book a cabin which range from 2 or 4 berth cabins (inside or outside). 

This ferry operates all-year round and the journey time range from 9 to 11 hours. Besides this route, Jadrolinija operates also 2 other international routes: Ancona to Zadar and Bari to Dubrovnik routes.


Compare Ferry Prices
& Book Online

Italian company SNAV operates route between Ancona to Split starting from April until the end of October. Crossing time is around 11 hours.  
Facilities onboard the ferry include a self-service snack bar, restaurant, pub, shop and even a cinema to make the trip pass as quickly and comfortably as possible. 
Cabins onboard range from 2 berth and 4 berth (inside and outside) as well as suites which are larger than traditional cabins and normally have separate sleeping and living quarters.
If you don't want to book a cabin there is an option of booking deck accommodation or reclining seat.
We suggest you to book your tickets for Ancona to Split ferries well in advance, as berths and car spaces fill up fast for summer month sailings. Check out our helpful fare finder to find the best deals and book online.
The port of Split
Once you reach the port of Split...
There is a huge choice of ferry routes from Split operated by several ferry companies so you can easily reach the islands of Brac, Hvar, Korcula, Vis from there.

Take one of many buses from Split and reach popular destinations within Croatia (Dubrovnik, Makarska, Sibenik, Zadar, Zagreb and others).

For reaching Croatian capital Zagreb, take one of many buses running on this route (choose from FlixBus or other bus companies) or take a flight operating by Croatia Airlines.
Bookaway makes it simple to find all transport options within Croatia, ferries, buses or private transfers to reach your desired destination. Don't skip also FlixBus company offering a huge choice of buses across Croatia.


COMPARE & EASILY BOOK
FERRIES & BUSES
WORLDWIDE