Walking The Ancient City Walls Of Dubrovnik
Useful tips on walking the impressive city walls - opening times &
entrance fees & guided tours
There are three entrances to the city walls but the main entrance is situated just opposite Great Onofrio's Fountain at the beginning of Stradun.

A walk along Dubrovnik's city walls is sure to be a highlight of your visit to this beautiful city.

The walls that surround the historic centre are 2 km long and you will need around 2 hours to walk the whole circle. 


While walking along the walls you will enjoy the views of the hidden narrow streets and lively squares. You will also see impressive fortresses which had defensive role in Dubrovnik's history.

From the walls you will see Lovrijenac Fortress which rises up on a 37 m high cliff, walk on the top of St John's Fortress at the entrance to the Old Harbour or climb Minceta Fortress – the highest point of the City walls.
On the sea-side section of the city walls you will enjoy the views of the crystal clear Adriatic Sea and the island of Lokrum. Along the way you will see the top sights such as Great Onofrio's Fountain, the Bell Tower, Sponza Palace, Franciscan Monastery, Dominican Monastery and Dubrovnik's Cathedral.
Walking along the city walls is a unique experience which can be done on your own or by taking one of many guided tours both group or private. Such tours are available throughout the year with morning and afternoon options.

Some of Dubrovnik's sites have been used as settings for the popular TV series "Game of Thrones". A special treat for fans of this series is the "Game of Thrones" guided tour during which you'll get to know the fictional city of King's Landing while exploring Dubrovnik's UNESCO listed Old Town.


Entrance fees & Opening times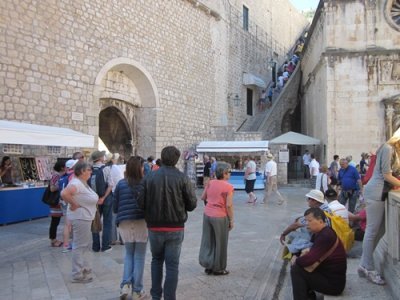 Entrance to the City walls by Pile Gate
Once you enter Stradun through the Pile Gate, there is an office on the right-hand side where you can purchase tickets for the City Walls tour.

Tickets can be paid by credit cards or Croatian kunas - no Euros accepted. The main entrance to the walls is located on the left-hand side. 

You can save when buying Dubrovnik Card which include free visit to City walls. The adult entrance fee costs 150 HRK (visit to the Lovrijenac Fortress is included in the price), children (5-18) costs 50 HRK and children under 5 years don't pay entrance.

Dubrovnik City Walls are open all year round except on 25th of December (Christmas Day).

CITY WALLS OPENING TIMES

| MONTH | OPENING TIMES |
| --- | --- |
| January & February & March | 10:00 a.m. - 3:00 p.m. |
| April & May | 8:00 a.m. - 6:30 p.m. |
| June & July | 8:00 a.m. - 7:30 p.m. |
| August & September | 8:00 a.m. - 6:30 p.m. |
| October | 8:00 a.m. - 5:30 p.m. |
| November & December | 10:00 a.m. - 3:00 p.m. |
---
Home > Dubrovnik City Walls Walk