Explore the Stunning City of Dubrovnik!
The historic city of Dubrovnik is among the most beautiful cities in the Mediterranean and therefore attracts millions of visitors each year.

We can name many reasons to visit this unique city situated in the very south of Croatia. Whether it's for your leisure summer holidays, sightseeing of Dubrovnik's monuments, attending one of many cultural events throughout the year, fine Mediterranean dining or visiting the city on Mediterranean cruise holidays your visit to Dubrovnik will not disappoint you.


Info about getting to Dubrovnik
Once you decided to visit Dubrovnik thing you should find out is options of getting to Dubrovnik. Due to its isolated position at the very south of Croatia, the most easiest way to travel to Dubrovnik would be taking a flight. Dubrovnik airport is during summer season directly connected to numerous European destinations. Dubrovnik can be reached by ferry from Italian port of Bari but only in the tourist season. There are no ferries between Dubrovnik and any other Mediterranean ports such as Venice, Corfu, Athens etc.
If you are arriving to Dubrovnik from capital city of Zagreb you can easily take a plane or one of many daily buses. From Split you can choose to embark on comfortable catamaran (which on its way to Dubrovnik stops on several islands) or a bus Naturally, if you intend to drive to Dubrovnik you can do so. You will enjoy the most pisturesque route in Croatia – Jadranska magistrala.


Choosing accommodation in Dubrovnik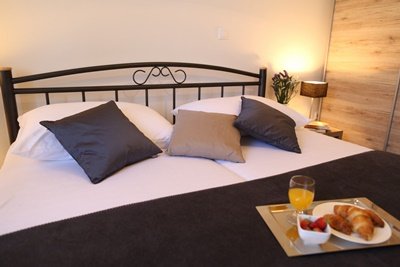 Your holiday accommodation in Dubrovnik can be hard to choose since there is a wide choice of options available throughout the city. However, each option has its adventages and the best choice will depend on your preferences.

In the city you will find numerous private accommodation facilities which will allow you to experience local way of life. For those looking for affordable stay there are hostels where you can easily made new friends among other travellers. Many locals also rent separate rooms in their houses sometimes with breakfast.
An option of booking a self-catering apartment is ideal for those who wants to be on their own. In Dubrovnik you will find many great hotels which are ideal for every kind of holiday - romantic escape, family holiday, short city break or even business trip. The quality of hotels varies according to their number of stars, which range from 2 to 5. Most hotels have seaside location and from their rooms you can enjoy amazing views of the Adriatic and nearby islands. 

For those who seek complete privacy and relaxation renting a villa would be ideal option. Those villas offer full comfort during stay. Most of them feature a beautiful outdoor ares with Mediterranean style garden and a swimming pool.


What to do in Dubrovnik - tours & activities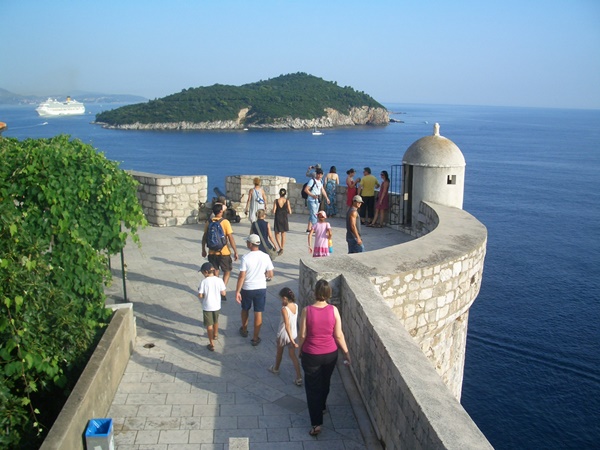 While in Dubrovnik you have a huge option of things to do. You can take a day trip to Peljesac peninsula where you can taste delicious local wines – plavac mali and posip. Konavle region, south of Dubrovnik, is a place where you can find out about local tradition - traditional dance and costumes. This area is also ideal for biking and hiking through local villages and along the sea. 

The closest islands to Dubrovnik are the Elaphites – popular as a day trip destinations because its sandy beaches and rich Mediterranean forest. For those more active you can take a sea-kayaking tour along the islands. Easily reachable from Dubrovnik is also the island of Mljet – great  spot for real nature lovers.

Dubrovnik Guided City Tours
Visiting other destination in Croatia
Croatia become one of the most popular travel destinations of Europe. One of the top destinations to visit is its capital city of Zagreb, situated in the northwest of the country. When in Zagreb, take a cable car to Upper Town and enjoy stunning views of the city. Visit Lotrscak Tower, St Catherine's church and the Stone Gate. Take an easy stroll down Tkalciceva street until you reach Dolac Market and Ban Jelacic Square.

If you get hungry, head to one of many newly-opened restaurants offering both international and local specialities. You should try "strukli" - traditional Croatian dish from this part of Croatia. There is so much to do in Zagreb, taking in consideration its various museums, theatres, cinemas and other venues.

While in Zagreb, you should definitely visit nearby Zagorje where you can explore medieval castles and fortifications and get insight into centuries of rich Croatian history.
Top Croatia Tours
Only two hours driving distance from Zagreb, the green jewel of Croatia, Plitvice Lakes are situated. This national park is among the oldest in Southeast Europe. Plitvice Lakes are made of 16 beautiful lakes connected by a series of waterfalls. Hiking trails and boardwalks that go over lakes allow you to enjoy breathtaking views of the lakes and surrounding rich forests. Taking a boat ride on Lake Kozjak is an unique experience.
Krka National Park is known for a series of seven waterfalls. Here you will have a chance to walk on a network of walkways and wooden bridges while exploring diversity of flora and fauna. Highlight of vous visit will be visiting Skradinski Buk, the most beautiful waterfalls of the park. Here you can jump in impressive green and blue coloured waters.


Find your ideal Croatian holiday

Croatia offers a great choice of holiday options throughout the year. For those who likes to be active while on holiday, there are multi-day holiday packages, covering a range of sports including sea-kayaking, hiking, cycling, white-water rafting in combination with sightseeing. This kind of holidays will take you along Adriatic coast and through national parks of Croatia: Risnjak, North Velebit, Plitvice Lakes, Paklenica and Krka river.
With its dramatic landscape and quiet back roads, Croatia is ideal cycling and hiking destination. In Istria this kind of tour will take you from Pula to inland where you will enjoy gourmet dining, wine tasting and will sample local truffles and oysters. The Elaphite islands near Dubrovnik are ideal for hiking holiday with lemon and orange gardens and Mediterranean forests.
Sailing holidays in the Adriatic are great choice. This kind of adventure is ideal for both experienced sailors as well as those looking to learn how to sail or simply lay back. Your skipper will ensure that you get the most authentic experience. While sailing you will explore hidden caves and solitude beaches along the way.

If you choose cruising the Adriatic you will spend your holiday on a wooden sailing ship sailing from one destination to another. There are various cruises available - starting from those for young people, more oriented to active holidays, suitable for families or the luxury ones.
In Croatia you can experience robinson style holiday while staying on one of 11 lighthouses along the coast. Savudrija is the most northern one while Palagruza is the most isolated due to its location in the middle of the Adriatic. This kind of holiday is ideal for people looking for peace. Here you will have opportunity to sunbath, swimm, enjoy delicious seafood and see spectacular sunsets.