Popular Outdoor Activities
Outdoor Activities in Dubrovnik
Dubrovnik is ideal for holidays that combines historical sightseeing and being active at the same time. The city and surrounding area are ideal for outdoor activities all-year long, especially during the summer months.

If you love active holidays, you'll adore outdoor activities in Dubrovnik: hiking, kayaking, biking, sailing, water sports and much more.
We compiled a list of the most popular activities available in Dubrovnik area.


Sea-kayaking to the island of Lokrum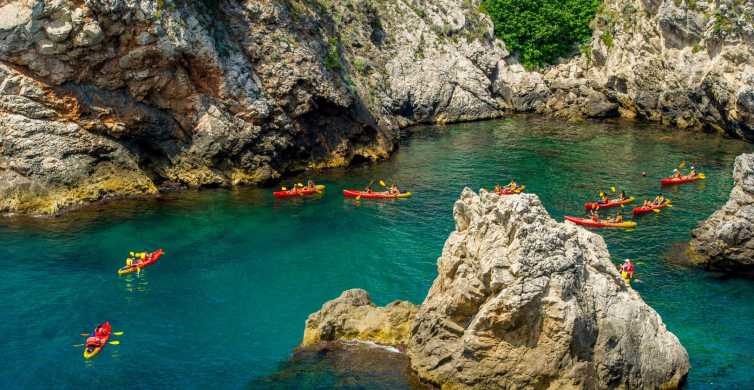 Sea-kayakers exploring the island of Lokrum
The kayaking to the island of Lokrum that lies just off the coast of Dubrovnik is one of the most popular activity among tourists. These adventures start from the Pile Bay (near the Old Town) from where kayakers paddle along the famous City walls to Lokrum Island.

Most of the tours paddle along the coast of Lokrum, so visitors can see and admire hidden bays and caves along the way. Next, the paddlers continue to Betina Cave for a break, swimming and snorkelling.
These organised kayaking tours are made of small groups (up to 8 people) and no previous kayaking experience is necessary for joining.
You can choose from MORNING or AFTERNOON departures or opt for a SUNSET tours to enjoy beautiful sunsets over the city.


Most Popular
Sea-Kayaking Tours to Lokrum Island
Sea-kayaking in the Elaphite islands
There is no better way to see the the Elaphite islands then by kayak. You can do this by joining one of many sea-kayaking tours available. Explore hidden beaches, caves and other secret island spots. Main activity kayaking is combined with island walking, swimming and snorkelling. Note that no previous paddling experience is necessary.
This small group guided kayaking tour to Lopud and Sipan and this tour that combines kayaking and biking with exploring the island of Sipan, are among the most popular ones among travellers.


Speed-boat tour from Dubrovnik
(visiting 3 islands)
To escape the crowds of the city and spend time exploring nearby islands take a speed-boat tour. These tours include exploring Blue Cave (on Kolocep island), visiting beautiful sandy Sunj beach (on Lopud island) and exploring the island of Lokrum.

You will get snorkel gear as well as snacks and drinks. Choose from the MORNING and AFTERNOON departures.


Jet-ski ride in Dubrovnik
Another great way to explore the coast and the islands, but with more adrenaline rush is a jet ski ride. You can rent a jet-ski on your own or a jet-ski tour with your private guide. On these tours you will explore beautiful Elaphite islands and pass along the unique City walls.

Tours are available at any time throughout the day.


Zipline in Dubrovnik
If you are after a true adrenaline activity, take a zipline ride in Dubrovnik. You will ride along 250m meters long route along the coast and admire the coastline and the Adriatic sea. The service provider offers a pick-up and drop-off service from your accommodation in Dubrovnik.