Sea Kayaking along City Walls & Lokrum
Sea Kayaking Tours in Dubrovnik

(Along the City Walls & Lokrum Island)
If you would like to escape from the city crowds and see Dubrovnik from a unique perspective you should definitely take one of many sea-kayaking tours available.

You will admire the City walls from the sea, explore the hidden caves of the Lokrum island and swim and snorkel in the crystal clear water.

For more adventurous activities consider ziplining over the city or taking quad-bike safari tour in Konavle!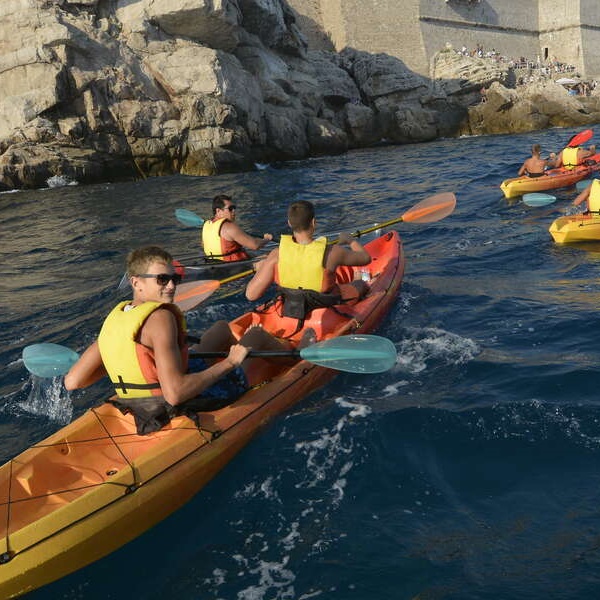 Sea-kayakers paddling below the City walls
Most tours start from just under Pile Gate, the west entrance to the City. The tour takes a leisurely pace around the beautiful walls to take in the stunning views. 

There will be opportunities to stop when the guide will give interesting background on the history of the City and other points of interest along the coast.


The shorter tour (1.5 hours) then goes directly to Betina Cave where you can relax with some swimming and snorkelling, all within sight of the Old Town.
Alternatively, the longer tour (3 hours) will take you around Lokrum island to see more of the rugged coastline with its hidden bays and secret caves. before going on to Betina Cave. This tour is suitable for all ages and abilities, no previous experience in kayaking is required.

There are regular tours taking place throughout the day, starting at 8am. There is also a special evening tour to watch the sunset with a complimentary glass of wine at the end - perfect for a romantic evening!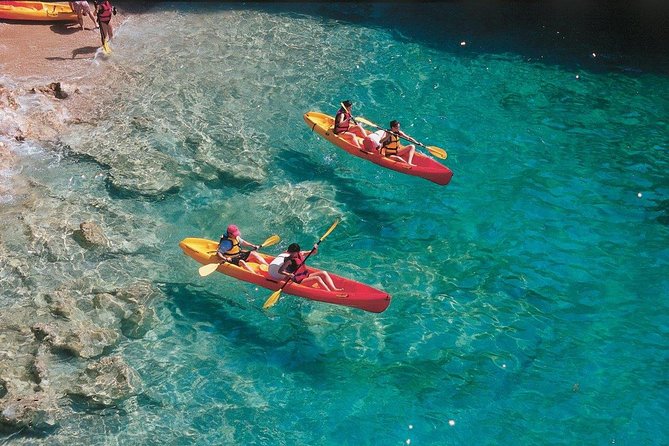 6 Most Popular Sea-Kayaking Tours:
See the City walls and Lokrum Island from your sea kayak, swim and snorkel in the crystal clear sea of the isolated beach
Choose from daytime and sunset tours
This tour departs from Pile park
Enjoy Dubrovnik's top summer activity and experience beautiful local natural and historical heritage in this 2 hours guided sea kayaking tour from the seaside.  This tour features informative commentary from your guide as you paddle from Pile bay by forts and the city walls, passing by the Old town, over the blue Adriatic sea, by the Lokrum island to reach Betina cave for a snorkelling break and then head back to Pile bay. 1 guide is assigned to guide 12 kayakers (6 kayaks)!

Choose from 4 departures throughout the day (from early morning to the evening)
This early morning 1.5-hour tour takes you alongside the iconic City walls, past the old port and leads you to the secluded Betina Cave beach. 
Departure is from Pile park at 8:00am
This 3-hour tour takes you from Pile beneath the City walls to Betina Cave (30-minute swimming and snorkeling break). Next, you'll paddle around Lokrum island until you head back while witnessing a beautiful sunset over the Elaphite islands. Upon arrival at Pile Bay, be greeted with a small bottle of wine and a snack.
Look for a representative at Pile Bay under the Pile Gate (the western entrance to the Old Town).
By joining this 3-hour tour you will first paddle towards the Lokrum island where you will make several stops to rest and hear stories about the area. Next, you will stop at Betina Cave where you will swim, snorkel and cliff jump plus have a snack. Finally, you'll paddle underneath the City walls (a great opportunity to take amazing photos). Choose from morning and afternoon departures!
Start the tour at Pile Bay (at the foot of Lovrijenac Fortress), choose from several departures daily
Experience the City walls and Lokrum island from a different point of view on this 3-hour guided kayak tour. Kayak along the shore of the island and discover the hidden caves. Get some time to go for a swim at Betina Cave or snorkel with the amazing marine life. Enjoy the complimentary fresh fruit and drinks in the end.
Tours depart daily at 10am and 4am from Banje beach