Grand Villa Argentina Dubrovnik
5-star Grand Villa Argentina Dubrovnik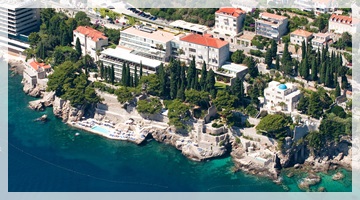 Grand Villa Argentina Dubrovnik is a 5-star hotel located only a 10-minute walk away from the Old Town of Dubrovnik. Most of the rooms offer beautiful views of the Old Town walls, the gardens and the island of Lokrum.
Grand Villa Argentina Dubrovnik consists of Villa Argentina which is the older section and Hotel Argentina - the modern section of the hotel. Both parts has in total 127 rooms and 4 suites.

Victoria Restaurant and Lounge Bar is one of the most visited restaurants in Dubrovnik. It offers Mediterranean and international cuisine and the extensive wine list.

At La Caravelle Restaurant and Piano Bar you can enjoy your meal on the open-air terrace. Dishes are simply prepared with the focus on punchy flavours: fresh salads, tasty risottos and grilled fish and steaks. At the Piano Bar, you can enjoy live music daily during the summer.

Beach Terrace Restaurant is situated just a few metres from the sea. It offers light lunches and dinners.

At the reception level the Lobby Bar welcomes you in a cosy ambience with a surprising view of the City walls.

Hotel's private beach is accessed by elevator or through the beautiful gardens. The sun loungers, towels and parasols are available for use of guests.

Guests of Grand Villa Argentina Dubrovnik can also relax in outdoor and indoor swimming pools.


Plan your visit to Dubrovnik:
Grand Villa Argentina Dubrovnik offers a wellness centre (Energy Clinic) with a variety of relaxing options. Guests can enjoy various facial, beauty and body treatments, massages and therapies.

A fully equipped gym, an indoor swimming pool, sauna and whirlpool are also available to guests. 

Grand Villa Argentina provides an elegant location for all variety of events. All conference venues, as well as coffee break areas, enjoy day-light and garden views and can be divided up into smaller areas.

The hotel offers three meeting rooms:

Villa Argentina Salon (up to 200 people)
Conference Room Galleon (up to 100 people)
Meeting Room Karaka (up to 55 people).

At the hotel reception guests can book variety of group and private tours and excursions, rent a private boat or arrange a luxury transfer service.

Free wireless internet is available in all areas and is free of charge.

To get from Dubrovnik Airport to the hotel, we recommend booking a private car transfer with Welcome Pickups. For the same price as regular taxi, you'll get a smooth and quick ride directly to the hotel (local English speaking driver).

Use Booking.com to find the best hotel deals for your next stay in Dubrovnik!