Dubrovnik Boutique Hotels
The Best Dubrovnik Boutique Hotels
Dubrovnik has a great selection of hotels throughout the city. If you are looking for a special accommodation with cosy rooms, excellent location and great service then you should stay at boutique hotel in Dubrovnik.

Check out below our recommendations for Dubrovnik's best boutique hotels. 
Whether you're taking a city break, planning a romantic escape or just looking for spend the night in Dubrovnik, Booking.com helps you find great value hotel deals.
St. Joseph's Hotel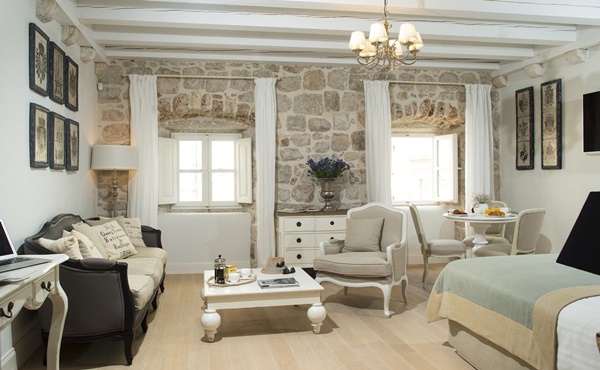 St. Joseph's Hotel is a new boutique hotel in the heart of Dubrovnik's Old Town. This hotel offers accommodation in six luxury rooms only a short walk from the main street - Stradun and numerous historical sights.
The bathrooms feature spacious rain showers and complimentary toiletries. All rooms come with large flat screen satellite televisions, WiFi and air-conditioning. Each room also has a kitchenette with a hob, fridge and microwave or oven. The front desk is open 24 hours a day and offers a concierge service. 


5-star The Pucic Palace Hotel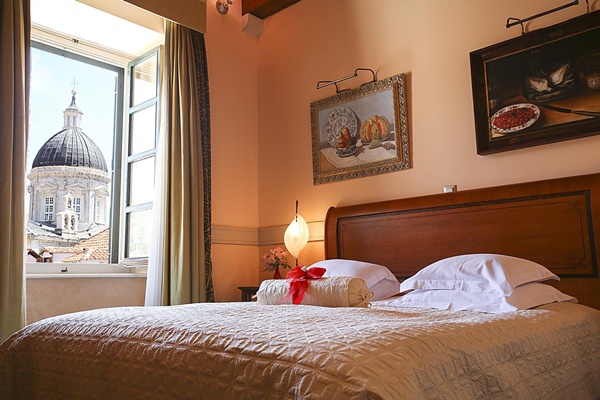 The Pucic Palace Hotel is located on Gundulic square in Old Town. Each of the 19 rooms is named after a famous Croatian poet, musician or artist. In the bathrooms you will find Bulgari toiletries. The Pucic Palace is comfortably modern and yet conveniently located on the doorstep of Dubrovnik's tremendous history.


5-star Villa Dubrovnik
Villa Dubrovnik is a new hotel located in Sveti Jakov, south of the Old Town. It has unique location on the rock above the sea which offers to guests opportunity to enjoy amazing views over the city walls and nearby island of Lokrum. 

Villa Dubrovnik offers guests a complete range of high-quality services and facilities, including a private beach, wellness and fitness centres, indoor pool, sun terrace, as well as saunas, Turkish bath, jacuzzis and water sports facilities. The hotel has a restaurant and two bars with terraces and sea views, as well as a tranquil library lounge and garden.
Hotel's 56 rooms and suites offer the highest level of luxury and comfort. All of the hotel's air-conditioned and soundproofed rooms feature sea views, flat-screen TVs, Wi-Fi, safes and private bathrooms with hairdryers and free toiletries.


5-star Boutique Hotel Kazbek
The exclusive Hotel Kazbek is located in the castle of an ancient Croatian noble family. It is located just 3 kilometres from Old Town, on Lapad peninsula.

With a pool, sauna, one indoor and two outdoor restaurants, two bars and a conference room, Hotel Kazbek offers everything necessary for the perfect stay within its ancient walls.

Hotel Kazbek has just 13 rooms available as a suite, deluxe or double room. All the rooms are spacious and elegant, decorated in a classic chic style with antique furniture.


5-star Boutique Hotel More
Boutique Hotel More is located on Lapad peninsula, some 3 km from historic Old Town. Great location in the natural surrounding just on the sea front makes it ideal for relaxes summer holiday for couples or families.

Right beneath Hotel More you will find private beach area equipped with sun beds and parasols. Right on the beach, located in a natural cave split into three levels beneath the hotel, you will find unique Cave Bar More. This bar features a spectacular setting where you can relax with a wide choice of drinks and snacks.
Hotel's rooms and suites are large, comfortable and offer true luxury during your stay. Restaurant "More" serves traditional Mediterranean and international cuisine, as well as a large selection of wines that can be enjoyed on large panoramic terrace.


Looking for a Place to Stay in Dubrovnik?
Find Handpicked Hotels & Apartments &
Holiday Homes: