Venice To Porec Ferry

Compare & Book Ferry Tickets Worldwide
Book your ferry tickets with Direct Ferries - an online booking service featuring a wide selection of ferry routes across the world including Mediterranean. Use Direct Ferries to compare all suitable ferry crossings in their quick and easy search engine to find the cheapest ferry fares. After completing booking process you will receive confirmation e-mail which serves as a ferry ticket.
SPECIAL OFFERS:
SNAV 2019 bookings are now open -
get 20% off before 31st December 2018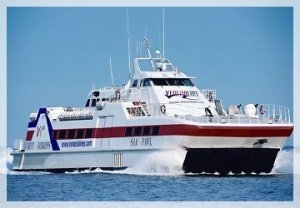 If you need to travel between Italian port of Venice and Porec, Croatian port situated on the west coast of Istrian peninsula you can choose from two ferry operators - Venezia Lines and Adriatic Lines (Atlas Kompas).

Both companies operates high-speed passenger catamarans only during summer season. 

Venezia Lines operate two modern catamaran, San Pawl and San Frangisk, that can carry up to 310 passengers (280 in economy class, 30 in Vip class).

Crossing between Venice and Porec takes approximately 2 hours 45 minutes. In 2017 the service starts on 29th April and ends on 12th of October.

All Venezia Lines ferries depart from San Basilio Terminal in Venice. San Basilio terminal is located at the end of Zattere area, approximately 500m from San Sebastiano Church.

Adriatic Lines (Atlas Kompas) operate catamarans between Venice and Porec during summer season. They operate two catamarans on this route - Prince of Venice (303 passengers) and Adriatic Jet (343 passengers). The journey on this modern catamarans takes around 3 hours. In 2017 the service starts on 11th May and ends on 05th of October. This service is daily.

---
Home > Venice To Croatia Ferries > Venice To Porec Ferry