Getting From Dubrovnik to Brac
Getting from Dubrovnik to Brac
(Brac to Dubrovnik)
The island of Brac, situated close to Split, is an ideal destination for summer holidays. It is famous for Zlatni rat (in Bol), the beautiful sandy beach included in the list of the most beautiful beaches in the world. Besides Bol, the main settlements on the island are Supetar, Sutivan, Milna and Sumartin.

Getting between Dubrovnik and island of Brac is quite easy during the summer months.

There are daily catamaran routes connecting Dubrovnik with:

From Milna you can reach Supetar by bus and Sutivan by bus and boat.


Zlatni rat - the island of Brac
Those travelling by car should reach Makarska and from there catch a ferry to Sumartin on the eastern side of Brac (this route operates daily all-year long).
In the text below you will find detailed info about all travel options between Dubrovnik and the island of Brac.


Getting from Dubrovnik to Brac by catamaran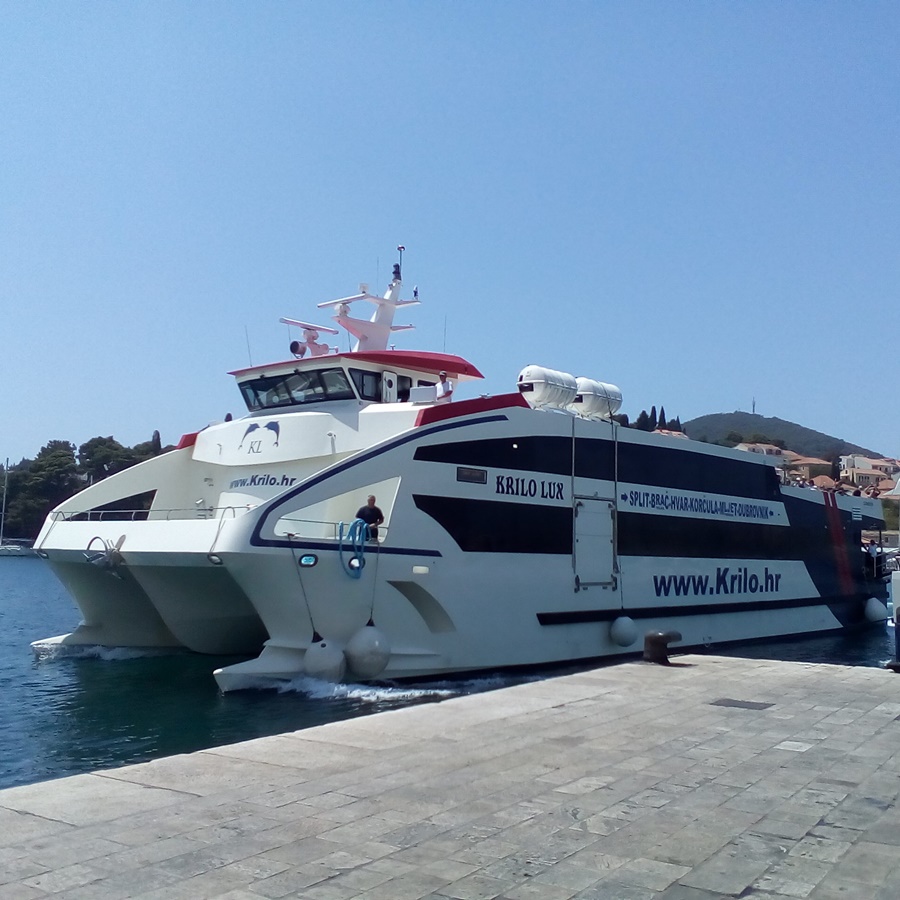 Travel from Dubrovnik to the island of Brac by this high-speed catamaran
From Dubrovnik to Milna
TP LINE CATAMARAN: TP Line's catamaran also sails from Dubrovnik to Milna on the island of Brac. Catamaran departs from Dubrovnik at 3:15 p.m. and arrives to Milna at 7:50 p.m., meaning the journey takes 4 hours 35 minutes (daily from June to mid October).

For the accurate sailing timetable, prices and ticket booking visit Bookaway.


---
KRILO CATAMARAN: Another Krilo catamaran sails Dubrovnik - Pomen (Mljet) - Korcula - Hvar Town - Milna (Brac) - Split. This route is convenient for getting from Dubrovnik to Brac or vice versa. 
It runs daily from April until end of October. It departs Milna at 8:10 a.m. arriving to Dubrovnik at 12:05 p.m. (the sailing time is 3 hours 50 minutes). The opposite journey departs Dubrovnik in the late afternoon (4:30 p.m) getting in to Milna (Brac) around 8:20 p.m.

For the accurate sailing schedule, prices and booking visit Bookaway website.


From Dubrovnik to Bol
JADROLINIJA CATAMARAN: Jadrolinija operates high-speed catamaran between Split and Dubrovnik with stops on several islands, including Brac (Bol). This catamaran operates daily from mid-June until the end of September.

Catamaran departs Dubrovnik in the early morning, stops at Korcula and Hvar before arriving to Bol on the island of Brac. Passenger can take this catamaran from Bol in the late afternoon. The journey time is 3 hours 40 minutes.


Driving from Dubrovnik to the island of Brac
For those who wish to drive from Dubrovnik to the island of Brac, the best option would be to reach Makarska which is connected by car ferry to Sumartin on the eastern part of Brac. This ferry runs all year round (1 hour journey) with sailings throughout the day. From Dubrovnik to Makarska by car, you will need around 3 hours.

From Sumartin you can reach other destinations on the island of Brac (Bol is only 20 minute drive from there).


Find Your Place to Stay
in Dubrovnik