Venice To Umag Ferry

Venezia Lines links Venice with Croatian port of Umag by seasonal ferry service. This popular tourist destination in Istria has great location, only 40 km from Trieste (Italy), 150 km from Ljubljana (Slovenia) and 50 nautical miles from Venice.

There are two more famous tourist destinations in this area – Savudrija with its oldest lighthouse on the Croatian Adriatic sea and Lovrecica as a peaceful oasis for family vacations.

San Frangisk is a modern catamaran sailing on this route and can accommodate up to 310 passengers in both Economy class and VIP class lounge.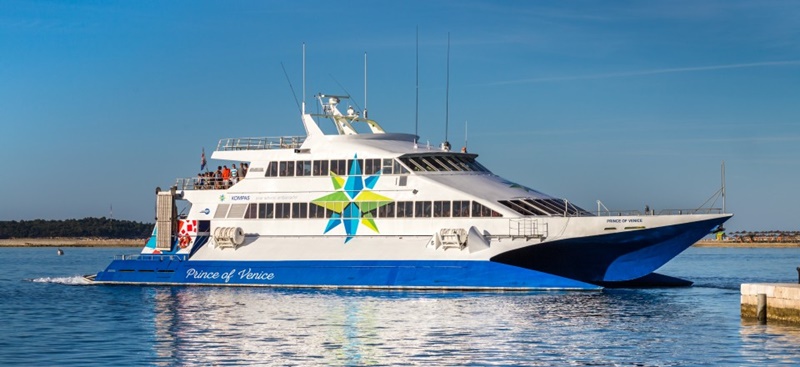 In 2020 Venezia Lines starts the service on 25th June and end on 27th August. Ferry operates on Thursdays and crossing time between Venice and Umag is 2 hours and 45 minutes. Fares start from €61 for one-way journey and €121 for return journey.
Kompas is another company that operate catamaran from Venice to Umag. The catamaran sailing on this route is Prince of Venice. On board Prince of Venice, you will find air-conditioned seating areas, toilets and three outdoor decks, all providing superb views across the Adriatic.

Catamaran can hold up to 343 passengers. The journey takes approximately 2 hours 30 minutes.

Book Catamaran Tickets
Easily Online