Dubrovnik Split Catamaran

Dubrovnik To Split Catamaran

Both Dubrovnik with its unique Old Town and Split with Diocletian's Palace, are popular travel destinations of Croatia. Many travellers seek for the best travel options between these two cities.

They can choose from several ways of getting from Dubrovnik to Split but one of the easiest and most comfortable is taking the SUPER FAST MODERN CATAMARAN (it takes only foot passengers).

This service is available daily during the summer season and is operated by two ferry companies (KRILO and JADROLINIJA). The journey time on this route is 4 hours 30 minutes with stops on the islands of Mljet, Korcula, Hvar and Brac along the way.

Note that these catamarans sell out quickly, as this is one of the most popular boat route on the Croatian coast. We recommend to BOOK YOUR TICKETS in-advance which can be done at BOOKAWAY web-site with free cancellation option.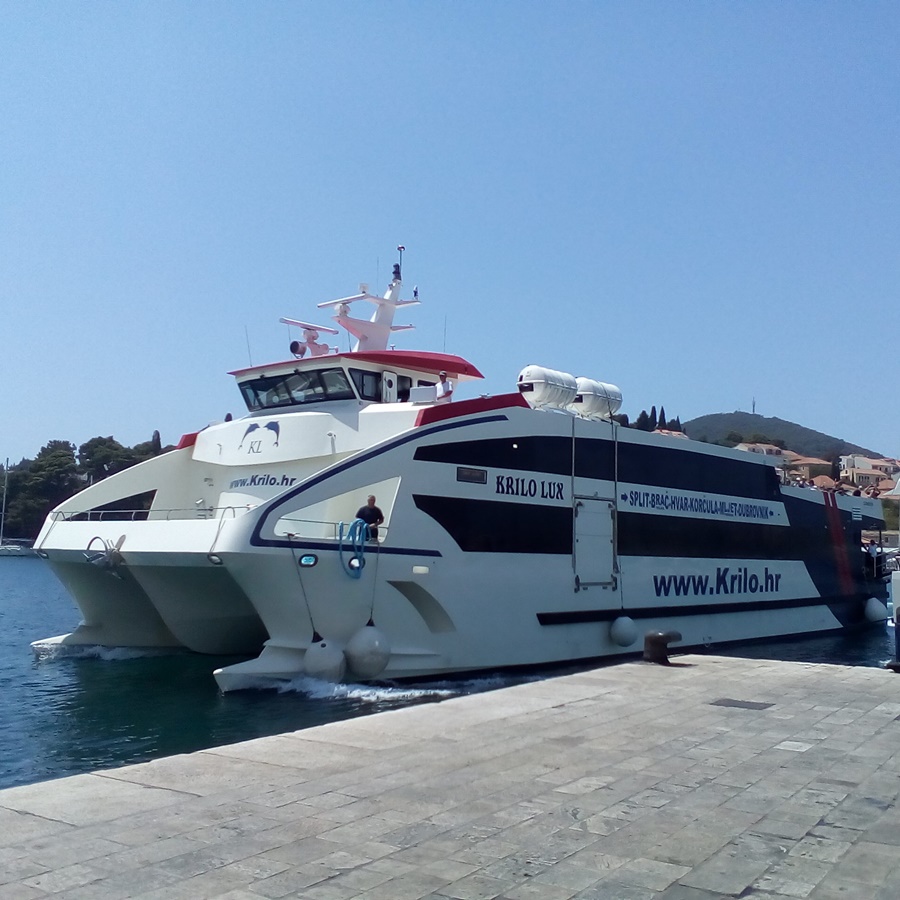 KRILO LUX Catamaran sails between Dubrovnik and Split in only 4 hours 30 minutes
Catamarans from Dubrovnik to Split
KRILO CATAMARAN runs between Dubrovnik and Split with stops on the islands of Mljet (Pomena), Korcula, Hvar and Brac (Milna). This service is operated by comfortable and superfast catamarans which sails from Dubrovnik to Split in 4 hours 25 minutes. Catamarans depart from Split port in the morning and returns from Dubrovnik in the afternoon hours. CHECK PRICES and BOOK catamaran tickets HERE.


---
JADROLINIJA CATAMARAN runs between Dubrovnik and Split from June until mid-October each year. This catamaran departs in the morning from Dubrovnik port and sails to Split with stops on the islands of Korcula, Hvar and Brac (Bol) alongway. Catamaran returns from Split in the afternoon. This catamaran is ideal for making a day trip to the islands. Tickets can be bought from every Jadrolinija ticket office or online.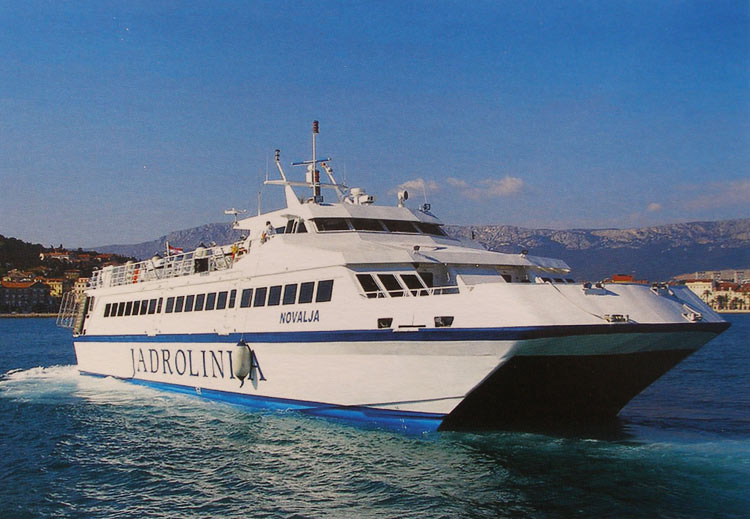 Jadrolinija catamaran
Getting between Dubrovnik and Split by bus
Several bus companies operate bus service between Dubrovnik and Split with a range of prices and travel times. When travelling from Split or Dubrovnik by bus, your travel will begin at Split Bus Station or Dubrovnik Bus Station, both conveniently located close to the ports.
The average journey time is around 4 hours 30 minutes but during the summer months it can be some delays due to the traffic on the way.

When taking the bus between Dubrovnik and Split, make sure you have your passport ready to show to custom officers as buses pass through a part of Bosnia & Herzegovina (called Neum corridor).
We recommend buying your bus tickets in advance, especially during the summer season. Check the accurate bus timetables, prices and book your bus tickets online with BOOKAWAY web-site.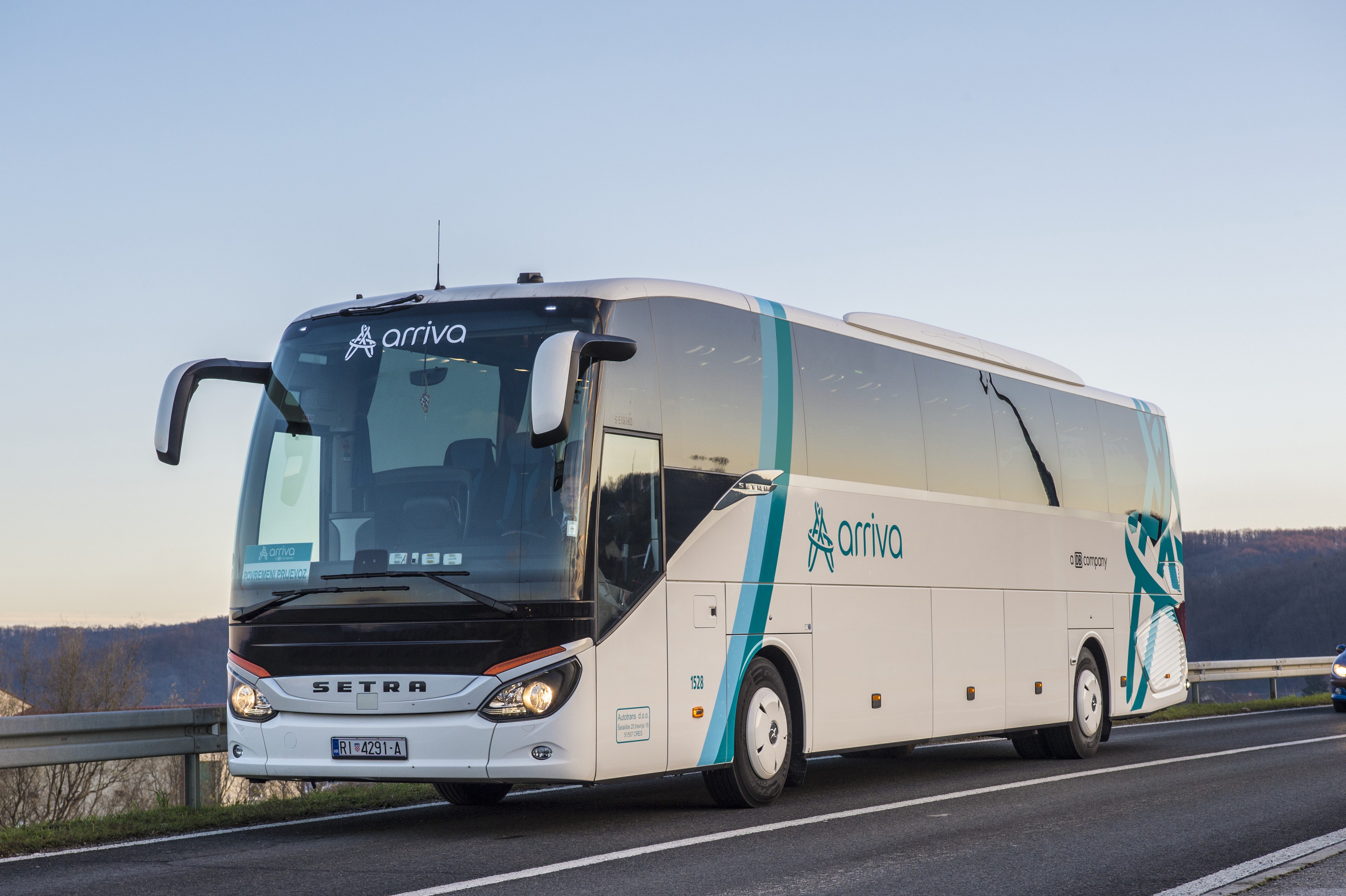 Bus operating between Dubrovnik and Split
Driving between Dubrovnik and Split
One of the options of travelling between Split and Dubrovnik is by car. The distance from Split to Dubrovnik is about 230 km and the drive will take about 3.5 hours depending on the traffic and border delays. 
Note that you will need to pass through Neum Corridor - 22 km of coastline that belongs to Bosnia and Herzegovina on your way to Dubrovnik.


Explore Dubrovnik Islands