Dubrovnik Split Catamaran
Dubrovnik To Split Catamaran

Both Dubrovnik and Split are top Croatia travel destinations in, and so popular among tourists. This is the reason why high-speed catamarans operating between Split and Dubrovnik are so popular that they sell out quickly, so you have to book in advance.

A pleasant boat ride, with stops on the islands, takes from 4h 30min to 5h 55min, depending on the company (prices start from €47). Choose from KRILO, TP LINE or JADROLINIJA, each one offering one daily departure in both directions (compare catamarans here!)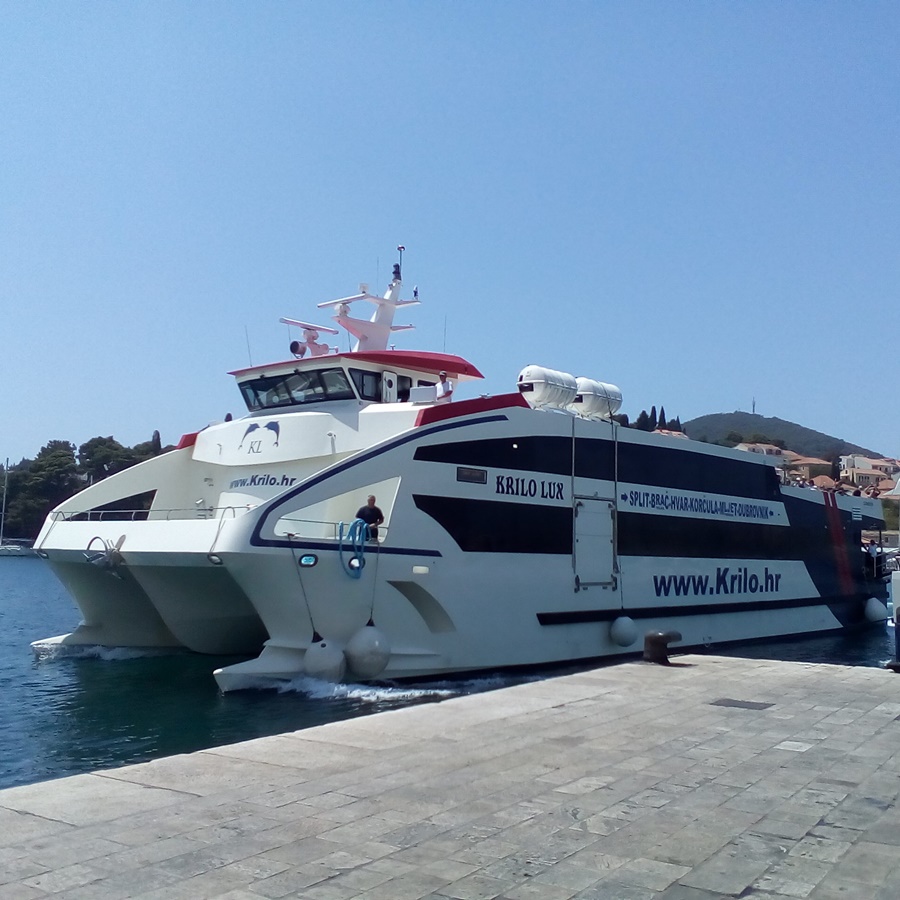 KRILO LUX sails between Dubrovnik and Split in only 4 hours 25 minutes
In addition to these modern catamarans, you can choose also from taking a bus ride (numerous daily departures, ticket prices start from €14, book easily here!), a private car transfer (compare all available offers here!) or driving a car (find affordable car hire deals at DiscoverCars).
For completely hassle-free transfer, book an organised day tour from Dubrovnik to Split/Split to Dubrovnik.

While in Split don't skip an opportunity to explore the nearby islands of Solta, Brac, Hvar and Pakleni Islands (we suggest you to take an organised day cruise and see all in one day).

If looking for affordable place to stay in Split, check out these spacious and modern rooms (breakfast included)! Don't skip also this comfortable apartment in the historic centre of Split!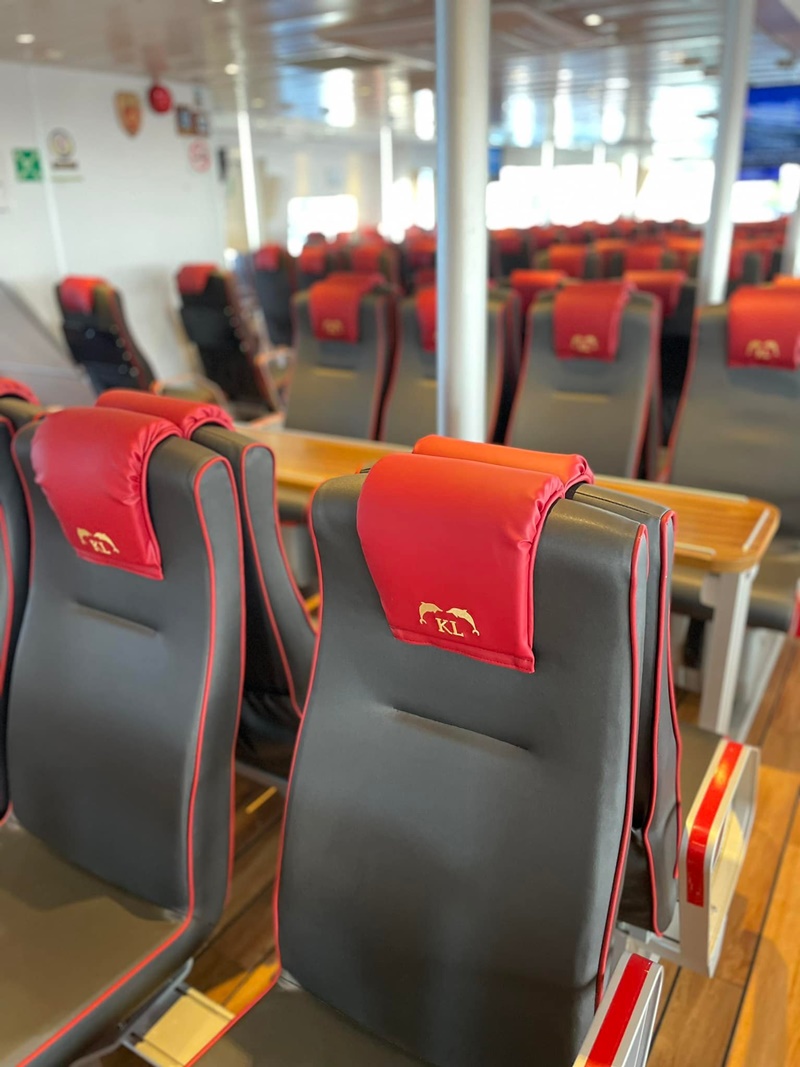 Krilo catamaran seats
CATAMARANS SAILING BETWEEN DUBROVNIK AND SPLIT:
Dubrovnik ferry port is located in the are of Gruz, roughly 3 km from the Old Town. All ferries/catamarans to and from Dubrovnik arrive and depart from here. This area is easily reachable from other parts of Dubrovnik by a city bus or a taxi.


KRILO CATAMARANS
Krilo connects Dubrovnik with Split and the islands of Mljet, Korcula, Brac and Hvar, then city of Makarska, as well as providing inter-island crossings.

Two modern high-speed catamarans operate between Split and Dubrovnik, both departing from Split in the early morning (7:30 am) and sailing back in the afternoon hours (the sailing time is 4h 25 minutes).

TP LINE CATAMARAN
This operator runs the high-speed catamaran from Dubrovnik via Mljet (Pomena), Korcula, Hvar, Brac (Milna) to Split.

Catamaran departs from Split at 9:15 a.m. and arrives to Dubrovnik at 2:35 p.m. The return journey is at 3:15 p.m. from Dubrovnik and arrival to Split at 8:30 p.m. Service is available daily from June until mid-October. The sailing time is 5 hours 15 minutes.
JADROLINIJA CATAMARAN
JADROLINIJA operates a catamaran between Dubrovnik to Split. Operating daily from June until the end September, this catamaran stops at Korcula Town, Hvar Town and Bol (Brac). Catamaran departs from Dubrovnik at 7:00 a.m. arriving to Split at 12:55 p.m. It returns from Split at 3:30 p.m. arriving to Dubrovnik at 9:25 p.m.


TP Line catamaran
Getting between Dubrovnik and Split by bus
Travelling between Dubrovnik and Split by bus is easy as numerous buses runs on this route throughout the year. Travellers can choose from the following bus companies: Croatia Bus, Promet Makarska, Cazmatrans, Samoborcek, Arriva, Autotransport d.d. Sibenik, Vincek and FlixBus.

The average journey time is around 4 hours 30 minutes but during the summer months it can be some delays due to the traffic on the way.

We recommend buying your bus tickets ahead, especially for rides during the peak summer months (June to August). You can easily do this online.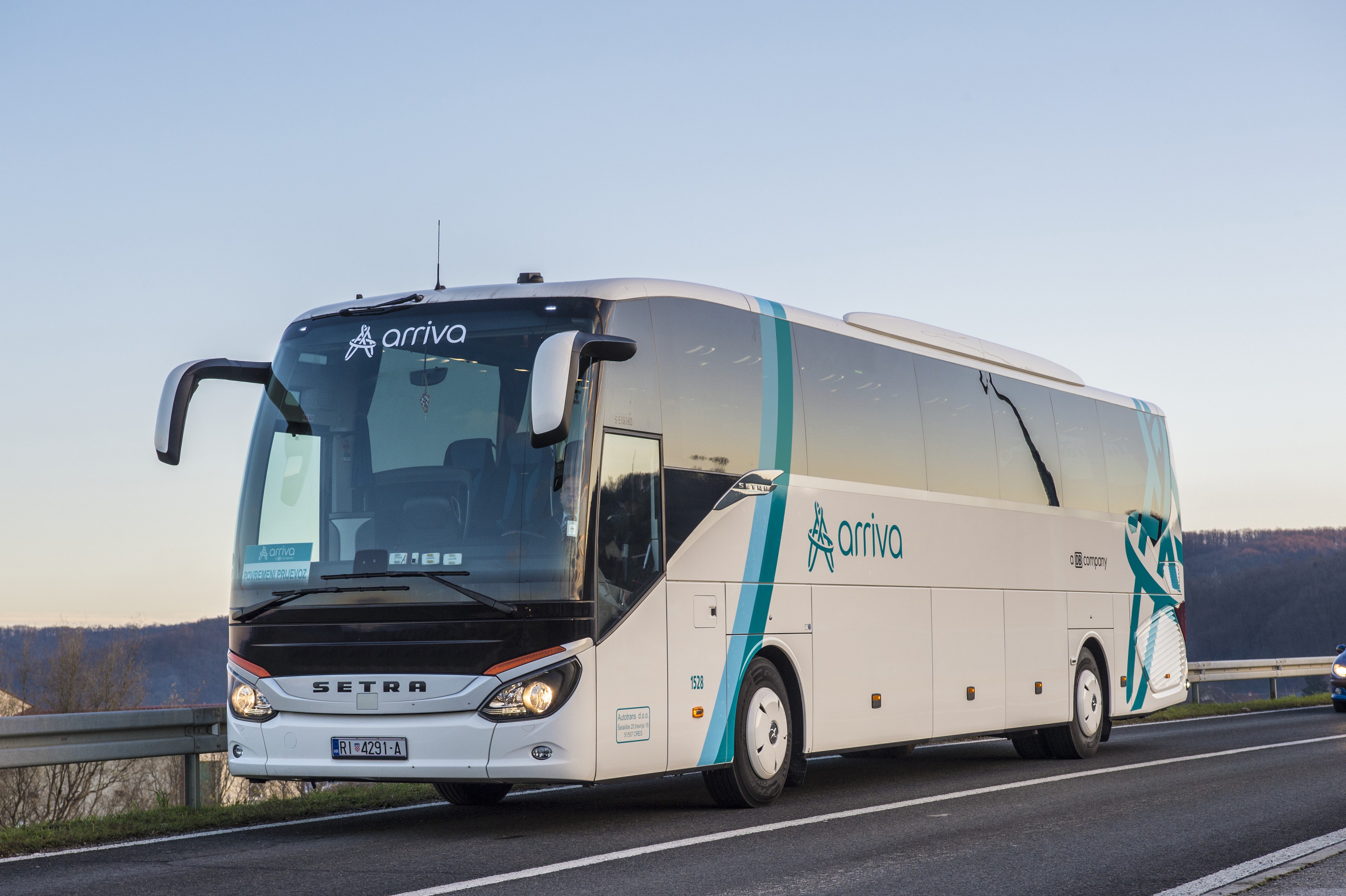 Bus operating between Dubrovnik and Split
Private transfer from Dubrovnik to Split
For a smooth and relaxed journey between Dubrovnik and Split you should opt for a private car transfer. This is a great way to travel which takes away the worry about driving in foreign country, border crossings and any other things.

You'll be picked up wherever you want, your hotel, the airport, port or anywhere else. No need for buses or taxis to continue your journey once you've finally reach your destination. 
Croatia Shuttle, Dubrovnik Transport and Maci Tours are companies offering private transfers between Dubrovnik and Split. Each of these companies offers smooth transfers in comfortable air-conditioned vehicles with professional English speaking drivers.


Organised Day Trips
Split to Dubrovnik/Dubrovnik to Split
Driving between Dubrovnik and Split
One of the options of travelling between Split and Dubrovnik is by car. The distance from Split to Dubrovnik is about 230 km and the drive will take about 3.5 hours depending on the traffic. The Dalmatian coast offers incredible sceneries and travelling by car along it may offer a comfort of stopping wherever and whenever you like.

We advise you to book your car through DiscoverCars where you can compare a huge range of car hire deals from leading rental companies and find the best one for you.


Exlore
Croatia's Highlights