Dubrovnik Cathedral
Dubrovnik's Cathedral as it stands today was built in 1673 and replaced the original 12th century cathedral, destroyed in the great earthquake.

It has an opulent interior, with a painting of the Assumption of Mary bearing the signature of Italian artist Titian. The cathedral vaults house gold and silver reliquaries and paintings by Italian, Flemish and Croatian artists.

The treasury also houses a 11th or 12th century reliquary with the head of St Blaise. It is in the shape of a crown and decorated with medallions and precious stones.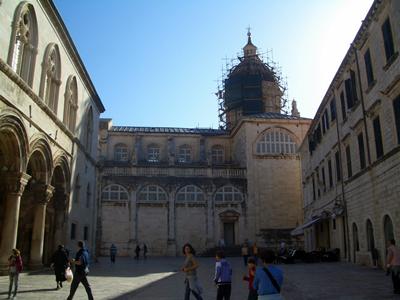 Dubrovnik Cathedral's facade
Main entrance to Dubrovnik Cathedral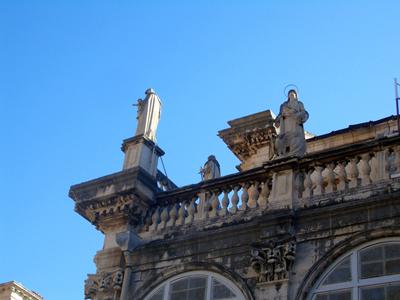 Statues on the Dubrovnik Cathedral roof
View of Dubrovnik Cathedral from City walls
Dubrovnik's Favourite Guided Tours
Book online at the best price!
Free cancellation!
---
Home > Dubrovnik Attractions - Palaces & Churches > Dubrovnik Cathedral

Day trips from Dubrovnik