Dubrovnik to Bari (Italy) Ferry Info

Unfortunately, Bari to Dubrovnik ferry doesn't sail in winter-time,
travel from Ancona to Split instead!
BOOK JADROLINIJA
FERRIES ONLINE
▼▼▼▼▼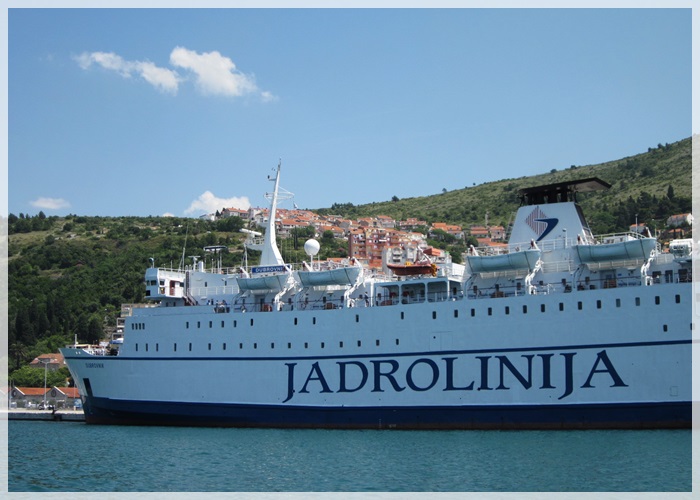 Dubrovnik to Bari ferry is the only international ferry from Dubrovnik port. There is no ferry connections between Dubrovnik and any port in Montenegro, Albania, Greece or Turkey. Dubrovnik to Bari ferry is operated by Croatian state company Jadrolinija. The route is only seasonal. In 2015 the service starts on 23rd of March and ends on 29th of October. During the months of April and October the ferry sails twice a week. In May it sails three times a week.

In June and September it operates four times a week. During summer months the service is frequent (July - five sailings a week, August - six sailings a week). Crossing time from Bari to Dubrovnik is between 8 and 10 hours.
2015 SAILING TIMETABLE

2015 PASSENGER FARES PER PERSON

     High season:
     19/06/2015 - 30/08/2015


  Weekend (Fri-Sat-Sun):           31/07/2015 - 30/08/2015

ACCOMMODATION
LOW
SEASON
HIGH
SEASON
WEEKEND
Deck

€40.00

€44.00

€48.00

Reclining seat

€48.00

€53.00

€57.50

3/4 berth inside cabin (wash basin)

€63.00

€69.50

€75.50

2/3/4 berth couchette

€72.00

€79.00

€86.50

2 berth inside cabin (wash basin)

€72.00

€79.00

€86.50

3 berth outside cabin (wash basin)

€75.00

€82.50

€90.00

3/4 berth inside cabin (WC)

€75.00

€82.50

€90.00

3/4 berth outside cabin (WC)

€75.00

€82.50

€90.00

2 berth outside cabin (wash basin)

€80.00

€88.00

€96.00

3/4 berth inside cabin (shower/WC)

€80.00

€88.00

€96.00

2 berth inside cabin (WC)

€84.00

€92.50

€101.00

2 berth outside cabin (WC)

€86.00

€94.50

€103.00

3/4 berth outside cabin (shower/WC)

€86.00

€94.50

€103.00

2 berth inside cabin (shower/WC)

€90.50

€99.50

€108.50

2 berth outside cabin (shower/WC)

€99.00

€109.00

€119.00

2 berth deluxe outside cabin (shower/WC/TV/bar)

€125.50

€138.00

€150.50
+ TAXES: €15.00 per person
Note
Single use cabin - the price of a double cabin per person + 50%
Delux outside cabin can be booked only as a whole cabin
Cabin prices include breakfast


2015 ACCOMPANIED VEHICLE FARES

     High season:
     19/06/2015 - 30/08/2015


  Weekend (Fri-Sat-Sun):           31/07/2015 - 30/08/2015

VEHICLES
LOW
SEASON
HIGH
SEASON
WEEKEND
Car (up to 9 seats) up to 5m long and up to 1.8m high

€53.00

€58.50

€63.50

Car (up to 9 seats) over 5m long and/or over 1.8m high

€90.00

€99.00

€108.00

Motorcycle with side-car, baggage trailer up to 3m long

€34.00

€37.50

€41.00

Sleeping car, camper, trailer - up to 5m long

€90.00

€99.00

€108.00

Sleeping car, camper, trailer - from 5.01 to 7m long

€114.00

€125.50

€137.00

Sleeping car, camper, trailer - over 7m long

€132.00

€145.00

€158.50

Motorcycle

€26.00

€28.50

€31.00

Bicycle

Free of charge

Free of charge

Free of charge
+ TAXES:
| | |
| --- | --- |
| VEHICLE | TAXES |
| Car | €18.00 |
| Motorcycle/baggage trailer | €12.00 |
| Sleeping car/camper/trailer | €22.00 |
Note
For unaccompanied vehicles, the fare is increased by 50%
For sleeping cars and trailers without a towing vehicle, the fare is increased by 50%
For vehicles of width over 2.60m and for special vehicles - special rate is applied
Discounts
Child (up to 3): FREE OF CHARGE (unless occupying its own berth)
Child (3-12): 50% OFF
20% OFF on the return portion of a round trip ticket

---
Home > Port of Dubrovnik > Dubrovnik to Bari Ferry