Dubrovnik to Bari (Italy) Ferry Info

Dubrovnik to Bari ferry is the only international ferry from Dubrovnik port. There is no ferry connections between Dubrovnik and any port in Montenegro, Albania, Greece or Turkey. Dubrovnik to Bari ferry is operated by Croatian state company Jadrolinija.

BOOK FERRIES TO CROATIA
SIMPLY & SECURELY
The route is only seasonal. In 2016 the service starts on 23rd of March and ends on 27th of October. During the months of April and October the ferry sails twice a week. In May it sails three times a week. 

In June and September you can travel between Bari and Dubrovnik four times a week. During summer months the service is frequent (July - five sailings a week, August - six sailings a week). Crossing time from Bari to Dubrovnik is between 8 and 10 hours.

For more information about getting from Italy to Dubrovnik click here.


Facilities onboard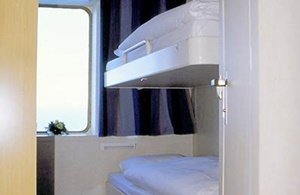 Jadrolinija's ferry "Dubrovnik" which is sailing on this route has a capacity for up to 1300 people and around 300 cars. Onboard you will find a selection of cabin accommodation, airline seats as well as deck space. This ferry features 149 cabins which come in a range of 2, 3 or 4 berth, inside or outside (sea view). There are also airline style seats for those who don't wish to book a cabin. The cheapest option is to book a deck meaning you can sleep in public areas such as lounge, bar or other areas. The floors are carpeted and you may spread out a foam or mattress. There are a limited number of rather comfortable sofas.

Onboard the ship you will find self-service restaurant with 224 seats, patisserie, a bar, video room, movie theatre, chapel, children's play area, a la carte restaurant and duty free shopping.

The price of a cabin includes breakfast on overnight sailings. In addition to bed linen, there are towels and soap.


2016 SAILING TIMETABLE

---
Home > Port of Dubrovnik > Dubrovnik to Bari Ferry

Dubrovnik Planning Guide