Getting from Venice to Dubrovnik

Traditional Venetian gondolas
Many travellers on their European travels would like to get directly from Venice to Dubrovnik. Note that there are no direct ferry connections between these two cities. However, several options of travelling on this route is available. 

From Venice to Dubrovnik by plane
By far the easiest and the fastest way of travelling from Venice to Dubrovnik is by plane. Croatian national carrier, Croatia Airlines operates flights on this route starting from May until October (twice a week). The flight takes 1 hour 30 minutes.

Spanish low-cost airline Volotea also has twice-weekly flights in the period from end of April until November between Dubrovnik and Venice. In 2018 EasyJet introduced flights between Venice and Dubrovnik operating from June until September. Service will be available three times a week.


Book Flights from
Venice to Croatia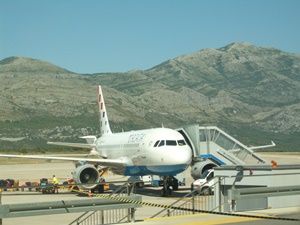 From Venice to Dubrovnik
From Venice to Split
Venice to Split with Volotea - Book!
From Venice to Dubrovnik - other options
One of the options for getting from Venice to Dubrovnik is to take a train from Venice to Rome (3 h 40 minutes) and from there catch one of the planes to Dubrovnik.
Travellers can also take a train from Venice to Trieste, and then catch one of the daily buses from here to Dubrovnik. However, the bus journey from Trieste to Dubrovnik is rather long (20 hours), and it's not everyone's cup of tea.

Otherwise, you can take a train down the Italian side of the Adriatic to Bari and from there catch Jadrolinija's overnight ferry to Dubrovnik. Also you can take a ferry from any other Italian port to Croatia and then continue your journey down the coast until you reach Dubrovnik. 


Lowest prices & Easy booking