Travelling from Italy to Croatia
Many travellers combine a visit to Italy and Croatia and at some point need to travel between these two countries.

Nowdays, many Italian cities are connected with direct flights with destinations in Croatia. This is also the quickest way of reaching Croatia from Italy. However, the majority of flights only operate during the summer months.

There are also a great number of ferries across the Adriatic operating from Italian ports to Croatia also available mostly in the summer. Check out below our recommendation for travelling from specific city in Italy to Croatia.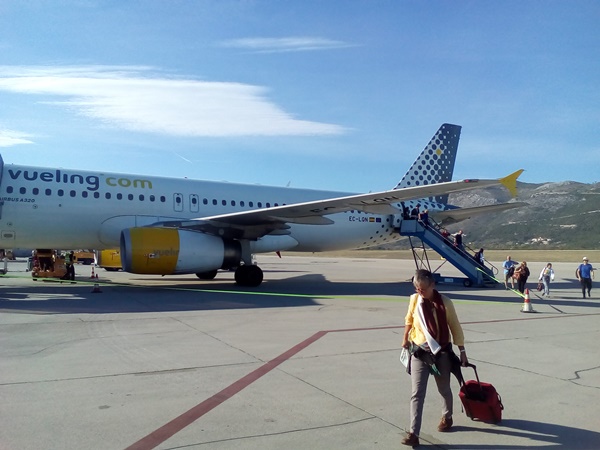 Vueling Airlines connects Rome with cities of Dubrovnik, Split and Zadar in Croatia
Travelling from Rome to Croatia
Rome Fiumicino is connected with several Croatian airports with direct flights. Travellers can choose from flying from Rome to Croatian coastal cities - Dubrovnik, Split and Zadar.

Another solution for travelling from Rome to Croatia would be taking a train to one the ports on Italy's east coast such as Ancona or Bari and from there catching a ferry to Croatia.

Croatian state company Jadrolinija operates seasonal ferry between the port of Bari and Dubrovnik. This company also sails from Ancona to the port of Split throughout the year while Italian SNAV sails only during the summer season.


Flights from Rome to Croatia
Travelling from Venice to Croatia
From Venice the easiest way to travel to Croatia is by plane. Venice airport is connected to Dubrovnik and Split. Croatia Airlines, Volotea and EasyJet offer flights to Dubrovnik while Volotea and EasyJet fly to Split. In the low season the option would be taking a train from Venice to the capital city of Croatia - Zagreb and from there fly to Dubrovnik. Croatia Airlines offers several flights a day between Zagreb and Dubrovnik all year round.

Besides flying there are catamaran service between Venice and ports on the Istrian western coast. Venezia Lines and Atlas Kompas operate high-speed catamarans between Venice and Rovinj, Umag, Porec and Pula. In only few hours you can travel between these cities. This service is also seasonal.


Flights from Venice to Croatia
Venice to Dubrovnik with Croatia Airlines
Venice to Dubrovnik with Volotea
Venice to Dubrovnik with EasyJet
Venice to Split with Volotea
Venice to Split with EasyJet


Travelling from Milan to Croatia
Flights from Milan to Croatia
Milan Malpensa to Dubrovnik with EasyJet
Milan Bergamo to Dubrovnik with Volotea
Milan Linate to Dubrovnik with Alitalia
Milan Malpensa to Split with EasyJet
Milan Bergamo to Split with Volotea
Milan Malpensa to Zadar with EasyJet
Milan Malpensa to Zagreb with Croatia Airlines
Travelling from Bari & Ancona to Croatia
---
Home > Travelling from Italy to Croatia