Sponza Palace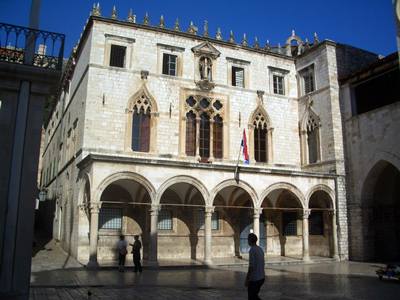 Sponza Palace is situated on the north side of Luza Square
The Sponza Palace is one of the most beautiful palaces in the city. During the era of the Republic of Dubrovnik it housed the Customs Office, the State Mint, the Bank, the State Treasury and the Armoury.

The structure is rectangular in shape and encloses a yard. The building blends Gothic and Renaissance styles. 

Nowadays, the Sponza houses the Dubrovnik Archive, which boasts one of the richest archive collections in the world, the oldest document preserved in this archive dating from the year 1022.

Today, it is also home to a memorial dedicated to the Croatian War of Independence The exhibit includes portraits of more than 300 defenders and civilians who lost their lives during the siege.

Be sure to see if there are any special events taking place in the palace courtyard. With its excellent acoustics and elegant architecture, this area frequently hosts concerts, theatrical performances and art exhibitions. 


Selection of Dubrovnik's Tours
Book online & Free cancellation!
Jun 14, 20 11:39 AM

A walk along Dubrovnik's famous city walls is a unique and wonderful experience and a must-do when visiting Dubrovnik! Find out all useful info for the best experience while visiting the City walls!

Jun 07, 20 04:48 AM

Take a day trip from Dubrovnik to the sunny islands and beutiful countryside - Elaphites, Mljet, Korcula, Cavtat, Konavle, Peljesac, Ston...

Jun 07, 20 04:47 AM

Find your ideal Dubrovnik accommodation - from hostels, apartments, guesthouses to a range of hotels and luxury villas!