Visit Beautiful Lokrum Island
The island of Lokrum is located just across the Old Town and is a favourite spot for escape from city crowds during hot summer days. 

Take a short boat ride from the Old City harbour to Lokrum and find yourself in the nature paradise. You can also take a kayak tour to explore the island from the sea. Paddling along the city walls towards the island of Lokrum, swimming and snorkeling will be a unique experience.


The island of Lokrum is situated across the Old Town
In 1963 the island of Lokrum was declared a Natural Reserve and in 1976 a Special Forestry Reserve. Lokrum is a home to an unique botanical garden in which grew 500 different kinds of exotic plants. The majority of the plants were brought from Australia and South America, and the collection of eucalyptuses, cactuses and succulent plants is a special attraction. 

A small lake on the island called Mrtvo More (Dead Sea), connected with the open sea, is suitable for children and non-swimmers. Located on an elevation, the star-shaped Fort Royal, built by the French in 1806, offers a magnificent view of Dubrovnik, Cavtat and the islands.

All along the island you will find the rocky spots where you can enjoy sunbathing and swimming. The island of Lokrum was used as a setting for exterior scenes for filming of popular TV series "Game of Thrones".

There are no accommodation facilities on the island of Lokrum.

However, the island is easily reachable from the Old Town, where you will find a great range of accommodation including apartments, hostels and rooms. 

In only 15 minutes, a boat from the Old City Harbour will take you to the nearby island of Lokrum.  The boat sails from April until end of November each year. To reach embarkation point take any city bus to the Old Town, walk down Stradun, pass under the Bell Tower and go on your right where you will see the Old City Harbour.

Tickets can be bought at the stall in front of the boat prior to departure or can be booked in advance online. Adult return ticket costs 120 HRK, children ticket (5-15 years old) costs 20 HRK while children under 5 years sails for free.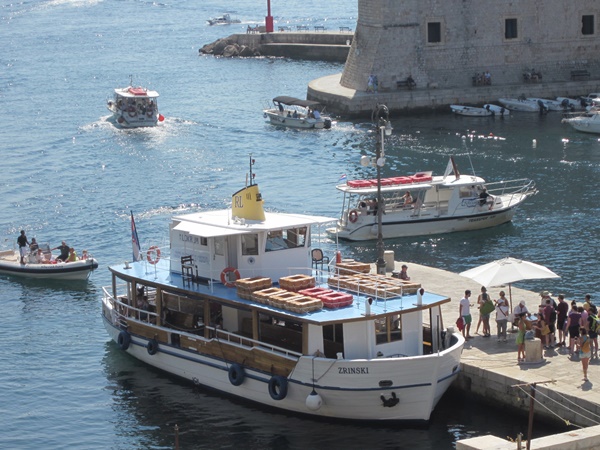 2017 Sailing timetable
VALID FROM 01.06.2017.
Departures from
the city harbour
9:00 a.m.
10:00 a.m.
11:00 a.m.
11:30 a.m.
12:00 noon
12:30 p.m.
01:00 p.m.
01:30 p.m.
02:00 p.m.
02:30 p.m.
03:00 p.m.
03:30 p.m.
04:00 p.m.
04:30 p.m.
05:00 p.m.
05:30 p.m.
06:00 p.m.
Departures from
Lokrum

10:15 a.m.
10:45 a.m.
11:15 a.m.
12:15 p.m.
12:45 p.m.
01:15 p.m.
01:45 p.m.
02:15 p.m.
02:45 p.m.
03:15 p.m.
03:45 p.m.
04:15 p.m.
04:45 p.m.
05:15 p.m.
05:45 p.m.
06:15 p.m.
07:00 p.m.
---
Home > Dubrovnik Beaches > Lokrum Island Beach