Getting To Dubrovnik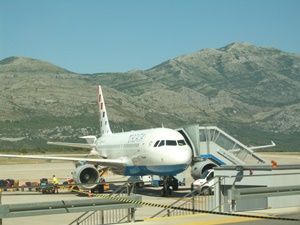 Dubrovnik airport
The city of Dubrovnik is situated in the southeastern tip of Croatia. There are lots of ways to get to Dubrovnik, from flights, buses and ferries. Note that there are no trains to Dubrovnik.

The most convenient and the fastest way is to travel to Dubrovnik by plane. Dubrovnik airport is located some 20 km southern of the city and during the summer it has numerous air connections with European destinations. In the wintertime there are several flights from Dubrovnik airport but you can travel via Zagreb - the capital city of Croatia.

If you are arriving to Dubrovnik from Korcula by car you need to take a ferry from Domince to Orebic (Peljesac peninsula). Then drive along Peljesac and continue to Dubrovnik (2 hours drive).


Getting to Dubrovnik by plane
The airport serving city of Dubrovnik is located in Cilipi, some 20 km southern of the city. This is the international airport which has air connections with most European countries, mostly during touristic season (April to November). Some of the airlines that fly to Dubrovnik are British Airways, Monarch Airlines, EasyJet, Jet2.com, Norwegian Air Shuttle, Vueling, Germanwings etc. Off season Dubrovnik is only connected to the Croatian capital of Zagreb (Croatia Airlines) and London (British Airways).
Reaching Dubrovnik by air is the most fastest way of travelling to Dubrovnik. 


Getting to Dubrovnik by ferry
If you plan to reach Dubrovnik by ferry from abroad you will have only one choice - ferry from Italian port of Bari (in Southern Italy). This ferry runs from April until end of October and is operated by Croatian company Jadrolinija. This is overnight ferry and ride takes approximately 10 hours. There is no ferries to Dubrovnik from Greece, Turkey, Albania or Montenegro.


BOOK FERRIES SIMPLY & SECURELY
Dubrovnik is connected to Central Dalmatia land and islands by catamaran "Krilo" which runs between Dubrovnik and Split with stops on the islands in between (Brac, Hvar, Korcula, Mljet). 

This modern catamaran sails from Split to Dubrovnik for about 3 hours. Company GV Line runs catamaran "Nona Ana" which can take from Dubrovnik to the islands of Sipan and Mljet. During the summer it extend its sailing to Korcula and Lastovo.

Getting to Dubrovnik by bus
The city of Dubrovnik is connected by buses to numerous destinations in Croatia. There is also an international bus service from Trieste in Italy, which takes about 12 hours, and is run by Autotrans. There are also bus services to Dubrovnik from neighbouring Bosnia & Herzegovina and Montenegro.

Main bus station is situated in the western part of Dubrovnik, Gruz. This is a departure point of the airport shuttle bus. 


From Venice to Dubrovnik
By far the easiest way of travelling from Venice to Dubrovnik is by air - Croatia Airlines operate this route as a twice-weekly service in summer. Volotea also have twice-weekly flights during summer (mid-June to mid-September) from Venice to Split. 

Note that there are no sea connections between Venice and Dubrovnik. In our opinion, therefore, the best way of travelling from Venice would be to take a train down the Italian side of the Adriatic, and then take a ferry across to Croatia. You should travel to Ancona for ferry services to Split (or Zadar) or to Bari for services to Dubrovnik.


From Greece to Dubrovnik
There is no ferries running between Greece and Dubrovnik. You can travel this route only via Italy. There are ferry connections from Patras and Igoumenitsa to Bari, Ancona, Trieste and Venice. From Bari you can take overnight ferry to Dubrovnik. From Ancona you can reach port of Split by Jadrolinija, Blue Line and SNAV companies. Also you can take a ferry to the port of Zadar in Northern Dalmatia.

Another solution would be taking a plane from Athens to Dubrovnik or Split. These routes are operated by Aegean Airlines and are only seasonal.


Getting to Dubrovnik from Split
If you are travelling from Split to Dubrovnik you have three options. Between these two cities there are regular buses - every few hours. Drive is scenic with different stops along the coast depending on the company. It takes approximately 4 hours. If you prefer sea travel there is a "Krilo" catamaran running between Split and Dubrovnik with stops on the islands (Brac, Hvar, Korcula, Mljet). Catamaran running on this route is very comfortable and fast and sailing time is around 3 hours.


---
Home > Getting To Dubrovnik
Dubrovnik Travel Guide