Ferries from Italy to Greece
Instead of flying from Italy to Greece, there is an option of taking a ferry between these two countries. There are several Italian ports which you can choose for taking a ferry to Greece as well as other Mediterranean destinations. 


Compare Ferry Prices
& Book Online

2500 routes in over 250 countries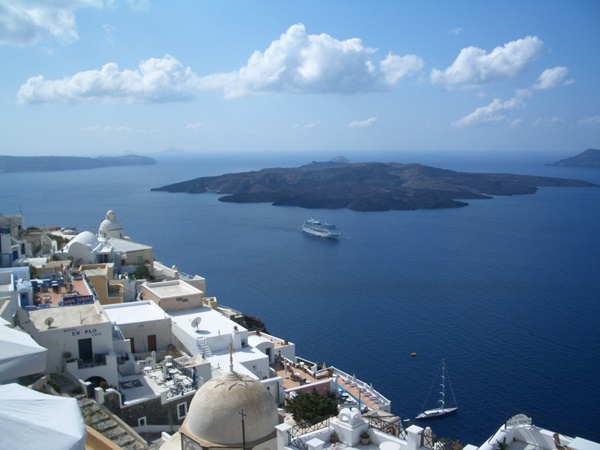 Santorini in Greece
Where in Greece you can travel from Italy
All year round there are ferry connections to Igoumenitsa, beautiful coastal town situated on the east side of the Corfu Channel. This city in northwestern Greece has great road connections with other Greek destinations as well as ferry connections to Ionian islands (Corfu, Zakynthos, Kefalonia, Ithaka and Poros). 

Another port you can travel to from Italy is the port of Patras, situated in the northern Peloponnese. This city is the third largest port of Greece which has great road connections to cities all across Greece, including Athens (3 hours by train) as well as ferry connections to the islands of Kefalonia and Ithaka.

From one of three ports close to Athens (Piraeus, Lavrio and Rafina), you can take ferries to numerous popular Greek islands (Mykonos, Santorini, Kos, Rhodes, Crete etc). 
The island of Corfu, the part of the Ionian islands, can be reached from Italy by ferry during the summer season. This island with some of the Greece's most beautiful beaches is one of the most visited Mediterranean summer destinations.
For those wishing to reach popular Greek islands of Zakynthos and Kefalonia there are several ferry connection throughout the summer from Italian port of Brindisi.

For those who prefer flying there are numerous flights available between Italian destinations and Greece. 


Ferries from Brindisi to Greece
The port of Brindisi is the most southern Italian port and has the most options when it comes to taking a ferry to Greece. This port has always been considered as the gateway to the east. Brindisi provides crossings to the Greek mainland (Igoumenitsa and Patras), the Ionian islands (Corfu, Sami, Zakynthos) and Albania. There are regular ferry departures in mid and high season to match the demand of the locals and tourists.


Ferries from Brindisi to Greece


Ferries from Bari to Greece
The port of Bari is situated in the Puglia region and is the major ferry port in the southern part of the Adriatic Sea. This port has ferry connections to several destinations in Greece, Croatia (Dubrovnik), Montenegro (Bar) and Albania (Durres). Bari is well connected with the rest of Italy by rail and road network.

From Bari you can take a ferry to Igoumenitsa and Patras on mainland Greece and the islands of Corfu, Kefalonia (Sami) and Zakynthos. Sailings to Igoumenitsa and Patras are available throughout the year while sailings to the islands are only seasonal. Ferries on these routes can accommodate large number of passengers and vehicles offering an excellent on-board facilities ideal for long journeys.


Ferries from Bari to Greece

Ferries from Ancona to Greece
Ancona, the capital of the Marche region, is one of the main ports in the Adriatic which has regular ferry connections to Greece, Croatia and Albania.

From Ancona you can travel by ferry and the ports of Igoumenitsa and Patras in Greece all year round. Journey from Ancona to Igoumenitsa takes 16 hours while journey to Patras takes 22 hours 30 minutes. During the summer you can also travel to the island of Corfu.
From the port of Ancona there are also regular ferry connections to Croatian ports of Zadar, Split and the island of Hvar (Stari Grad) as well a ferry connection to Durres in Albania.


Ferries from Ancona to Greece

Ferries from Venice to Greece
Instead of flying from Venice to Greece, there is an option of taking a ferry from Venice to several Greek ports. There are two ferry companies that connect Venice with ports of Igoumenitsa and Patras in Greece - Minoan Lines and ANEK Superfast.

Both companies operate modern car/passenger ferries on these routes. Ferries offer a large choice of accommodation, a selection of bars, shopping facilities, swimming pools and much more.  Journey between Venice and Igoumenitsa takes around 25 hours while the one to Patras takes a bit longer - 30 hours.

If you arrive in Venice by bus to take the ferry, there is usually a shuttle service between Venice's bus terminal and the ferry terminal. If you're already in Venice, you'll need to take a vaporetto or water bus.

If your goal is to get to Athens or any of the Greek islands, it's usually easier and quicker to fly directly to Athens. There are numerous airlines offering flights from Venice to Greece.


Ferries from Venice to Greece

Explore Greece