Useful Dubrovnik Information
What is the official currency used in Croatia?
The Croatian currency is the Kuna, which is divided into 100 lipas. The Kuna comes in denominations of 5, 10, 20, 50, 100, 200, 500 and 1,000 as notes and 1, 2, 5, 25 as coins. The Lipa comes in coins of 1, 2, 5, 10, 20 and 50.


Do I need a visa for Croatia?
Countries whose citizens do not need entry visas for Croatia:

Andorra, Argentina, Austria,Australia
Belgium, Bolivia, Bosnia and Herzegovina, Brazil, Brunei, Bulgaria
Canada, Costa Rica, Cyprus, Czech Republic, Chile
Denmark
Ecuador, Estonia, El Salvador
Finland, France
Greece, Guatemala, Germany
Honduras, Hungary
Ireland, Iceland, Italy, Israel
Jamaica, Japan
Latvia, Liechtenstein, Lithuania, Luxembourg
Macedonia, Malaysia, Malta, Mexico, Monaco
Nicaragua, Netherlands, Norway, New Zealand
Panama, Paraguay, Poland, Portugal
Republic of Korea, Romania
San Marino, Singapore, Slovakia, Slovenia, Spain, Sweden, Switzerland
Turkey
United Kingdom, USA, Uruguay
Vatican, Venezuela

For other countries, please check the Croatian Ministry of Foreign Affairs website. Entry visas for Croatia are issued by the embassies and consulates of the Republic of Croatia.

Public holidays in Croatia in 2017
01/01/2017 New Year
06/01/2017 Epiphany
16/04/2017 Easter
17/04/2017 Easter Monday
01/05/2017 Labour Day
15/06/2017 Corpus Christi
22/06/2017 Anti-Fascist Struggle Day


25/06/2017 Croatian Statehood Day
05/08/2017 Victory and Homeland Day
15/08/2017 Assumption of Mary
08/10/2017 Independence Day Croatia
01/11/2017 All Saints' day
25/12/2017 Christmas
26/12/2017 St Stephen's Day


Phone numbers you might need while staying in Croatia

When travelling to Dubrovnik it is useful to know some important phone numbers.

When you want to make a call from Croatia to any other country in the world, you must dial prefix 00 + country code (for example if you are going to call someone in Great Britain you must dial 00 + 44 + phone number).

When making call to Croatia from abroad you must dial 00385 + town prefix + phone number. Prefix for Dubrovnik and Dubrovnik region is 020.
ALL EMERGENCY SITUATIONS +385 112

POLICE +385 192

FIRE DEPARTMENT +385 193

AMBULANCE +385 194

ROADSIDE ASSISTANCE +385 1987

NATIONAL SEARCH AND RESCUE CENTRE +385 9155

WEATHER FORECAST AND ROAD CONDITIONS 060520 520

GENERAL INFORMATION +385 18981

TELEPHONE NUMBERS WITHIN CROATIA +385 11888

INTERNATIONAL PHONE NUMBERS  +385 11802

DUBROVNIK AIRPORT +385 020 773 377

DUBROVNIK MAIN BUS STATION +385 020 357 088

Post offices in Croatia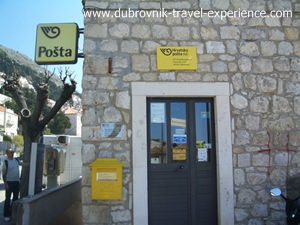 You can spot post offices in Croatia from the yellow sign with the lettering HP. If you need to send a postcard or letter, you can buy stamps in pretty much any kiosk or in the post office. Postcards and letters with stamps can be dropped in any mail box. These are the small yellow boxes attached to buildings around town.

Postal rates:

letters up to 50g (Croatia 3.10 HRK, abroad 7.10 HRK),
postcards (Croatia 1.60 HRK, abroad 3.10 HRK).

Telephoning can be done at the post office (with a telephone card as well), they also offer telegram and fax service, and money exchange service.


Post offices in Dubrovnik

CENTRAL POST OFFICE

Address: Vukovarska 16
Opening hours:
Monday to Friday
07:00 a.m.-08:00 p.m.
Saturday
08:00 a.m.-03:00 p.m.
Sunday - closed



POST OFFICE LAPAD

Address: Miljenka Bratosa 21
Opening hours:
Monday to Friday
08:00 a.m.-07:00 p.m.
Saturday
08:00 a.m.-12:00 a.m.
Sunday - closed



POST OFFICE OLD TOWN

Address: Siroka 8
Opening hours:
Monday to Friday
08:00 a.m.-07:00 p.m.
Saturday
08:00 a.m.-12:00 a.m.
Sunday - closed


---
Home > Useful Dubrovnik Information