How To Choose The Perfect
Dubrovnik Hotel
Dubrovnik is Croatia's most visited destination and it's not wonder it has over 40 hotels, not to mention rental apartments, guesthouses and hostels. Choosing the right hotel could be essential decision of your Dubrovnik holidays.

Dubrovnik is Croatia's most visited destination and it's not wonder it has over 40 hotels, not to mention rental apartments, guesthouses and hostels. Choosing the right hotel could be essential decision of your Dubrovnik holidays.

Price and location are the two most important criteria for some people. Hotels in Dubrovnik are spread throughout the city and can be found in each neighbourhood. Rates of the hotels are lower off season (November - March). Note that many hotels close their doors during the winter but still there are many of them open throughout the year.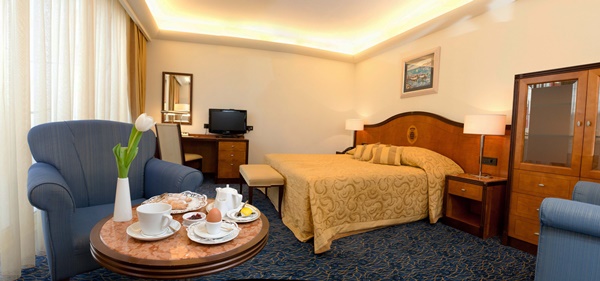 Classic double room - Hotel More
Dubrovnik budget hotels
If you are travelling on a budget and would like to stay at the hotel there are several hotels that will suit you. In Lapad bay you will find several hotels offering simple but comfortable and air-conditioned rooms. We can suggest staying choosing from Hotel Sumratin, Hotel Komodor, Hotel Vis and Hotel Splendid. All hotels are situated very close to the several beautiful beaches.

Rates at budget hotels start from €36 for single rooms, and from €45 for double rooms. 


Mid-range hotels
If you are looking for a mid-range hotels in Dubrovnik you have several options. In the bay of Lapad you will find several affordable hotels such as Hotel Perla, Hotel Dubrovnik, Hotel Zagreb.

In tourist complex of Babin Kuk there are 3* Valamar Club Dubrovnik which is hotel ideal for family stay and 3* Tirena Sunny Hotel by Valamar.
Hotel Ivka offers comfortable accommodation at affordable prices. With its central position, it is ideal for both leisure and business travel. Only few minutes from ferry port you will find great family owned hotel - Hotel Berkeley. It features comfortable and modern rooms and attentive service. Another place to stay near the port is 3-star Hotel Petka.


Great beachfront hotels
Many of Dubrovnik hotels are located by the sea and has its own beach area. Importanne resort consist of five hotels (Hotel Neptun, Hotel Ariston, Royal Palm Hotel, Royal Princess Hotel, Royal Blue Hotel) and Villa Elita. The resort has its own beach area with outdoor swimming pool. This resort has three quality restaurants ideal for fine dining while enjoying amazing sea views.
Just a few steps from Importanne resort 5* Valamar Collection Dubrovnik President Hotel is situated. This hotel has large pebble beach equipped with deckchairs and parasols. The beach also features a water sports centre and the beach bistro. Hotel More which is situated in Lapad bay is an ideal option for your relaxed summer holidays near the sea. 
4* Hotel Kompas is situated next to popular public beach and walkway lined with outdoor cafes and restaurants. At the hotel there are 170 rooms and three suites, all with balconies which feature minimalist design. Beds are big and comfortable. On the ground floor you can enjoy at Sphere restaurant.

Along the left side of the bay of Lapad there are several hotels - 3-star Hotel Komodor, 2-star Hotel Adriatic, 3-star Hotel Vis, 3-star Hotel Splendid and 4-star Hotel Uvala.
If you would like to stay close to the Old Town, choose from 5* Grand Villa Argentina, 5* Hotel Excelsior or luxurious 5* Villa Dubrovnik. Each hotel offers comfortable stay, fine dining, spa & wellness facilities and private beaches.

Hotel Bellevue is a great 5* hotel situated only 1 km away from Old Town. Hotel has beautiful location and its private beach accesable by glass elevator. It offers accommodation in 93 air-conditioned bedrooms and suites - all equipped with all amenities needed for comfortable stay. Suites has benefit from a Jacuzzi in every bathroom. There are plenty of places to eat at the hotel, the a la carte Vapor Restaurant, Spice Lounge and Nevera Tavern on the beach. For those arriving by car, there is a covered private parking.

Only a short walk from Hotel Bellevue, you will come across Hotel Rixos Libertas. This 5* hotel offers accommodation in 254 rooms and suites. Hotel has 5 different restaurants, spa & wellness centre, casino and other facilities. 


Old Town hotels
Only several hotels is located with the city walls of Dubrovnik. One of them is The Pucic Palace Hotel which is situated in the very centre of the Old Town, on Gundulic's Square. Hotel is a great hotel with only 10 staterooms. Hotel has a restaurant and wine bar where you can taste local dishes and wines. 

Hotel Stari Grad is a 4-star hotel located in one of the narrow streets of the Old Town. It offers accommodation in 8 rooms and has amazing roof terrace from which you can enjoy views of the city.

St' Josephs Hotel is situated in the 16th century building in the very quiet street of the Old town. Each of the six beautiful rooms has been tastefully decorated and each have a kitchenette.


Dubrovnik boutique hotels
In Dubrovnik you will find great boutique hotels offering excellent service and great locations. One of them is Hotel More which is situated on a great solitude location in Lapad bay. This hotel with its 36 rooms and 5 suited is ideal place for amazing holiday away from city crowds.

5* Boutique Hotel Bellevue, situated half-way between Dubrovnik's Old Town and Lapad Peninsula is a great base for sightseeing Dubrovnik. It offers accommodation in 77 rooms and 14 suites most of which has amazing sea views. Hotel's three different restaurants are places for fine dining offering international and local cuisine. The Energy Clinic wellnees centre has a small free-form indoor pool, a whirlpool bath, sauna and gym, and offers massage and skincare treatments.

Hotel Kazbek is another gem among Dubrovnik luxury hotels. This boutique hotel is situated directly on the coast of Gruz bay. Each of its 12 double bedrooms and 1 suited have been decorated and furnished individually. Staying here you will have a feeling of staying at a renaissance castle with the services and privacy that comes with it.

Hotel Stari Grad is a 4-star boutique hotel set in one of many narrow streets of the Old Town. Although small this hotel offers comfortable stay while in Dubrovnik. Colourful rooms of the hotel have all amenities needed for a great stay. For a relaxation moments there is Icona spa at the hotel. At the rooftop terrace there is a Above 5 restaurant from which you can enjoy views of the Old Town.


Family hotels
Dubrovnik is an ideal destination for family holidays as it has many car-free areas and parks where children can play. Babin Kuk is among the most popular places to stay for families with children. Most Babin Kuk hotels are great for staying with children but 3-star Valamar Club Dubrovnik is the only with kids klub, children's restaurant and a range of activities for children.

The area of Lapad is also popular among tourists with children. Here you will find a beautiful promenade with restaurants and cafés as well as children's playground. Beaches that offer a variety of summer sports are only a short walk away. 

Sun Gardens Dubrovnik complex is a great place for your family holiday with children. Resort is located some 13 kilometres to the north of Dubrovnik in the picturesque village of Orasac. You will enjoy away from city crowds but still close to explore ancient palaces and amazing city walls. Hotel offers comfortable accommodation, great food, spa facilities and amazing location.


---
Home > Dubrovnik Hotels > How To Choose The Perfect Dubrovnik Hotel
Find Dubrovnik Hotels & Apartments & B&Bs